Nev. Gov. Brian Sandoval endorses Trump, N.M. Gov. Susana Martinez on the fence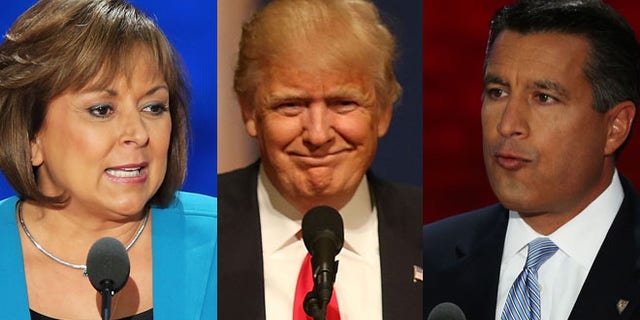 With all the other candidates dropping out of the race, leaving Donald Trump the presumptive presidential nominee for the GOP, Republicans are beginning to coalesce around him.
Nevada Gov. Brian Sandoval on Wednesday became the latest politician to endorse Trump after first throwing his support behind Ohio Gov. John Kasich.
Sandoval, a moderate Republican, said Wednesday that he plans to vote for the billionaire after Kasich, his preferred candidate, suspended his campaign after the Indiana primary. He has expressed doubts recently about supporting Trump if he was the nominee, telling reporters he was concerned by statements the billionaire real estate developer made.
"I have a tremendous amount of respect for Gov. Kasich and believe he would have been a great President," Sandoval said in a statement posted on his official Facebook page. "Now that he has dropped out of the race, I plan to vote for the presumptive nominee although it is no secret that we do not agree on every issue. Elections are about making choices and the Democratic nominee is simply not an option."
Sandoval voted for Marco Rubio in Nevada's February caucuses but formally endorsed Kasich in April after Rubio dropped out.
Sandoval's counterpart in New Mexico, Gov. Susana Martinez, responded to rumors on Wednesday that she could be Trump's running mate pick.
In a statement to Fox News, Martinez's office said she wasn't sure just yet whether she'd endorse Trump -- but she definitely won't vote for Democratic front runner Hillary Clinton. She said she wants to know more about Trump's plans if elected to the White House before endorsing him.
"As the governor has said many times, she will not vote for Hillary Clinton. Period," said Michael Lonergan, the governor's spokesman. "That said, she wants to hear how Mr. Trump plans to address issues that directly affect New Mexicans --- like how he plans to protect our labs and military bases and end the dysfunction in Washington that has hurt New Mexico more than any other state in the country."
"Governor Martinez wants to be sure the needs and concerns of New Mexicans are addressed by the presidential candidates," he added. "Politically, Governor Martinez is the chairman of the RGA and is committed to helping elect Republican governors across the country this election cycle."
Martinez endorsed Rubio before he suspended his campaign following the Florida primary in March.
As for the growing rumors that Martinez is on Trump's preliminary short list for vice president, she said she's not interested.
"The Governor has said repeatedly over the years that she isn't interested in serving as Vice President," Lonergan said. "She appreciates that such attention puts New Mexico in the spotlight, but she is fully committed to serving the people of our state."
Earlier this year, the U.S. Hispanic Chamber of Commerce endorsed Martinez as the Republican candidate for vice president.
Fox News' Faith Mangan and the Associated Press contributed to this report.