Napolitano Visits Devastated Alabama Neighborhoods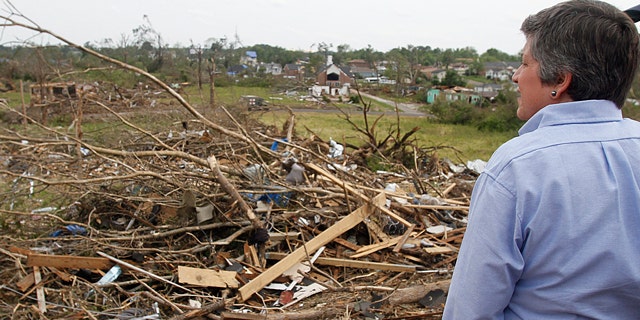 NEWYou can now listen to Fox News articles!
BIRMINGHAM, Ala. – Homeland Security Secretary Janet Napolitano toured hard-hit neighborhoods of Alabama and Mississippi on Sunday to offer condolences and pledge support for local residents and emergency workers.
She met briefly with two sisters whose home was destroyed by last week's storms in Birmingham. Stephanie Anderson and Sheila Hurd were collecting clothes strewn across the street from the pile of debris that was their mother's home.
Anderson thanked Napolitano for coming to the area and told her that she appreciated the efforts of everyone who has responded, including the rescue workers who recovered her mother's remains.
The sisters found their mom, 72-year-old Bessie Brewster, at the county morgue.
Hurd says: "I don't know how, who made what happen, but we found her."
After touring the ruins, Napolitano told reporters: "I don't think words can fairly express the level of devastation. I'm not articulate enough."
In shattered Smithville, Miss., Napolitano met with Gov. Haley Barbour who thanked her and Federal Emergency Management Agency Director Craig Fugate for the assistance. Very little was left standing in the town, where even the water tower was damaged by a car hurtling through the air.
She pledged continued federal government support for Alabama, Mississippi and several other states that were hit hard by the tornadoes.
"This is not going to be a quick comeback or an immediate (recovery) but it will be, in my view, a complete one," she said in Smithville where chain saws roared in the background.
She took a short walking tour to look at the destruction, including the post office that was reduced to cinder blocks. In front a sign instructed people to pick up their mail at the armory.
"When the Piggly Wiggly's closed, it's pretty bad," Fugate said in Smithville. "When your grocery store's closed and your town looks like this, it don't get much worse."
Birmingham Mayor William Bell thanked Napolitano and the federal government for what he described as a fast response. He said federal officials had called him within about 30 minutes of the storm hitting.
"We want to thank them for being 'Johnny on the spot' from the beginning," he said.