Montana Senate candidate faces backlash after misattributing Constitution in pro-gun ad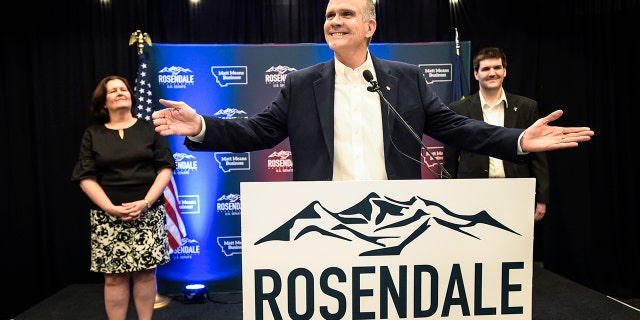 NEWYou can now listen to Fox News articles!
A Republican Senate candidate is facing criticism after his campaign released an ad on gun rights that misattributed the Constitution.
In the since-deleted ad, Matt Rosendale – who is challenging Democratic incumbent Sen. Jon Tester in Montana – is standing near a sign that says, "The right of the people to keep and bear arms shall not be infringed."
The problem? That line is attributed in the campaign spot to Article II, a part of the Constitution that refers to executive power. The phrase in the ad is actually part of the Second Amendment.
"There's two ways folks look at gun rights. Some folks, like me, shoot straight. Support the Second Amendment," Rosendale said in the ad, pointing to the sign behind him.
FOX NEWS MIDTERM ELECTION HEADQUARTERS
Rosendale's campaign has since re-released a corrected version of the ad which attributes the line to Amendment II.
A spokesperson for Rosendale's campaign acknowledged to KULR-TV the original ad was posted to YouTube by mistake. It still remains online, however, as it's been uploaded to YouTube by another user.
Some social media users are still calling out Rosendale for the mistaken ad. One Twitter user encouraged the campaign to "work on your Photoshop skills." Another criticized Rosendale for his willingness to "support amending commercials but not the Constitution."
MONTANA REPUBLICANS TAP ROSENDALE TO TAKE ON VULNERABLE DEMOCRAT TESTER
Rosendale, Montana's state auditor, beat out three other Republicans in the state's June primary. A former state senator, Rosendale has billed himself as a "Trump conservative" and had the support of GOP Sens. Ted Cruz, Mike Lee and Rand Paul in the primary.
He is running against Tester, a Democrat who has held the seat since 2007. Although Trump won the state in the 2016 presidential election with 56 percent of the vote, Fox News has ranked the Senate race as leaning Democrat.