Mississippi Senate race heads to Nov. 27 runoff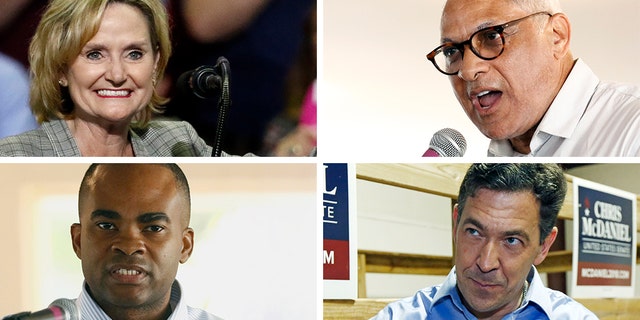 The four-way race to represent Mississippi in the U.S. Senate will head to a runoff later this month between Republican incumbent Cindy Hyde-Smith and Democratic challenger Mike Espy, Fox News has projected.
With 95 percent of precincts reporting, Espy and Hyde-Smith each had 41 percent of the vote. Republican Chris McDaniel lagged well behind with 16 percent of the vote, while Democrat Tobey Bernard Bartee had just 1 percent of the vote.
The runoff, to determine who will replace retiring GOP Sen. Thad Cochran, will be held Nov. 27. Hyde-Smith will be favored to prevail, but waiting an extra three weeks for the outcome could extend uncertainty about the Senate's party breakdown, if not which side has control of the chamber.
Officials for both campaigns told Fox News the runoff was not a surprising result. Espy spokesman Danny Blanton said the extra three weeks of campaigning is "not going to change our strategy one bit."
"We hope that the appointed incumbent will come off [her] bus, and join us to talk about these issues," added Blanton, a reference to Hyde-Smith not debating Espy ahead of the so-called "jungle primary."
"This is the result we expected and we will work extremely hard the next three weeks to encourage people to vote for Sen. Hyde-Smith," a spokesperson for the incumbent texted Fox News.
In Mississippi's other U.S. Senate contest, Republican Roger Wicker was re-elected to the seat he has held since 2007. Wicker -- who was appointed by then-Gov. Haley Barbour to replace Trent Lott after Lott's resignation, then won a 2008 special election and a full Senate term in 2012 -- defeated Democratic state Rep. David Baria and two others.
This is a developing story, check back for more updates.
Fox News' Emilie Ikeda and The Associated Press contributed to this report.