Milo Yiannopoulos speech at Cal State Fullerton: Seven arrested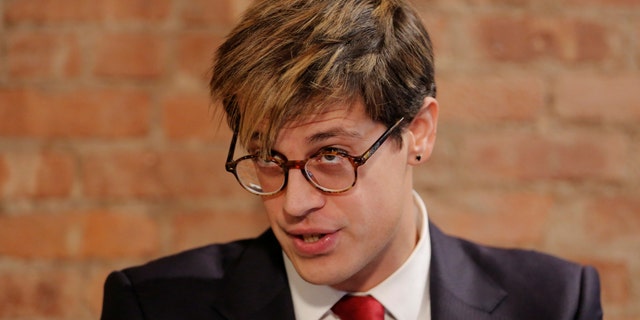 NEWYou can now listen to Fox News articles!
At least seven people were arrested Tuesday after violence broke out between protesters and counter-protesters attending an event by provocateur Milo Yiannopoulos at California State University, Fullerton.
The speech – attracting 800 attendees – drew multiple protesters who chanted slogans such as "Black lives matter!" and "Cops and the Klan go hand in hand!" Some had signs reading, "Immigrants in, racists out," and "Only socialist revolution can defeat capitalist reaction."
Claudia Brick, a 66-year-old woman protesting Yiannopoulos, said she hoped to get her message across.
"We believe in their right to free speech as well, but we believe we can get our message across louder, and there are certainly more of us," she said.
At least two people were arrested for scuffles, according to university spokesman Jeff Cook. It remained unclear why other people were arrested.
The police took extra precautions to ensure safety at the event. Additional police officers were brought from other agencies and helicopters hovered around the area, the Los Angeles Times reported.
Some police officers were seen wearing riot gear, others were on horseback, and several officers were on the event venue's rooftop.
Most protesters remained peaceful but the demonstration got heated after a woman punched a female Yiannopoulos supporter several times before someone restrained her with pepper spray.
The attacked woman, Genevieve Peters, said a female protester carrying a baby attacked her after she told the woman she needed to be careful with the toddler at the protest.
"She came and just punched me in the side of the head, and came running after me, and my friends had to get her off," said Peters, describing herself as a "proud" supporter of President Donald Trump. "She tried to punch me three or four times. I feel sorry for her because she has so much anger."
The attacker quickly disappeared from the scene, but it remained unclear whether she was among the two arrested for violence.
Another woman, wearing a black helmet and a mask, was arrested after shooting pepper spray into the air. She was heard agitating demonstrators to storm the Yiannopoulos event and beat him up, the L.A. Times reported.
Most violence was recorded prior the event, with only small arguments erupting in the aftermath. The event was the speaker's first big appearance on a U.S. college campus after the highly anticipated "Free Speech Week" at UC Berkeley fell apart amid disorganization.
Yiannopoulos' event at Fullerton was organized by the College Republicans, who invited the speaker as a way to draw attention to the existence of conservative students at the college and the need for free speech.
"We really just felt left out of the conversations on campus as conservatives, and bringing him has really started this conversation about free speech," said Brooke Paz, a spokeswoman for the group.
The Associated Press contributed to this report.