Mexicans wait in long lines for one thing that does work — their voter ID cards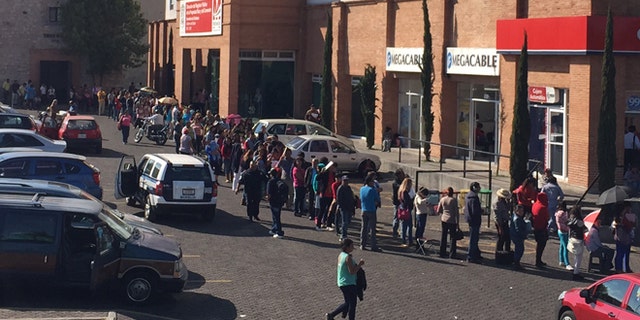 NEWYou can now listen to Fox News articles!
Morelia, Mexico – José Feliciano Hernández arrived mid-afternoon to renew his voter ID card at a strip mall in this western Mexican city – only to find 200 people waiting in line ahead of him.
The credential he planned to renew, issued by National Electoral Institute (INE), expired at midnight on Jan. 15, making him ineligible to cast a ballot in the July midterm and gubernatorial elections unless he waited for hours. But voting in the elections was only half his reason for renewing a card considered critical for everything from casting a ballot to cashing a check to consuming an alcoholic beverage.
"You need it for everything," Feliciano, 25, said, while waiting on a day off from work. "To enter a bar, a nightclub, they demand the [INE] card."
Mexico demands an official voter identification to participate in local, state and federal elections – no exceptions. Elections held July 7 will renew the entire 500-seat lower house of Congress and choose governors in nine states, but come as the country's political class is consumed by controversy over crime and corruption scandals and the disappearance of 43 teaching college students.
Conditions in states such as Michoacán, where the federal government has appointed a commissioner to calm a tense situation with self-defense groups, and Guerrero, where the students disappeared and are presumed to have been killed, also appear far from ideal for holding elections
The INE card, which was introduced in the early 1990s to inspire confidence in elections in a country with a history of vote scandals and stories of unscrupulous operatives from the then-dominant Institutional Revolution Party (PRI) plying poor voters with sandwiches and soft drinks, then filling out ballots for the recently fed.
Some Mexicans might express misgivings about the outcomes of elections in recent years – the close 2006 vote and a 2012 contest tainted by allegations of vote buying and questionable media coverage – but not the card.
"It's the one thing that's standard across a lot of places," Jeffrey Weldon, political science professor at the Autonomous Technological Institute of Mexico, told Fox News Latino. "Most people get the ID."
The current long lines, according to INE officials, are a product of people waiting until the last minute, though they planned to keep service centers across the country open until midnight on Thursday to deal with the crush. Those renewing their cards only needed to provide their birth certificate – a document Weldon says most Mexicans have on hand – and proof of residence (usually a utility bill) to process their requests.
It's another story in the United States. Some states have approved laws requiring voters to show some sort of government-issued identification to participate in elections, presumably to cut down on voter fraud.
Weldon says trying implement a system similar to Mexico's in the U.S. would be impractical as voting is overseen by state or local officials, depending on the jurisdiction.
"The reason that it is not done in the U.S. is because they don't want to have a national citizen registry," says Weldon, adding that voter ID laws, "(are) being done in the U.S. to prevent students, minorities and old people from voting."
The INE was created to oversee elections and referee partisan political matters in the aftermath of the 1988 election, during which a computer crash in the Interior Ministry wiped out early results that appeared to favor the opposition.
The card itself gained acceptance – and became preferred by banks – analysts say because driver's licenses were not widespread as many in the population were too poor to own cars.
No notable forgery scandals have emerged since the implementation of the card, adding to its credibility, Aldo Muñoz Armenta, political science professor at the Autonomous University of Mexico State, told FNL.
President Enrique Peña Nieto announced plans to for a "personal identification code," which he says would help people access government services and improve security. The system of identification through the INE credential is not as controversial as it might be because of the institute's "autonomous" status, making it "independent" of the federal government, Muñoz Armenta said.
How much people plan to vote remains uncertain as recent scandals have impacted all the country's political parties. A Grupo Reforma poll in December showed 76 percent of respondents saying they have "little or no confidence" in political parties.
Only the police performed worse in the survey.
"We're going to see a lot of people staying away from the polls," Muñoz Armenta said.
Most of the people waiting to renew their INE cards said they would cast a ballot this year – even if they expressed little confidence about the result.
Isabel Cedeña, currently unemployed, said she doesn't normally vote, but she plans to this year. "It's an obligation... It's something we have to do, even if there aren't any good candidates."
Like us on Facebook