Mexican man denied U.S. re-entry, visa because of his 'gang-related' tattoos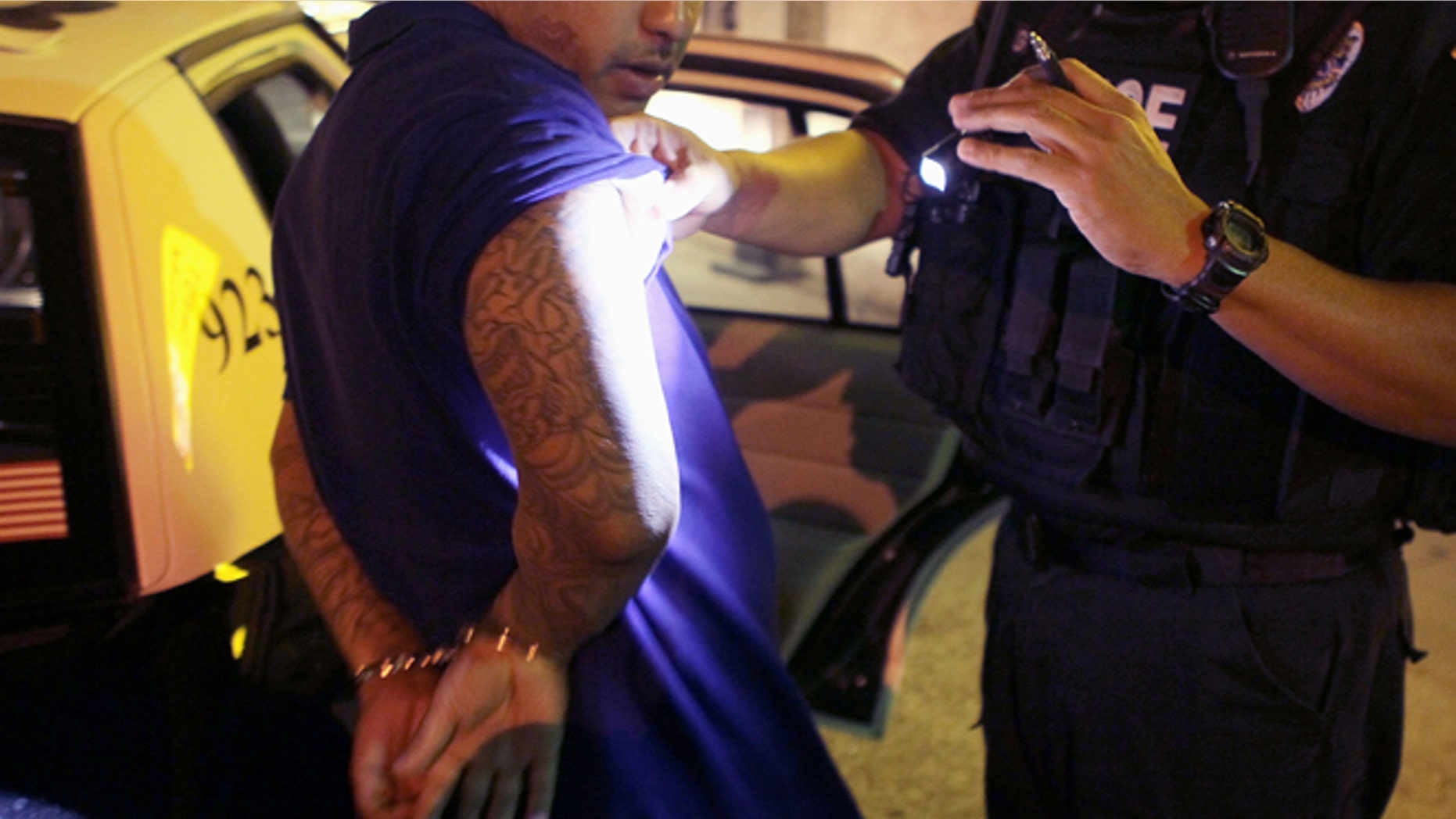 Ruben Zamora only thought he would be away from his family for a few weeks when he returned to Mexico last July to begin the process of obtaining an immigrant visa.
It's now been over a year since he went to Mexico and there seems to be little hope that the 29-year old will ever be let back into the United States to see his wife and two children.
The reason: his tattoos.
Zamora – whose ink features a large Aztec warrior holding a scantily-clothed woman, clown faces and the name of the street in Queens where he lived growing up – is one of dozens of people over the last decade whose chances of gaining a green card has been derailed because the State Department has "reason to believe" that the person in question is a gang member.
"There is absolutely nothing right now that shows that Ruben is a member of a gang," Audrey Carr, the director of Immigration and Programs at Legal Services NYC who is representing Zamora, told Fox News Latino. "Everything we hear is that he worked very hard at his job at a restaurant and provided for his family…he was the main breadwinner."
The U.S. State Department told Fox News Latino that it does not comment on individual cases. But in an email to Zamora's lawyer, the State Department said that the U.S. consulate in Mexico's rejection of Zamora was valid and that its decision was made on more evidence than just the fact that he had tattoos.
"Reason to believe refers to more than mere suspicion; it is a probability, supported by the facts, that the alien is a member of an organized criminal entity," the email said, according to the New York Daily News.
While the State Department first started denying immigrant's visas for purported gang ties back in 1965 – during the heyday of the Italian Mafias – it wasn't until 2005 when the heavily-inked Salvadoran street gangs Mara Salvatrucha 13 and Barrio 18 were deemed inadmissible. In 2011, other gangs from throughout Mexico and Central America were also added.
In the fiscal year on 2014, there were 126 people denied visa due to purported gang affiliations, compared to two people in 2006, according to the State Department.
The State Department uses the presence of tattoos – especially ones popular in gang culture – to conduct further investigations into individuals for ties to organized crime groups, either in their home nations or in the U.S. Along with the presence of tattoos, some of the factors used by the State Department to determine if an immigrant is a gang member are statements from local or U.S. law enforcement, association with known gang members and receiving either money or some other type of support from gangs.
"We have to rely on the people who have the experience and do these background checks," Ira Mehlman, a spokesman for the Federation for American Immigration Reform, told FNL. "They have to look at the factors and make the decision whether or not to investigate further."
Critics of this process, however, argue that the decisions made by consular officers are derailing people's lives and breaking up families – all while leaving no hope for the issue to be resolved.
Immigrants who have been denied entry into the U.S. for a number of reasons – including gun charges – can apply for a visa waiver. But that waiver does not extend to people who have been denied for being members of an organized crime group.
In Zamora's case, the allegations of his gang membership and gang-related tattoos stem back to when he was a teen living in Queens and got the ink with a group of friends. Later, after he had moved to the Bronx, his Queens' friends formed a gang, but Zamora's lawyers say that he was not involved in the gang and had no contact with its members.
"There is no waiver for him in the situation," Carr said. "There is no appeal process he can go through. This is the insanity of the immigration laws in this country."
Zamora's lawyers are working to get around this issue, but as of now there has been no progress made on his case – leaving his wife, 31-year-old Vanessa Ruiz, to fend for her two sons by herself. The couple met back in 2004 and married in 2009, with Zamora working long hours at his restaurant to support the family while Ruiz took care of the children, the lawyer said.
Now, with her husband trapped indefinitely in Mexico, Ruiz started working part-time at a call center at St. Barnabas Hospital in the Bronx, but has been unable to pay her bills. She is getting by with financial support from Legal Services NYC and her welfare checks.
"My kids, like every day they ask me for their dad . . . When is he coming back? And I don't have an answer for them," Ruiz told the Daily News…"It's really tough…He's no gang member. He's always been working."