McMahon Releases Attack Ad before CT Senate Debate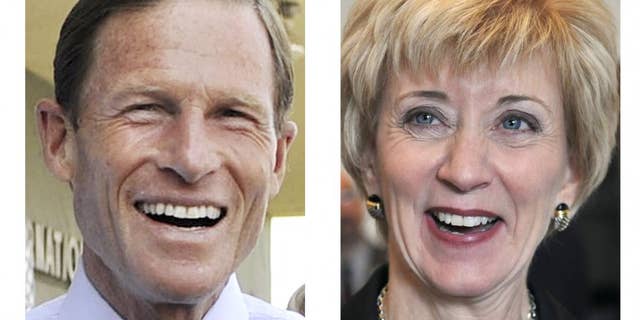 Hartford, CT - It's turning into a familiar cage match for WWE CEO Linda McMahon, the GOP candidate for U.S. Senate in Connecticut. Hours before her debate with Democrat and Attorney General Dick Blumenthal, McMahon released a new attack ad reminding voters in the Nutmeg State her opponent mislead the public about his service in the Vietnam War. While Blumenthal did serve in the Marine Corps Reserve at the time, he never saw action in Vietnam.
The ad questions Blumenthal's integrity, with the implication that if "he lied about Vietnam. What else is he lying about?" But McMahon herself isn't squeaky clean. The millionaire mogul has been criticized for her business practices and unsafe work conditions for the actors who have made her rich.
In an interview with Fox News' Chief Political Correspondent Carl Cameron, Blumenthal said of McMahon, "there will be a lot of questions in these last weeks about the kind of business my opponent has run - how she's run it and how she's treated the people who have worked for her. That will be a very distinct contrast between my record of putting people first and fighting for them and making sure the people of Connecticut are put first always."
The two face off in a debate tonight from the Bushnell Auditorium in Hartford Connecticut. Fox News' Bret Baier, anchor of Special Report will monitor the debate.
You can watch it streaming LIVE on foxnews.com.