McCain says Helsinki summit 'should not move forward' unless Trump takes firm stand against Russian meddling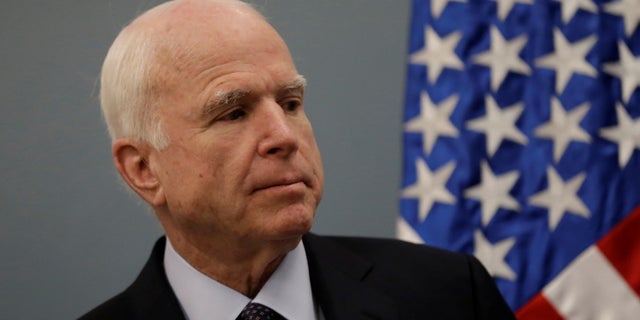 Sen. John McCain said Friday that the U.S.-Russia summit in Helsinki "should not move forward" unless President Trump is willing to hold Russia accountable for political meddling. This, after 12 Russian intelligence officers were indicted for allegedly hacking emails from the Clinton campaign and the Democratic Party in the 2016 election.
The Republican senator from Arizona released a statement praising the charges, which arose out of Special Counsel Robert Mueller's investigation of Russian interference in the election.
The 12 members belonging to the Russian Intelligence agency are accused of hacking into emails from the Hillary campaign and her party, and of leaking damaging discussions between top party members.
"Today's indictment is a result of the hard work of America's law enforcement and intelligence officials who dedicate their lives to bringing to justice those who wish to do us harm," McCain, who has been sidelined while battling cancer, said in a statement.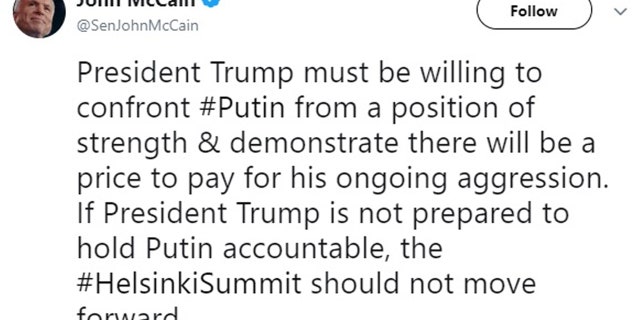 "These revelations add to a body of evidence confirming an extensive plot by Vladimir Putin's government to attack the 2016 election, sow chaos and dissension among the American electorate, and undermine faith in our democracy."
McCain has been a vocal critic of Trump, recently calling his visit to the NATO summit in Brussels "disappointing."
While not expressing outright support for the meeting with Russia, which is to take place on Monday, McCain said Thursday that that summit represented an opportunity for Trump "to demonstrate his willingness to defend America" against its adversaries.
"Putin is not America's friend. … Putin is America's enemy," McCain said.
He doubled down on that sentiment on Friday, urging Trump to hold the Russian president "accountable."
"President Trump must be willing to confront Putin from a position of strength and demonstrate that there will be a serious price to pay for his ongoing aggression towards the United States and democracies around the world," the senator said. "If President Trump is not prepared to hold Putin accountable, the summit in Helsinki should not move forward."
Trump and Putin will meet in their first official standalone meeting on Monday at the Presidential Palace in Finland. The pair have met twice before, on the sidelines of international meetings.
On Friday, several Democratic leaders also weighed in, in some instances urging the president to consider canceling his summit with Putin.
Sen. Mark Warner, top Democrat on the Senate Intelligence Committee, offered Trump an ultimatum for the highly anticipated summit: make Russian interference a priority, or cancel the meeting.
Fox News' Alex Pappas and The Associated Press contributed to this report.