Marco Rubio To Introduce Bill To Delay Part of New Health Care Law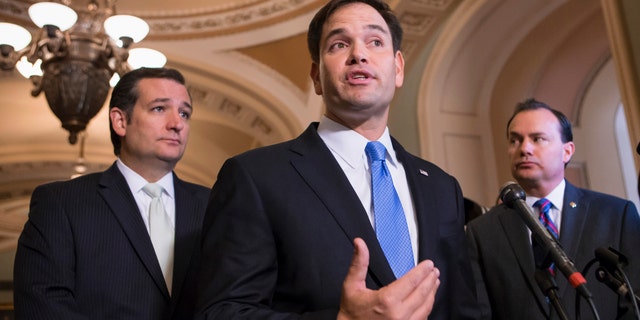 Sen. Marco Rubio plans to introduce a bill next week that would call for delaying the penalty that the people who do not buy insurance under the Affordable Care Act would have to pay.
Rubio, a Florida Republican who opposes the new health care law, says people should not be punished for not buying the insurance when major technical problems have plagued the online sign-up process.
Uninsured Americans have until about mid-February to sign up for coverage if they are to meet the law's requirement that they be insured by the end of March. If they don't, they will face a penalty.
In a press release about his legislation, Rubio said he would call for delaying the individual mandate until six months after the Government Accountability Office (GAO) certifies that the insurance exchange website – as well as other options, such as phone and mail – works properly.
"It is not fair that next year Americans will be punished for not buying ObamaCare when the website they are supposed to buy it on doesn't work," Rubio said. "Thereafter, it exempts people from paying the mandate fines if they can prove that they tried to sign up but could not because of technical or customer service issues."
Rubio added: "I believe this entire law should, and will, eventually be repealed and replaced. But until that happens, I will continue looking for ways to protect Americans from the disaster that is ObamaCare."
Those who support the new health care law say it will help millions of Americans who have no coverage. About 30 percent of Latinos lack health insurance.
House Democrat leader Nancy Pelosi, of California, acknowledged that the new system has glitches.
"This has to be fixed, but what doesn't have to be fixed is the fact that tens of millions more people will have access to affordable, quality health care," she said in an interview with ABC, "that no longer having a pre-existing medical condition will bar you from getting affordable care, that all of the initiatives that are going to be positive for a healthier life, liberty to pursue your happiness, not chained to a policy but following your passion — all of that is in place."
The Associated Press contributed to this story.
Follow us on twitter.com/foxnewslatino
Like us at facebook.com/foxnewslatino