Marco Rubio fires back at Chris Christie, says he's too similar to Obama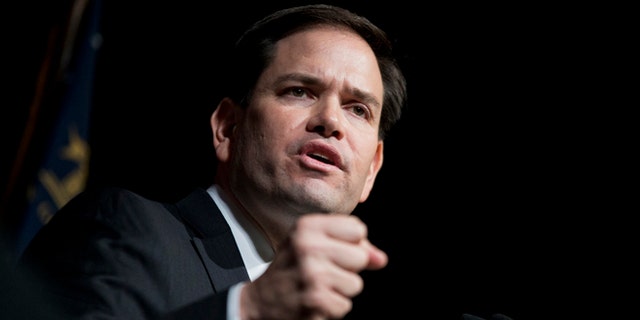 Sen. Marco Rubio is not taking New Jersey Gov. Chris Christie's putdowns of him lightly.
The Florida Republican, whom Christie said this week will not "be able to slime his way to the White House," said on Thursday that the governor is weak on guns, has contributed to Planned Parenthood, and is not all that different than President Barack Obama when it comes to a whole host of issues.
"Chris Christie has supported Common Core, and in fact has badmouthed Republicans that oppose it," Rubio said in an interview on Fox Business Network. "Chris Christie has supported gun control. Chris Christie supported an assault weapons ban. It's the reason why he got into politics to begin with."
"I just don't think this country can afford to elect a president that will not stand up and undo the damage Barack Obama has done to this country," Rubio continued. "This is an issue-based disagreement, it's not personal. But it's significant, it's important in this election. We can't get this election wrong."
It's the latest in a war of words between Rubio and Christie, who are gearing up for the first presidential contests that are fast approaching. Iowa will have its caucuses on Feb. 1, and New Hampshire will have its primary two weeks after that.
Sen. Ted Cruz, of Texas, and billionaire Donald Trump, lead the pack in polls of Iowa Republican caucus-goers. In New Hampshire, surveys of Republicans likely to participate in the primary show Rubio, Cruz and Christie hovering around third and fourth place.
Coming in second or third in New Hampshire would help boost Christie's image in the race as a serious player. He has not fared well in polls of GOP voters nationwide.
A spokesman for the super PAC backing Rubio, Conservative Solutions, was quoted in the National Review as saying that Christie "has the ability to alter or to affect" who becomes the Republican nominee.
The super PAC is airing ads in New Hampshire taking aim at Christie.
Christie has hit Rubio hard, particularly this week. He said that a general election that would include Rubio facing Hillary Clinton would almost certainly mean a loss for Republicans.
"He's never been in a tough race in his life," Christie said.
Christie spokeswoman Samantha Smith told FOXBusiness.com that Rubio's criticism highlighted his lack of political experience.
"This is the difference between a senator and an executive," she said. "While Senator Rubio has no doubt given some nice speeches on these issues, Governor Christie has vetoed on Planned Parenthood funding, ended Common Core in New Jersey, and protected the rights of gun owners."
Like us on Facebook