March for Science: Bill Nye rallies thousands in DC amid threat of Trump budget cuts
NEWYou can now listen to Fox News articles!
Bill Nye, an engineer and educator known as "the science guy" through his appearances on television, spoke to thousands of enthusiastic marchers in Washington, D.C. on Saturday, declaring that science serves everyone and must be for all.
"Today we have a great many lawmakers, not just here, but around the world, deliberately ignoring and actively surpassing science," he told the crowd of scientists, students and research advocates at the National Mall, according to Variety. "Their inclination is misguided, and in no one's best interest."
Nye, who served as an honorary co-chair for the March for Science, chided lawmakers who ignore scientific research in areas like climate change and railed against the Trump administration's proposed budget cuts.
The March for Science protests, according to News Corp Australia Network, come amid growing anxiety over what many see as a mounting political assault on facts and evidence and fears that research is being excluded from policymaking. Triggered by concern over the rise of "alternative facts," marchers sought to present a united front, particularly against the roll back of environmental protection policies and apparent lack of support for climate change.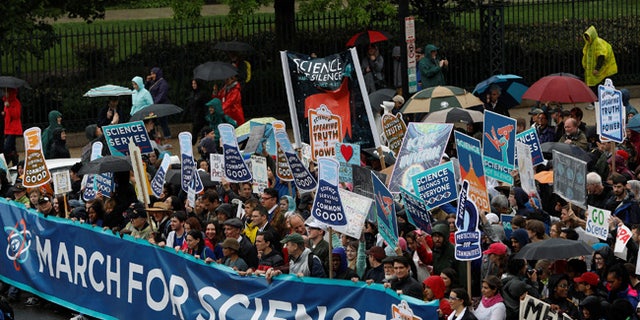 Nye, the CEO of the Planetary Society, said the march was to "remind people everywhere" of the significance of science "for health and prosperity," according to Variety.
"The framers of the Constitution of the United States, which has become a model for constitutional governments everywhere, included Article One, Section 8, which refers to promoting the progress of science and useful arts," Nye said.
Nye told The Guardian earlier this week that scientists should unapologetically throw themselves into the political fray as Trump's administration seeks to dismantle large areas of scientific endeavor, from cancer research to climate analysis.
"We are in a dangerous place right now," Nye told The Guardian. "Science has always been political but we don't want science to be partisan. Objective truths have become set aside and diminished and lawmakers are acting like a strong belief in something is as valid as careful peer review."
More than 600 companion marches conveying a global message of scientific freedom without political interference occurred around the world.