Manafort trial: Mueller's witness list offers glimpse at strategy focused on lavish spending
The special counsel's line of attack in the Paul Manafort trial kicking off Tuesday won't become clear until opening statements -- but the government's witness list gives an early glimpse at their strategy in the high-stakes case.
The list of 35 potential witnesses rolled out in the run-up to the federal trial in northern Virginia signals a heavy focus on the former Trump campaign chairman's luxurious lifestyle -- and a dramatic appearance from a former business partner turned witness.
The trial, which began with jury selection Tuesday after months of investigation and layers of indictments, is the first arising from Mueller's investigation into Russian meddling and potential collusion with Trump campaign associates in the 2016 presidential election.
The trial, however, has very little to do with Russian interference in the election; Russia may hardly come up at all, apart from its ties to the Ukrainian politician for whom Manafort worked.
Rather, Manafort faces decades in prison on tax and bank fraud charges relating to his own business dealings -- namely, his consulting work in Ukraine. On Monday, court documents filed by the special counsel revealed that Manafort earned upwards of $60 million through that work.
Here's a look at some of the key government witnesses revealed by Special Counsel Robert Mueller's team:
The Business Partner
Rick Gates, Manafort's former business partner and an ex-Trump campaign aide, is one witness expected to be called to testify on behalf of the government and against Manafort.
The two were charged in October -- in a related case in Washington, D.C. -- with conspiracy against the U.S., conspiracy to launder money, false and misleading Foreign Agent Registration (FARA) statements and other counts.
Gates pleaded guilty earlier this year to federal conspiracy and false-statement charges in that case, which signaled he would cooperate with Mueller's team. Mueller later moved to dismiss tax and bank fraud charges against Gates in Virginia.
Gates has intimate knowledge of Manafort's years of political consulting work in Ukraine. Manafort, after the guilty plea, blasted his ex-business partner, saying he "hoped and expected" Gates would have "the strength to continue the battle to prove our innocence."
Manafort said Gates' guilty plea did "not alter my commitment to defend myself against the untrue piled up charges contained in the indictments against me."
The Accountants
The special counsel has called several accountants to testify against Manafort, some of whom were granted immunity last week in exchange for their cooperation.
Conor O'Brien, Cindy Laporta and Phillip Ayliff are all accountants at the firm Kositzka, Wicks and Company in Virginia. KWC reportedly prepared both individual and business income tax returns for Manafort. O'Brien and Laporta were granted immunity.
Heather Washkuhn, the managing director at Nigro Karlin Segal Feldstein & Bolno (NKSFB), an accounting firm, was also on the witness list.
The Bankers
The special counsel's office called several bankers to testify in the Manafort trial, including Dennis Raico, who was granted immunity. Prosecutors reportedly will show the jury emails regarding a Manafort loan at the Federal Savings Bank, where Raico worked.
Taryn Rodriguez, a loan officer at Citizens Bank, and Peggy Miceli, a vice president, were also called. Citizens Bank is reportedly one of the financial institutions where Manafort allegedly obtained fraudulent loans.
Others, including Gary Seferian and Kevin LaPorte, worked at the Banc of California, where Manafort also allegedly attempted to conduct suspicious activity.
Manafort's Dealings
The special counsel's office has also called a host of individuals who have been involved in various transactions with Manafort—whether it be for real estate, tickets to sporting events or luxury items.
Michael Regolizio, the president of a landscaping company in the Hamptons; Douglas Deluca, a builder; and Stephen Jacobson, a general contractor for home renovations, were called to potentially testify. The three were reportedly referenced in Manafort emails about landscaping and renovation invoices for Manafort's property in The Hamptons, Brooklyn and Virginia.
Joel Maxwell, the chief officer of a lighting and electrician company in Florida, was also flagged to possibly testify. On a previous version of his company's website, Maxwell received praise from Manafort.
Maximillian Katzman, Irfan Kirimca and Daniel Opsut also are on the witness list. Katzman is reportedly referenced in a Mueller exhibit list under "wire transfers." Katzman is a co-founder of Harrison James, a fine clothing club. Manafort's indictment said he wired $849,215 to a "men's clothing store in New York."
Kirimca, according to LinkedIn, is a senior director of ticket operations for the New York Yankees. According to reports, Manafort claimed that a $300,000 debt on his credit card was from a friend purchasing Yankees season tickets.
Opsut reportedly is the comptroller at the Mercedez-Benz dealership in Virginia where Manafort bought a car.
Wayne Holland and Matthew Mikuska, both involved in real estate sales, are also on the list, along with Darin Evenson, the director of customer experience at Airbnb. According to Bloomberg, Evenson could be called to discuss Manafort renting one of his condos with the lodging service.
Several others were included in the list, including a couple of Democratic consultants—Daniel Rabin and Tad Devine.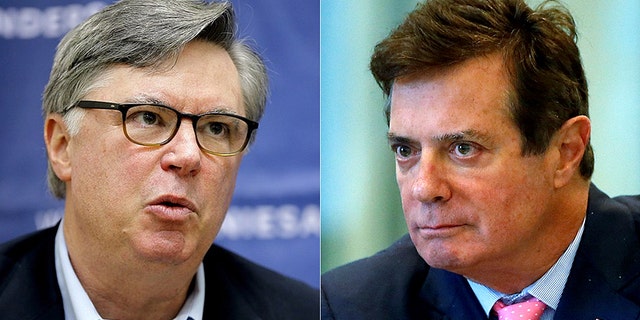 Rabin reportedly worked with Manafort in Ukraine, while Devine served as a top adviser to 2016 presidential candidate, Sen. Bernie Sanders, I-Vt. Devine worked for Al Gore and John Kerry's presidential campaigns, but also did work for Ukrainian President Viktor Yanukovych, like Manafort.
The special counsel's court filings have suggested prosecutors could argue that Manafort sought to conceal some of his Russia-linked spending to avoid political damage during President Trump's 2016 campaign, as a way to establish motive for some of his alleged deceptions.
Observers have questioned whether Trump will pardon Manafort if he is convicted. Trump has said he feels "badly" about Manafort's situation, and that he considers it unfair that he has been ensnared by Mueller's probe.
Fox News' Gregg Re and Alex Pappas contributed to this report.