Maine governor who said Hispanics were 'the enemy right now' may face censure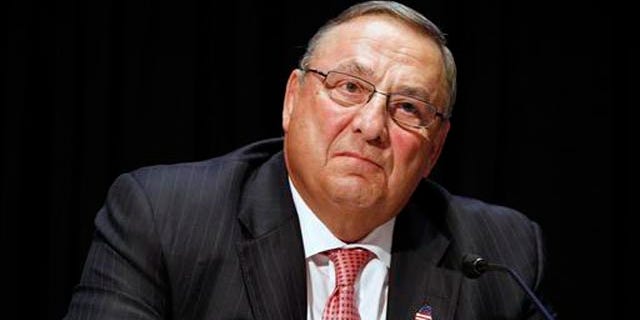 A Maine lawmaker said state leaders are considering censuring the governor after he left an obscenity-laced voicemail for a Democratic legislator and then threatened to point a gun at him.
Republican Sen. Amy Volk told her constituents in a Facebook post Sunday that she shares their "deep concerns" regarding Gov. Paul LePage's behavior. On Monday, Republican leaders called for a closed-door meeting with LePage.
Republican Senate President Mike Thibodeau said LePage should take "corrective action" for his "unacceptable" conduct. He says he hopes legislators don't have to censure the governor.
The developments come following LePage's controversial comments during a North Berwick town hall meeting last week in which he said he keeps a three-ringed binder of photos from drug busts, and that 90 percent of the suspects are black or Hispanic.
A day later, in an expletive-filled voicemail, the governor lashed out at a state legislator who the governor says called him a racist. LePage later told reporters that he wished he could point a gun between the legislator's eyes.
That legislator, Democratic State Rep. Drew Gattine, told CNN on Monday that LePage is probably not fit for office.
"I think the Maine people are getting extremely concerned after six years and these kind of escalating events with respect to our governor, that he's not at the point where he isn't fit to be governor. He really probably needs to get some sort of professional help."
Thibodeau and House Minority Leader Ken Fredette said Monday they want to meet with LePage before deciding what to do. House Republicans will caucus Tuesday to discuss a strategy.
LePage apologized Friday to "the people of Maine" but not to Gattine. LePage said his outburst was justified because Gattine called him a racist — something Gattine has repeatedly denied.
He also seemed to suggest that Hispanics were "the enemy right now."
"You try to identify the enemy and the enemy right now, the overwhelming majority of people coming in, are people of color or people of Hispanic origin," LePage said in a statement, according to the Washington Post.
Even Maine horror writer Stephen King chimed in on the controversy – saying on Twitter this weekend that the governor is "a bigot, a homophobe and a racist."
The Associated Press contributed to this report.
Like us on Facebook