Magnitsky Act explained: Trump Jr. says law was at center of meeting with Russian lawyer
When Donald Trump Jr. met with a Russian lawyer as his father campaigned for the presidency, he thought she had information about the elder Donald Trump's political opponent. Instead, she just wanted to talk about the Magnitsky Act, Trump Jr. said.
The president's oldest son has denied that the lawyer, Natalia Veselnitskaya, divulged any information about Clinton during their 2016 meeting. She did, however, want to discuss the Russian adoption ban and the Magnitsky Act – enacted by the Obama administration in 2012.
Read on for a look at the little-known law and how it came to be.
Who was Sergei Magnitsky?
Sergei Magnitsky was a Russian lawyer hired by Hermitage Capital, a London-based hedge fund, when he accused Russian officials of a $230 million tax fraud scheme involving tax rebates.
After Magnitsky turned over evidence of the crime to police, he was arrested – first for allegedly helping Hermitage Capital underpay taxes, and later for masterminding the fraud he uncovered, the Washington Post reported in 2012.
DONALD TRUMP JR.'S MEETING WITH RUSSIAN LAWYER: WHAT TO KNOW
Magnitsky was arrested in November 2008 and died in prison in November 2009. The official cause of death was a heart attack, but independent investigators said Magnitsky was tortured and denied medical treatment.
So what does the Magnitsky Act do?
Officially called the "Russia and Moldova Jackson-Vanik Repeal and Sergei Magnitsky Rule of Law Accountability Act of 2012," the law enacts sanctions on certain Russian officials as a punishment for human rights violations.
Adopted in 2012, the Magnitsky Act permitted the U.S. to freeze financial assets of Russian officials who contributed to the abuse, arrest and death of Magnitsky. It was later expanded in 2016 to include human rights abusers anywhere.
DONALD TRUMP JR. RELEASES 'ENTIRE EMAIL CHAIN' REGARDING RUSSIAN MEETING
Americans are prohibited from doing any business with these individuals. Any assets they may have in the U.S. are frozen.
What was Russia's response?
In response to the law, Russia decided to prohibit American adoption of Russian orphans.
The Dima Yakovlev Law –  named for a Russian child who died of heat stroke in Virginia in 2008 after being left in a hot car for nine hours – could be lifted, USA Today reported in January.
TRUMP TWEETS DEFENSE OF DONALD TRUMP JR., BLASTS 'FAKE MEDIA'
"Everything can be changed back," Valentina Matvienko, the speaker of Russia's house of parliament said. But she added that "at least some steps from the U.S. are needed" before the law could be overturned.
How is Natalia Veselnitskaya involved with this law?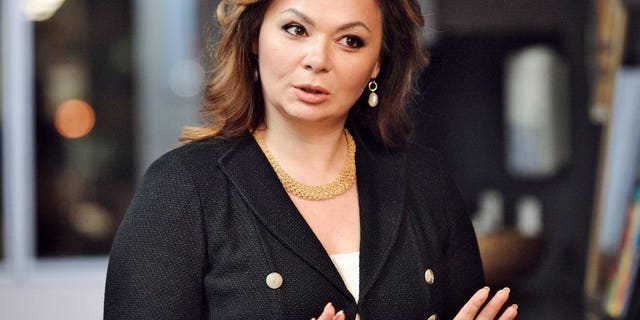 Veselnitskaya opposes the Magnitsky sanctions. She has represented Denis Katsyv, the son of a top executive in state-owned Russian Railways. He was charged in the U.S. with money laundering after investigators suspected his company bought ritzy New York real estate using proceeds from the $230 million tax fraud scheme that Magnitsky exposed.
While Veselnitskaya was supposed to have information on Clinton, she actually wanted to discuss the Magnitsky Act and the Russian adoption ban, Trump Jr. said. He added that he told her the conversation should wait until "if and when [his father] held public office."
The Associated Press contributed to this report.