Los Angeles' New Mayor Eric Garcetti Takes Over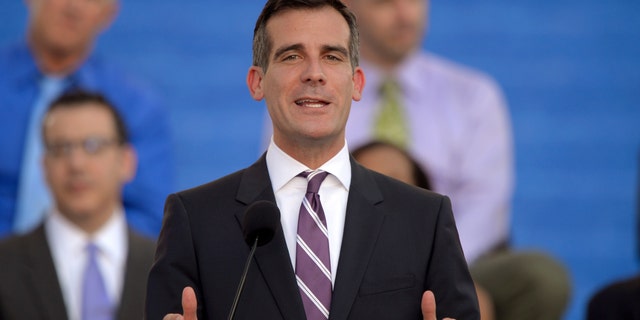 Eric Garcetti celebrated the start of his first term as mayor of the second largest city in the U.S.
At 42 years old, Garcetti is now the youngest mayor in the history of the city of Los Angeles in over a century.
An Ivy Leaguer, veteran city councilman and son of a former prosecutor, Garcetti took a ceremonial oath of office on the City Hall steps Sunday as part of inaugural festivities featuring Jimmy Kimmel and the musician Moby.
Officially, he takes over the job leading a sprawling city of nearly 4 million people on Monday.
"These times demand a back-to-basics mayor focused above all else on our economy and jobs," Garcetti said in a speech punctuated by optimism and recognition of a tough job ahead.
"We have to accept that the days of seemingly spontaneous growth in huge mega-industries are gone, maybe for good," he said.
He replaces fellow Latino and Democrat Antonio Villaraigosa, 60, who exits after two uneven terms during which he expanded rail lines in a city notoriously choked by cars and pushed to improve a school district over which the mayor has no direct control.
Garcetti sketched an agenda that included cultivating ideas with business executives and universities, stopping the flight of Hollywood productions and reducing red tape and business taxes long seen as discouraging job growth.
"You'll have a local government that's off your back and on your side," he promised.
The new mayor takes charge of a city with problems all too familiar: knotted freeways, an unemployment rate hovering around double digits, many struggling schools, battered roadways.
The lingering homeless problem was on display just steps from the podium, where park benches were occupied by sleeping bodies.
Garcetti has long said he will focus on the economy "like a laser beam" and try to recover jobs lost in the recession. His goals range from getting all city workers to contribute to costly health care to dealing with long-standing gripes about potholes and cracked sidewalks.
In a historical footnote, Garcetti becomes the city's first elected Jewish mayor. His background reflects the city's diversity: he often refers to his Italian and Mexican roots, and talked in the speech about family members fleeing persecution in Poland and Russia to come to the U.S.
Garcetti has a temperate, wonky style — he was a Rhodes Scholar, after attending Columbia University — that will be a change from Villaraigosa, who was known for his outsized personality and ability to make headlines about his nightlife and dating.
It was Kimmel who brought the laughs, at one point blaming Villaraigosa's administration for the unusually hot weather.
It also will be a generational change. Garcetti is just a few years older than Villaraigosa's eldest daughter.
Garcetti was elected with a yawn from most residents — not even one in four voters cast a ballot in his May runoff against Controller Wendy Greuel. Los Angeles is known for mostly ignoring the scrum of local politics.
That means he takes office with many residents having no idea who he is.
Garcetti was able to defeat Greuel, a fellow Democrat, by depicting her as a pawn of utility union bosses in a city long friendly to labor, an outcome expected to echo beyond California as unions nationwide face threats to their clout.
The budget remains a central issue, though he didn't address it directly. He promised to make government "leaner and more efficient," including using more technology.
Bankrupt Stockton and other California cities are in worse shape, but spending in Los Angeles is projected to outpace revenue for years and rising pension and retiree health care bills threaten money that could otherwise go to libraries, tree-trimming and street repairs.
He's also facing a new round of labor contract talks.
"I will make my share of mistakes in this job," he said at one point.
Based on reporting by The Associated Press.
Follow us on twitter.com/foxnewslatino
Like us at facebook.com/foxnewslatino