Los Angeles Mayor Antonio Villaraigosa Says He Intends To Run For Governor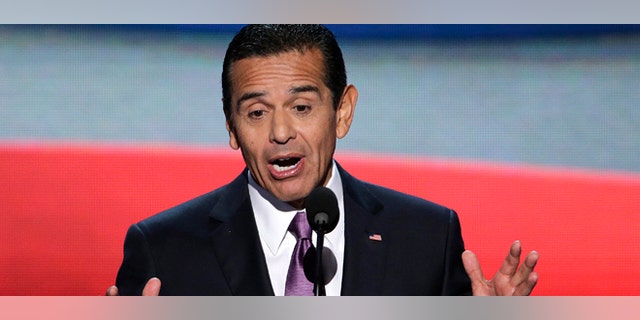 Antonio Villaraigosa is leaving his mayoral post, but that won't be the last chapter of his political career if he has anything to say about it.
Villaraigosa, 60, said in no uncertain terms that he plans to run for governor of California someday.
"You mentioned governor. Look, I believe in public service. I want to run for governor. In fact, I fully expect that I will," said Villaraigosa in an interview this week with KPCC, the National Public Radio (NPR) station in Los Angeles. "I'm going to tell you something. I will never have a job like this. This city has given me more than I could have ever hoped for."
But he wouldn't run for governor any time soon, he said, at least not while fellow Democrat Jerry Brown is holding that office. Brown is up for re-election next year.
Brown enjoys high approval ratings, and is known as a strong fundraiser. This is Brown's second round as governor – he held the job from 1975 to 1983.
KPCC noted that even with Brown out of the picture, Los Angeles' first Mexican-American official in more than a century would face a tough race within his own party for governor. Some Democrats whose names have been floated as candidates are State Attorney General Kamala Harris, Lt. Gov. Gavin Newsom and State Controller John Chiang.
"He's not going to run against Jerry Brown," said political consultant Mike Shimpock, whose firm has worked for Villaraigosa, according to KPCC. "I don't think Brown is beatable."
If he were elected governor someday, Villaraigosa would not be the first Latino to hold that position in California. Romualdo Pacheco, who was lieutenant governor in the 1800's, became governor in 1875 when Gov. Newton Booth resigned. Pacheco served for 10 months, according to the National Governors Association. Pacheco later served in Congress.
It's not the first time Villaraigosa has spun visions of being a gubernatorial candidate.
In March he told reporters: "One day I'd like to run for governor, but there's not a vacancy last time I looked."
Villaraigosa served as mayor for eight years, and will leave office on June 30.
Among the highlights of his tenure are bolstering the Los Angeles Police Department to 10,000 officers, "though he also laid off a substantial portion of the city workforce because of tax shortfalls during the nation's Great Recession," noted the Los Angeles Times.
His pre-mayoral political career included being on the California State Assembly, the Democratic leader of the Assembly, the Speaker of the California State Assembly and a member of the L.A. City Council.
"The people of this town gave me a shot when a lot of folks thought it was an impossible dream," he said in the radio interview. "I have no regrets. ... There's a bit of sadness on some levels, I guess, and nostalgia, but it's about the people."
Follow us on twitter.com/foxnewslatino
Like us at facebook.com/foxnewslatino