Loophole lets teen rapists return to same school as victims, Michigan lawmakers told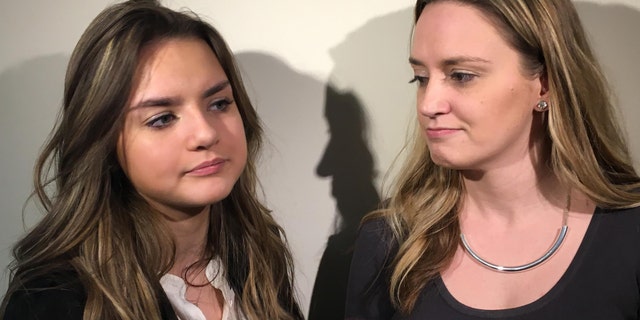 Two teenage rape survivors are urging state lawmakers in Michigan to close down a loophole that allows rapists to return to the same school as victims after finishing their sentences.
Gianna Duva and Mya Zaplitny, both 14, were raped off school grounds last year by a 16-year-old male student at Brighton High School in Michigan. They were only 13 and 12 at the time of the crimes.
The boy pleaded guilty to six of more than 30 criminal charges, but was tried as a juvenile and received only a 45-day sentence.
Upon his release, the boy was set to return to the very same school Duva and Zaplitny attend due to a gap in state law that prohibit schools to expel a student if the sexual misconduct happened off school property.
"The sentence was crushing, it made me feel like it wasn't worth all the pain," Duva said, according to WLNS. "But what really crushed me is that he could possibly come back to the same school I go to."
After outrage from the parents, however, a court ruled in December that the perpetrator could not return to the school. He is currently under house arrest and undergoing a court-mandated psychiatric evaluation.
But the two girls are now speaking out and demanding a change in the law.
"It feels like it's become more shameful to be raped than to be a rapist," Duva told members of the state House, Law and Justice Committee on Tuesday, the Detroit Free Press reported. "We need to keep these sexual predators out of our school district."
"I have found that sometimes the juvenile criminals have more rights than us survivors," she added. "This needs to be discussed and fixed before any more survivors drop out of school."
"We need to keep these sexual predators out of our school district. I have found that sometimes the juvenile criminals have more rights than us survivors."
Republican state Rep. Lana Theis is sponsoring a bill that would end the gray area in the law and prevent anyone who is guilty of a form of criminal sexual conduct against another student from coming back to the same school as the victim. The perpetrator would be given an option of either transferring to another school or go to an online school.
"The holes in our law are massive," Theis said, according to the Free Press. "These victims face the real possibility that their assailant would return to their same high school. I can't imagine the pain and fear these victims and their families went through. The possibility of having to share space with the person who assaulted them is unconscionable."
Another bill, sponsored by state Rep. Sylvia Santana, D-Detroit, would ban the assailants from school grounds.
"There were so many holes in the process along the way that we had to bring attention to them," said Ashley Duva, Gianna's mother.
She added: "The thought that it was even a possibility that he could be back at the school blew my mind. Something needs to change. Our girls came forward even before '#MeToo' became a thing. They wanted to put a face to sexual assault. If that isn't inspiring I don't know what is."
The state House is likely to vote on the two measures next week.