Longtime Immigration Hawk Gets Post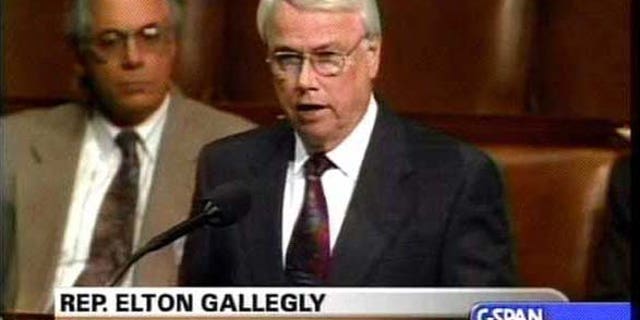 He wanted it in 1994, saying that the nation needed to get tough on illegal immigration.
But the chairmanship of the House Subcommittee on Immigration Policy and Enforcement went to someone else.
Now, 17 years later, Rep. Elton Gallegly, a California Republican who boasts on his congressional website that he is one of the top illegal "immigration hawks" in Congress, and that he was inducted into the "U.S. Border Control Hall of Fame," has taken the helm of the subcommittee.
On Friday, House Judiciary Chairman Lamar Smith, R-Texas, announced that Gallegly, 66, was the subcommittee's new chairman.
Gallegly's selection was a surprise, given that Rep. Steve King, R-Iowa, had been the ranking member of the subcommittee when the Democrats controlled the House, and he had been considered the heir apparent.
King, who was named the vice chairman, had made numerous public appearances in recent months, speaking about immigration issues and vowing to push for tougher enforcement in the new Republican-controlled House.
He expressed those views in his characteristic unvarnished way, saying, for instance, that undocumented youth are not the innocent bystanders their defenders describe them as being, and that he wanted to see tear-jerker stories left out of discussions about immigration.
And that, multiple sources familiar with the chairman selection process say, is what played a large part in torpedoing his appointment to the top post.
Speaking privately, they said there was discomfort over King's flamboyance and his near ubiquity in the press, where he spoke about future immigration debates with the tone of a chairman.
While King, 61, made waves with his views and rhetoric on immigration – even, at times, in the GOP -- Gallegly has been less vocal. However, the subcommittee promises to be no less aggressive on how to deal with the undocumented and the U.S. border.
Gallegly has introduced, or been a key part of, some of the most controversial immigration measures in Congress.
Among bills he has pushed were one during the Clinton presidency that called on states to deny a public school education to illegal immigrant children, and another that would have made a person deportable for presenting a foreign-issued identification card to government officials.
Last year, Gallegly, who long has pushed for a law that would deny automatic citizenship to the U.S.-born children of illegal immigrants, asserted that many people come to the country illegally just to give birth to U.S. citizens.
Earlier this week, King introduced legislation calling for an end to so-called birthright citizenship.
"He [King] got passed over because he's so patently bigoted and racist," said Antonio Gonzalez, president of the California-based William C. Velasquez Institute, a Latino-focused public policy and research organization. "Gallegly is not a friend of the immigrant community, but he has a less vitriolic attitude than King."
Republicans, Gonzalez said, "don't have much to choose from."
"There's not a broad spectrum of opinion among Republicans about immigration reform."
Proponents of tough immigration policies lauded the selection of Gallegly and King to head the subcommittee.
"Chairman Gallegly has a long and distinguished record as a leader in the effort to enforce U.S. immigration laws and ensure that the interests of the American people are protected," said Dan Stein, president of the Federation for American Immigration Reform (FAIR).
"Advocates for true immigration reform are also delighted that Rep. King will play a central role in formulating and overseeing immigration policies, as vice chair of the subcommittee in the new Congress."
"Like Chairman Gallegly," Stein said, "Mr. King has been a relentless advocate for sensible reforms to our nation's dysfunctional immigration policies."
Smith's choice of King and Gallegly, Stein said, offers a strong indication of the direction the focus on immigration policy is likely to take in the new Congress.
"We look forward to working with these three leaders to restore a true sense of national interest," Stein said.
For his part, Gonzalez said he hopes Gallegly's selection -- and the passing over of King -- signals a desire by the House GOP leadership to exercise some restraint in its rhetoric about immigration.
Hispanics are a more significant part of Gallegly's constituency than they are in King's Iowa, he said, making it more likely that they can figure on his radar in a less negative way than they do for King.
"It's not like this [Gallegly] is a great choice, but it's a clear repudiation of Mr. King," Gonzalez said. "I think that was the message that the Republican leadership through Lamar Smith wanted to send. There will be 15 million Hispanic voters in 2012, and they don't want any of them?"
Follow us on twitter.com/foxnewslatino
Like us at facebook.com/foxnewslatino