Long before holiday weekend, Washington has history of being on high alert for terror attacks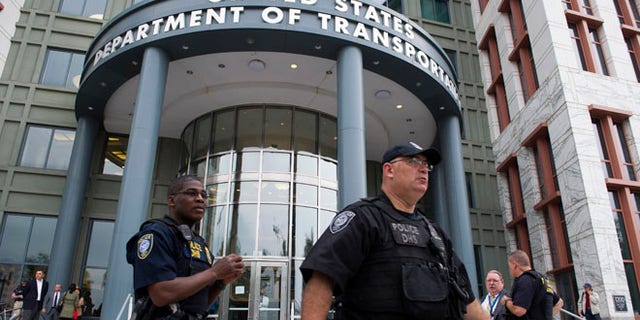 NEWYou can now listen to Fox News articles!
The witness thought they heard gunfire.
This was a problem considering the high-profile status of the locale, the history of the venue and its inherit potential threat to national security.
Naturally, a crush of law enforcement and elite tactical teams descended hastily onto the scene. Officers wielded imposing long guns and traffic snarled amid the cavalcade of emergency traffic streaming in from all compass points at disturbing speed.
Authorities locked down the building in question, stranding workers under a shelter-in-place order. Police searched for hours, methodically scouring the building for victims, a suspect or a weapon. Nearby Washington institutions stepped up their security, bracing for battle.
And it all came just before a big national holiday.
Everyone knows the mantra, ingrained into the heads of every American since 9/11. You see it on signs posted at the airport. It's plastered in the subway. It screams at you along interstate highways near big cities.
If you see something, say something.
And in this case, if you hear something, say something.
Which is precisely what then-Rep. Jim Saxton did just before the Memorial Day weekend on May 27, 2006. The New Jersey Republican was cutting through the parking garage of the Rayburn House Office Building across the street of the Capitol.
And he heard something.
"I heard what I thought to be between six and 10 shots," Saxon told Fox News at the time. "It sounded exactly like gunfire to me."
The congressman asked his staff to call U.S. Capitol Police, who naturally came running.
Lawmakers and their aides locked office doors and hunkered down.
And it all turned out to be a false alarm.
Just like Thursday's episode at the Washington Navy Yard blocks from the U.S. Capitol…
That's where news reports thundered that police were searching for a man with a gun and that there may have been a shooting, which resulted in authorities locking down the facility and workers being sheltering-in-place …
This of course came less than two years after a massacre at the Navy Yard where gunman Aaron Alexis mowed down 12 people before police killed him in a gunfight.
So police officers and firefighters -- and naturally reporters -- swarmed the scene, just like that gruesome September, 2013, morning, girding for a ghastly reprise.
Not again.
It wasn't. But these all-hands-on-deck, man-the-battle stations, sound-the-Klaxons drills are just the modus operandi these days in Washington - be they at the Capitol or others governmental facilities.
And many of these episodes devolve into those false alarms.
Federal, anti-terrorism officials blasted out warnings of the potential for an enhanced threat coinciding with the July 4th holiday. Naturally everyone is on edge even if the intelligence is non-specific. Sources tell Fox the greater threat appears to reside overseas.
But rewind a month. Just before the annual Memorial Day concert on the West Front of the Capitol, USCP spied a parked car nearby stocked with a pressure cooker. Police said it seemed suspicious. They blew up the pressure cooker. After all, pressure cooker bombs were the weapons of choice near the finish line of the Boston Marathon. Same thing for an aborted effort to incinerate Times Square in 2010.
But in the Capitol incident, the owner of the car in question (and the pressure cooker) was Israel Shimlis who operates a food truck. His story checked out. USCP arrested Shimlis for not having a valid driver's license.
But it was a false alarm.
A false alarm hat trick visited both the legislative and executive branches of government in early June. Someone called in a bomb threat to USCP, indicating he or she had left a device in the hearing room of the Senate Homeland Security Committee of the Dirksen Building. Ironically, the incident interrupted a hearing examining how the Transportation Security Administration managed to sneak dozens of items through airport checkpoints without detection.
Committee Chairman Ron Johnson, R-Wisc., abruptly gaveled the hearing closed and cleared the room. USCP burst in, followed shortly by sniffer dogs. Minutes later, USCP closed off a section of the Russell Senate Office Building when someone mistakenly abandoned their lunch cooler in a courtyard.
An hour-and-a-half-later, a U.S. Secret Service uniformed officer interrupted the daily White House briefing delivered by Press Secretary Josh Earnest. Someone phoned in a bomb threat to the briefing room and everyone had to leave.
The agency later said it could not "discuss any potential connection to the earlier threat at the U.S. Capitol." But multiple sources familiar with the inquiry told Fox authorities believed the same caller phoned in both threats.
The unattended cooler was apparently the result of a "lone lunch wolf."
That's multiple, major disruptions -- all false alarms -- at the Capitol, the White House and the Washington Navy Yard. This is to say nothing of the seemingly dozens of other, more obscure security probes that USCP and other authorities conduct daily in Washington.
An unattended bag here. A curious bike there. A strange umbrella mysteriously left outside the House of Representatives chamber.
Most of these abandoned effects are just remnants of life. Forgetful, distracted tourists worried about not making it to the Air and Space Museum before it closes.
So the call came into 911 just before 7:30 Thursday morning. Sources tell Fox the caller had been at the Navy Yard when the blood spilled in 2013. They thought they heard gunfire.
"We interviewed the person," said Washington Police Chief Cathy Lanier. "We have no concerns whatsoever. Again, I think this is an employee that did exactly what we ask employees to do. We operate here in Washington, D.C., that there's an elevated threat level at all times."
And perhaps that is why more than nine years ago then-congressman Saxton thought he heard gunplay in the Rayburn garage. USCP spokeswoman Kim Schneider said at the time that the sound may have come from construction workers toiling underground.
"In doing their routine duties, (the workers) made some sort of a noise that sounded like shots fired. So it was a valid call," Schneider said in 2006.
Something similar unfolded at the Navy Yard Thursday.
Everyone's on edge. Washington is a town with a fat bulls eye painted on its back. The fourth plane on 9/11 was destined for the U.S. Capitol. Someone already shot up the Navy Yard.
No wonder people hear things.