Lobbyists Court Lawmakers By Donating to Their Favorite Charities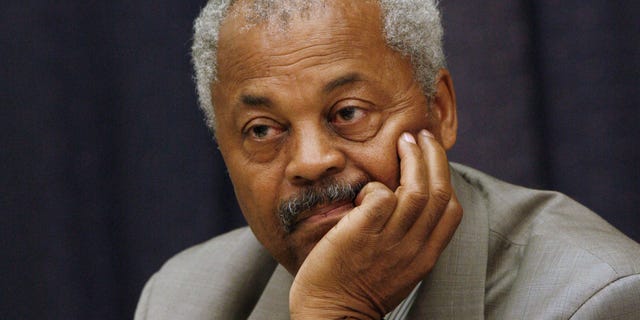 NEWYou can now listen to Fox News articles!
As Boeing lobbied against a rival aerospace company to win a $35 billion government contract, its activities included a curious donation: $10,000 to the Johnstown, Pa., Symphony Orchestra.
The orchestra was a favorite cause of Rep. John Murtha, the late Pennsylvania Democrat who, as a gatekeeper for the Defense Department's budget, held a lot of influence over Pentagon contracting.
Boeing ultimately won the contract to build a new military refueling tanker, after the company and its competitor donated to organizations held in favor by key Pentagon generals and lawmakers like Murtha.
The payments were disclosed under a 2007 law that opened a window into more than $50 million in previously hidden spending by lobbyists and their clients, according to a compilation by the nonprofit Sunlight Foundation. Most money spent in 2009 and 2010 went to nonprofit groups that were connected to government officials or honored them.
For companies seeking influence, "it's a win-win," said Wright Andrews, a lobbyist and board member of the American League of Lobbyists. "Give to charities and get a tax deduction."
"There's no question it gives you better access. Access is power. It goes to having a direct impact on whether you get support or not," Andrews said.
Boeing, while vying for the tanker deal that was among the largest government contracts, donated to groups that honored, among others, Senate Armed Services Committee Chairman Carl Levin, D-Mich.; Rep. Norm Dicks, D-Wash., then chairman of the Defense Appropriations subcommittee; Marine Gen. James Mattis, currently head of the U.S. Central Command; and Gen. David Petraeus, the incoming CIA director.
"The Boeing Co. takes seriously its role as corporate citizen supporting charitable organizations in all locations where we have a considerable presence, including Washington, D.C." said Sean McCormack, a spokesman for the Chicago-based company. "We have a commitment to support charities that attempt to make a difference in areas that Boeing has identified as priorities."
According to the Sunlight Foundation compilation, $36.3 million of the $50 million went to organizations composed of lawmakers, affiliated with them, or that honored them. Another $11 million went to organizations that honored or were connected with executive branch officials.
"By giving millions to nonprofits and charities that lawmakers have a connection to, lobbyists and special interests have a very discreet way of currying favor with the members of Congress they're trying to influence, one that the public is rarely aware of," said Bill Allison, editorial director of the foundation. "How much more money is contributed to these nonprofits by clients of lobbyists or others with an interest in federal policy is unclear, since only lobbyists have to disclose these contributions."
Chevron led the contributors with nearly $2.9 million in donations. The top recipients from all donors in 2009 and 2010 were the charity arms of the Congressional Black Caucus, $6.6 million, and the Congressional Hispanic Caucus, $4.1 million, the Sunlight database showed.
Lloyd Avram, a Chevron spokesman, said, "The intent of these payments is not to gain access to officials." He cited as an example the company's $990,000 donation to the Discovery Channel Global Education Partnership, which seeks to improve education in five countries. He said the donation was reported because Rep. Donald Payne, D-N.J., was a board member of the Discovery Channel Global Education Fund.
Pharmaceutical company Eli Lilly's $25,000 contribution to the Alliance For Aging Research's 2010 congressional awards dinner brought the company several benefits, including having a top official of the firm present an award to Sen. Richard Burr, R-N.C. Burr is a member of the Senate committee that handles health issues. The invitation said $25,000 donors received 10 tickets to a VIP reception with congressional honorees.
The same dinner honored the head of the Food and Drug Administration, Dr. Margaret Hamburg, and Sen. Bob Casey, a Pennsylvania Democrat on the Senate's health committee.
Toyota spokesman Ed Lewis said his company's contributions -- including $775,000 to the charity arms of the Congressional Black Caucus and Congressional Hispanic Caucus -- didn't help the company during massive recalls of its vehicles last year.
"The premise that our support of foundations somehow gave us some sort of access or influence with members during the congressional hearings last year is preposterous," Lewis said. "We took a relentless drubbing at each hearing. So if it gave us access, it didn't do us any good."
Some nonprofit organizations directly affiliated with members of Congress take in a large amount of contributions.
South Carolina Rep. James Clyburn, a member of the Democratic Party's leadership, has a scholarship program for high school graduates and college students who live in his district. He holds a golf tournament every year to raise money for the program. Lobbyist contributions totaled more than $808,600 over the two years, from the likes of Dell Inc., AT&T, Comcast and Fluor Corp.
The congressman worked to ensure that a Fluor-led partnership received $1.6 billion in federal stimulus funds to decommission two obsolete nuclear weapons reactors and perform other cleanup tasks at the government's Savannah River nuclear weapons facility, Clyburn spokeswoman Hope Derrick said. The site is just outside Clyburn's district.
"Fluor and our predecessor company has been a part of the South Carolina fabric for over 75 years," said Keith Stephens, a Fluor spokesman. "That region is one of the poorest in the country. We're a strong proponent of giving back to the communities where we live and work."
Derrick said Clyburn views his interactions with sponsors and attendees at the tournament "as being no more or less than their visits to his office and Washington events, or his visits to their offices or tours of their facilities."
The Blanchette Rockefeller Neurosciences Institute at West Virginia University was founded in memory of Blanchette Ferry Hooker Rockefeller, the mother of Sen. John D. Rockefeller IV, chairman of the Senate Commerce Committee. The senator is the institute's honorary chairman.
The institute is dedicated to the study of memory and memory disorders. Rockefeller's mother died of Alzheimer's disease.
Nearly $490,000 was donated, with many of the contributions from companies with issues before the Commerce Committee. Among them: AT&T, Verizon, CBS and Comcast. The institute received a total of $90,000 from two airline giants -- United and Continental -- during their pending merger, and also from the combined firm, United Continental Holdings.
"The senator's personal commitment to supporting research for Alzheimer's disease is completely separate from his work in public office, and the senator intends to keep it that way," Rockefeller spokeswoman Abigail McDonough said.
Megan McCarthy, a spokeswoman for the merged airline company, said, "We have a long history of supporting this foundation and other health related causes, and we make contributions to worthwhile organizations in many of the communities we serve throughout the country."
America's Health Insurance Plans, pharmaceutical company Pfizer and Microsoft were among the contributors to either of two entities associated with Utah Sen. Orrin Hatch, the top Republican on the Senate Finance Committee.
Hatch is a regular participant in the Utah Family Foundation's annual fundraising golf tournament -- although he's not on the board or an officer -- and conducts the annual Utah Conference for Seniors.
Hatch said in a statement: "I don't support things based on who I talk to, but because they are what I believe is best, period. Encouraging the private sector to help people is just common sense. If I can lend my name to support worthy causes, then I think that's the right thing to do."