Libyan Unrest Highlights Uneasy U.S. Alliance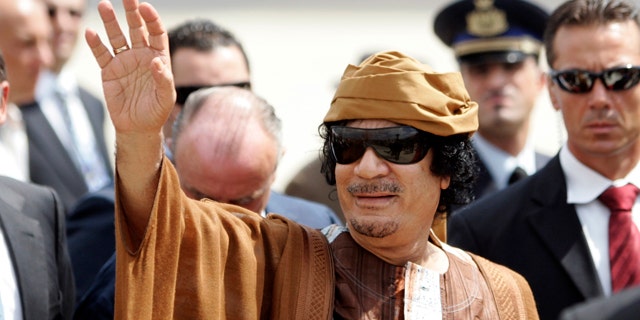 On what has been billed as a Day of Rage for pro-democracy protesters in major Libyan cities, U.S. officials face a fresh dilemma over how much support to express for an Arab leader long reviled by the United States but who in recent years has quietly become a partner in various American initiatives.
The Arab world's longest-serving head of state, Libyan strongman Col. Muammar al-Qaddafi has exercised virtually unchecked power since assuming his country's leadership in a bloodless coup in 1969. Over the next three decades, he became a prime exponent of anti-American sentiment and one of the world's leading state sponsors of terrorism.
But Qaddafi's decision in 2003 to shut down his weapons of mass destruction programs, and his agreement to pay multimillion-dollar restitution claims to the victims of terrorist acts he engineered, produced a steadily improved relationship with the United States under the George W. Bush and Obama administrations.
That included normalized diplomatic relations, with ambassadors and fully staffed embassies in their respective capitals; expanded business ties; and even military-to-military contacts. Qaddafi's son visited Secretary of State Hillary Clinton in Washington last April, and the two countries inked a new trade pact the following month.
After his visit to Tripoli in December, Assistant Secretary of State Jose Fernandez, who heads the State Department's Bureau of Economic, Energy and Business Affairs, told reporters he "couldn't have had a better response" from Libyan officials eager to attract Western capital.
"They actually have created a Center for Entrepreneurship, on their own, even before we got there," said Fernandez in a briefing on Dec. 9, "to support new companies in the technology sector, new companies in women's entrepreneurship…Frankly, it was quite encouraging. It was really good."
Still, the State Department's official country profile lists Libya as an "authoritarian state," and Qaddafi's record is ranked among the worst by non-governmental organizations that track human rights abuses.
Confronted this week by protesters seeking the release of a lawyer who has represented victims of internal repression, the erratic ruler responded by releasing the lawyer from jail -- and then unleashing security forces on the protestors. Unverified amateur video, posted on YouTube, showed protesters in the country's second largest city, Benghazi, fleeing gunshots and carrying a bleeding man from the melee.
Asked by a FOX News reporter at a briefing on Wednesday if Qaddafi is a dictator, State Department spokesman P.J. Crowley remained silent and looked for another question to answer.
"Are you stumped?" the reporter asked Crowley.
"I'm not stumped," Crowley shot back.
"So what's your answer to the question? Is he a dictator?"
"I don't think he came to office through a democratic process," Crowley finally responded.
The reluctance Crowley displayed exemplified the dilemma facing the United States with respect to Libya. While top policymakers in Washington have long wished for regime change in Tripoli, and for Libyans to attain more freedoms, any expression of support by the Obama administration for the protesters in Thursday's Day of Rage actions could jeopardize the United states' burgeoning relationship with the mercurial Qaddafi.
Yet the true character of the Qaddafi regime remains stubbornly on display. From sources inside Libya, Fox News obtained reports -- impossible to verify immediately -- of extraordinary brutality in the suppression of Tuesday's and Wednesday's unrest.
These sources said two prominent Libyan intellectuals, the writers Idris Mesmari and Mohamed Sohaim, were arrested in their homes, beaten and spirited to undisclosed locations. According to these sources, security forces also beat Mesmari's wife and ransacked the homes of both men.
Fox News also received reports that Libyan school children were ordered to leave classes -- under threat of failing grades -- and participate in pro-Qaddafi rallies.
Crowley on Wednesday declined to respond to a question about the protests in Libya, but named the country as one of a number of Mideast states where upheaval could effectively have been foreseen.
"Countries across the region have the same kind of challenge in terms of the demographics, the aspirations of their people, the need for reform," Crowley said, "and we encourage these countries to take specific actions that address the aspirations and the needs and hopes of their people. Libya certainly would be in that same category."