'Leave my wife out of it,' Rep. Hunter says about corruption charges: report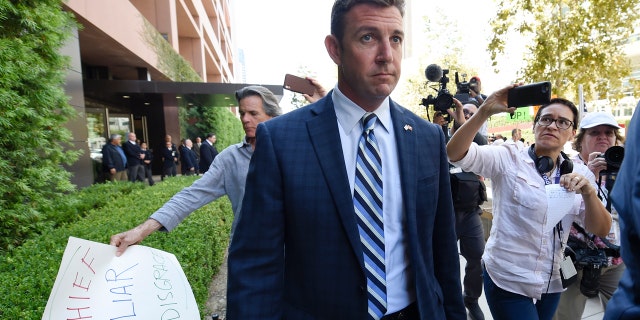 U.S. Rep. Duncan Hunter, a California Republican who along with his wife was recently indicted on corruption charges, said Tuesday that he alone should be the focus of media scrutiny.
"Leave my wife out of it, leave my family out of it," Hunter told San Diego's KGTV-TV. "It's me they're after anyway. They're not after my wife; they want to take me down, that's what they're up to. So let's get this in the arena and have this settled."
Hunter spoke to the station prior to a "Women Volunteers in Politics" event in San Diego, which is part of the 50th Congressional District that he represents.
Hunter's comments appeared to be a reversal from his earlier comments to Fox News about his wife and campaign manager Margaret's handling of his finances.
"So whatever she did, that will be looked at too, I'm sure," Hunter said. "But I didn't do it. I didn't spend any money illegally, I did not use campaign money."
Hunter in the interview said he gave his wife power of attorney when he deployed as a Marine to Iraq in 2003 and that she has handled his finances throughout his five terms in office.
Both Duncan and Margaret Hunter were indicted last week on charges of misusing at least $250,000 in campaign funds for personal expenses, the Hill reported. The couple pleaded not guilty.
Duncan told Fox News that he also paid back $60,000 to his campaign and that the allegations were "pure politics" ahead of the November midterm elections.
"My campaign did make mistakes," Hunter told the network. "There was money spent on things, not by me but by the campaign, and I paid that back before my last election."
The indictment listed alleged use of campaign money to pay for tuition for his children's private school, video games, dental work, lavish dinners and movie tickets, in addition to trips to Italy and Hawaii, according to the Hill. The couple is also accused of falsifying spending reports, KGTV reported.
Duncan and Margaret Hunter entered federal court in San Diego separately last week with their own attorneys to enter their pleas and both also left separately.
Margaret Hunter's lawyer, Thomas McNamara, did not immediately respond to phone and email messages Friday seeking comment.
In a statement, House Speaker Paul Ryan called the charges "deeply serious" and said Hunter would be removed from his committee assignments, pending resolution of the case.
House Democratic leader Nancy Pelosi said Ryan should call on Hunter to resign.
The Associated Press contributed to this report.