Lawmakers say there will be 'hell to pay' if Russia is behind Malaysia Airlines crash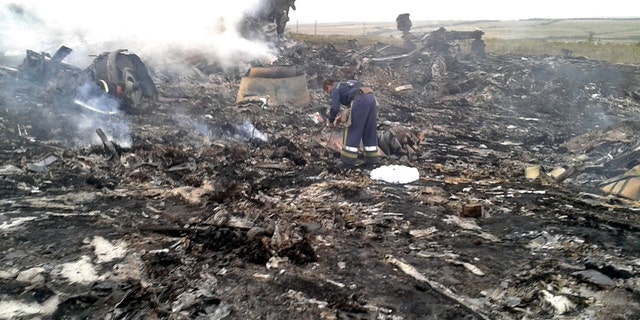 WASHINGTON – The White House confirmed Thursday that President Obama and Russian President Vladimir Putin briefly discussed a Malaysian passenger plane crash that killed 295 people on board during a telephone call the two leaders had earlier in the day.
The plane crashed in Ukraine near the border with Russia. It was traveling from Amsterdam to Kuala Lumpur in Malaysia. Pieces of the Boeing 777 along with bodies were found burning on the ground in Ukraine.
White House spokesman Josh Earnest confirmed the call took place but suggested that Putin did not pass on a lot of details to Obama. What Putin passed on – or did not pass on - to the president may be significant as more information comes out on possible Russian involvement.
"I can confirm that President Putin near the end of this morning's phone call with President Obama noted the early reports of a downed passenger jet near the Russia-Ukraine border," Earnest said.
At a political event in Delaware early Thursday afternoon, Obama spoke briefly about the downed airliner, saying it "looks like it may be a terrible tragedy" and the administration is working to determine whether American citizens were on board. He also noted the national security team is in close contact with the Ukrainian government.
Sen. Mark Kirk, R-Ill., told Fox News the weaponry used to down the plane was consistent with Russian technology although he could not tell for sure "which jerk" in the region shot it down.
Kirk added if the reports are confirmed, the international community should suspend flights over Ukrainian airspace.
Sen. John McCain, R-Ariz., took a similar tone. He said there would be "hell to pay" if the plane was shot down by the Russian military – but added, "to leap to conclusions could be very embarrassing and really inappropriate until we have more information."
Rep. Adam Schiff, D-Calif., a senior member of the Intelligence Committee, said if the crash was caused by pro-Russian separatists, it "represents a tragic and dramatic escalation in this conflict."
He added, "It's been clear from the beginning that notwithstanding Putin's duplicitous statements to the contrary, Russia has continued tostoke theconflictand allow violent separatists in eastern Ukraine access to an array of Russian armaments."
Schiff also urged European countries to "quickly follow" America's lead by implementing broader sanctions.
State Department spokeswoman Jen Psaki said U.S. officials had "been in touch" with Ukrainian officials but couldn't confirm any other details, including whether any Americans were on board the plane traveling from Amsterdam to Kuala Lumpur in Malaysia.
For its part, the Kremlin website published a statement that says "the Russian leader informed the U.S. president of the report from air traffic controllers that the Malaysian plane had crashed on Ukrainian territory, which had arrived immediately before the phone call."
Ukrainian PresidentPetroPoroshenkoconfirmed the crash and fueled speculation that the plane was shot down by separatists, but State Department spokesman Jen Psaki in a message on Twitter said the U.S. government cannot confirm any cause.
"We do not exclude that this plane was shot down," Poroshenko said, "and we stress that the Armed Forces of Ukraine did not take action against any airborne targets."
The Associated Press contributed to this report.