Lawmakers push to shift money from conventions to kids' medical research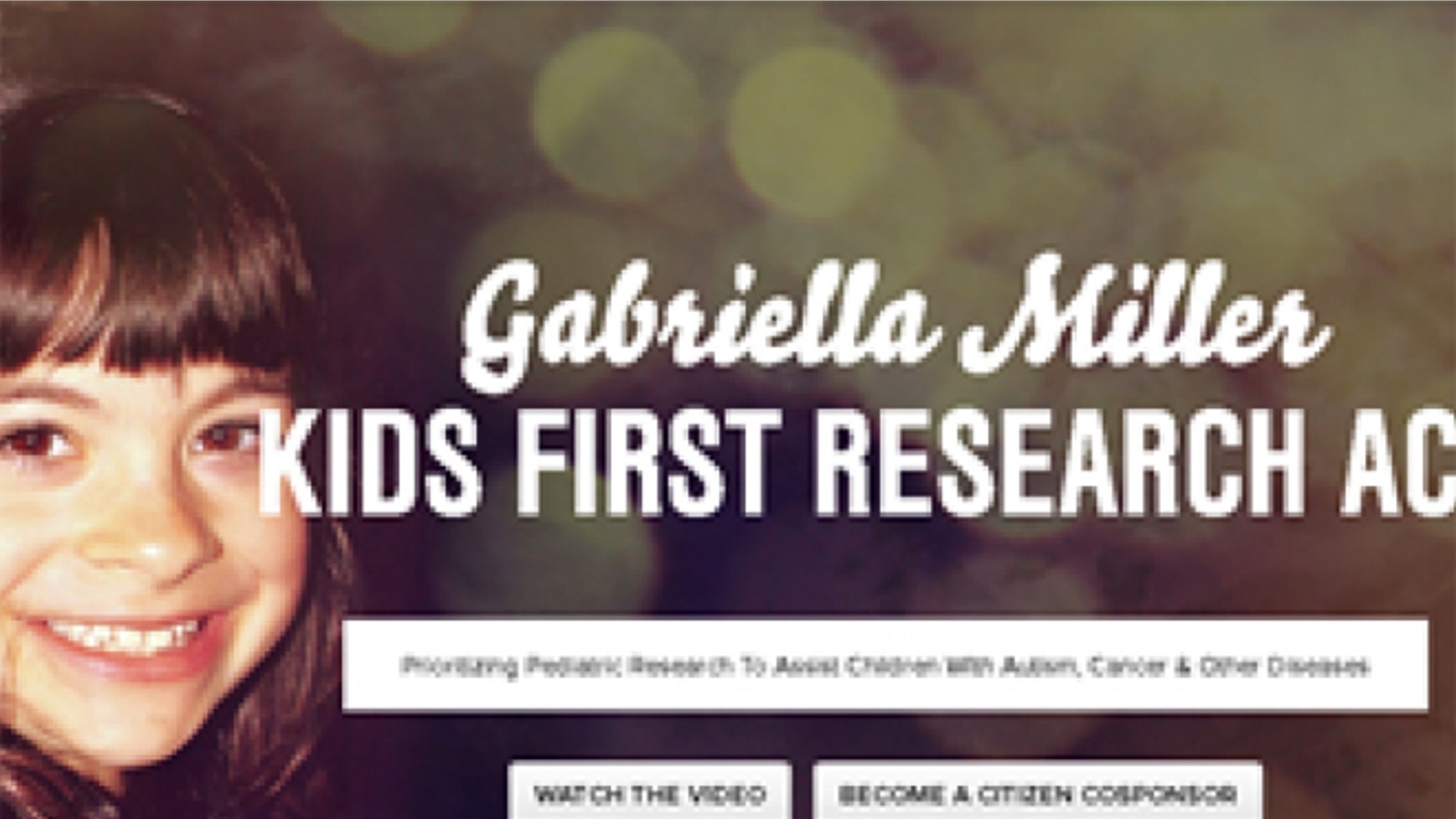 Inspired by a Virginia child's fearless battle with terminal cancer, the House has agreed to redirect $126 million in taxpayer funds from political conventions to pediatric medical research.
The legislation is named after 10-year-old Gabriella Miller, who died this fall from brain cancer -- but not before a final farewell in which she urged others to continue the fight for more funding to children's medical research.
"If I go, I lose my battle, then I want other people to carry on with this war," she told the advocacy group Truth 365 about two weeks before she died.
The bipartisan legislation passed the House in mid-December and now goes to the Senate, where backers are working to garner similar bipartisan support.
"We're looking for Democrats and Republicans," Rory Cooper, a spokesman for House Majority Leader Eric Cantor, R-Va., told FoxNews.com.
The House-passed legislation redirects $12.6 million annually over the next decade from political party conventions to pediatric research initiatives, including cancer research, through a fund administered by the National Institutes of Health.
[pullquote]
The bill was initially sponsored by Mississippi GOP Rep. Gregg Harper, who has a child with Fragile X syndrome – a genetic condition associated with autism. The legislation also requires political parties to transfer leftover convention money to a 10-Year Pediatric Initiative Fund. Though conventions are funded in part by private contributions, each major party receives millions every year in taxpayer funds. Lawmakers say the money has been spent on everything from floral arrangements to gift bags.
What happens next with the bill largely depends on whether a senator introduces the legislation and gets enough votes to bring it to the chamber floor, where Majority Leader Harry Reid will decide whether the bill gets a vote.
Reid sparked controversy over the issue of pediatric cancer research in October by saying he wouldn't vote in favor of specifically keeping open the National Institutes of Health during the partial government shutdown, after fellow Senate Democrats lamented that such research would be among the suspended government operations.
Reid attempted to clarify his position by saying he didn't want to go along with the GOP-led House, which had decided to "cherry pick what stays open and what should be closed."
Gabriella nevertheless found a silver lining to the dispute, saying it "brought a lot of awareness for childhood cancer. And I think that will last a while."
Reid's Capitol Hill office did not return a call Monday seeking comment on whether he backs the new legislation.
"This is one step of many that we should take together," Cantor told House Democrats and Republican in introducing the bill Dec. 11, with Gabriella's parents, Mark and Ellyn, in attendance. "What is more important -- finding cures for our children or balloons for party conventions?"
The bill passed 295-103, with 72 Democrats supporting the effort.
"What we have in my view with this bill is an opportunity to lay down the battle axes for just a moment and take a step forward," said Vermont Rep. Peter Welch, a leading Democratic co-sponsor.
However, more than 100 House Democrats rejected the bill as an attempt by Republicans to restore some of their roughly $1.5 billion in spending cuts to the NIH, a potential argument for the Democrat-led Senate.