Latino Vote Determined Key Races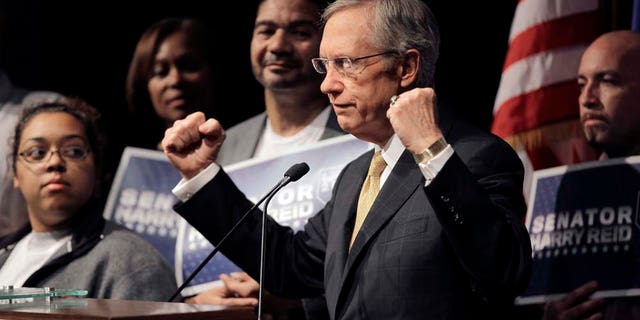 Several high profile candidates, who sweated-out tight victories on election night, had the Latino vote to thank.
That was the analysis put forth Wednesday by Latino Decisions, an independent group that studies Latino voting on the state level.
Take Senator Harry Reid: the Nevada Democrat snagged 90 percent of the Latino vote, or a 12 percent share of the state. His margin of victory against his Republican opponent, Sharron Angle, was about 6 percentage points.
"They certainly saved Harry Reid," said Gary Segura, political science professor at Stanford University. "The Latino margins far exceeded the overall margins of the race."
In Illinois, too, Democrat Patrick Quinn was leading Bill Bradley Wednesday by a razor-thin margin of less than a percentage point. Quinn carried 83 percent of the Latino vote compared to his Republican opponent's 13 percent, according to the group.
"That very well may have propel him to victory," Segura said.
Early exit polls numbers show that Hispanics made up about 8 percent of Tuesday night's vote nationwide. Latino Decisions, which focused on eight states including California, Texas and New Mexico, found that voters were motivated in large part by jobs and the economy, immigration and to speak out on their community's behalf.
Immigration, in particular, stood out as a top issue. Thirty-seven percent of Latinos nationwide considered the topic as a top concern. Another 53 percent said the anti-Latino sentiment during the election season was "the most important" or one of the most important factors that influenced them to vote.
"The message is clear," said Clarissa Martínez de Castro, director of immigration and national campaigns for the National Council of La Raza. "Latinos reject the politics of fear."
Martínez de Castro added that the anti-immigration used by some Republican candidates may have cost the party control of the Congress.
"Had Republican candidates not fumbled the immigration issue and demonized Latinos," she said, "Republicans could have captured control of the Senate."
Ironically, the two Latino candidates with historic victories Tuesday lost the Hispanic vote. New Mexico Republican Susana Martínez, who became the nation's first Latina governor, only got 38 percent of the vote compared to Democrat Diane Denish's 61 percent. Republican Brian Sandoval, who was elected Nevada's first Latino governor, garnered 15 percent of the Hispanic vote.
Senator-elect Marco Rubio, however, easily won the Hispanic vote in Florida. The Republican got 62 percent of the Latino vote, according to the exit polls.