Largely ignored, ballot measures across U.S. could impact Latinos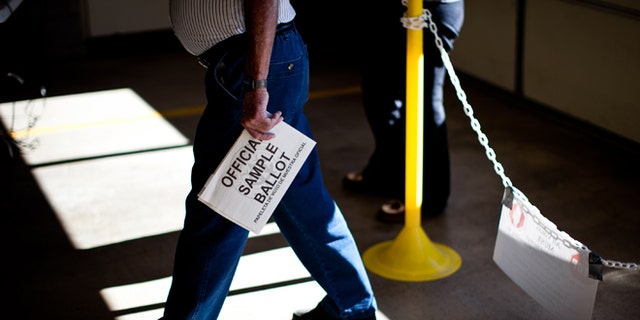 Along with hundreds - maybe even thousands - of candidates fighting to get themselves elected to political offices across the country, there are more than 140 ballot initiatives that are being decided on Tuesday. All of them asking voters to take sides on issues as varied as drivers' cards for undocumented immigrants in Oregon and raising the minimum wage in Arkansas to recreational marijuana and stricter gun laws.
That is actually a very low number of ballot measures, down from nearly 190 in 2012. But that doesn't mean that there isn't a lot at stake, both in terms of important issues as well as money spent (by itself one California ballot measure, Proposition 45, which would allow the state's insurance commissioner to intercede in conflicts over health insurance rate hikes, has drawn more than $50 million in spending by outside groups).
A number of those ballot initiatives could have a direct impact on the lives of Latinos, and this has politicians, activists, political action committees and voter organizations on all sides hoping to win over this key demographic.
"There are less ballot initiatives this year, but the ones that are on the ballot are very important," Justine Sarver, executive director of the Ballot Imitative Strategy Center told Fox News Latino. "The Latino voting population is not huge in a lot of these states, but it is still very important."
The ballot initiative in Oregon – the Alternative Driver Licenses Referendum – is probably the one that could most directly affect the lives of Latinos. The measure is a citizen's veto referendum on State Bill 833, a bill passed in 2013 by the Oregon Legislature which grants official driver IDs to people who cannot prove legal presence in the U.S.
There are less ballot initiatives this year, but the ones that are on the ballot are very important.
The proposal has enflamed sentiments on both sides of the immigration debate.
"Trying to make life easier for these people here illegally just makes me ashamed and embarrassed that that our government supports this measure," Cynthia Kendoll, a campaign manager for Protect Oregon Driver Licenses told FNL.
Kendoll and other opponents of granting government identity cards to undocumented immigrants and others who can't prove they're in the country legally is that there's no way to prove the people who apply for the cards are who they claim to be – making the system ripe for corruption.
"This is one of the most fraud-riddled documents in the nation," Kendoll said of SB 833. "We've got a pervasive culture of corruption where we pick which laws apply to whom and how to enforce [them]."
Supporters counter that these documents help keep roads safer as people who may have been driving without insurance or a license will go through the training process and be more accountable.
"The measure makes sense because it makes drivers know the rules of the road, and it is not a proxy for immigration laws," Becky Straus, legislative director of the American Civil Liberties Union (ACLU) of Oregon told FNL. "It has nothing to do with immigration but instead it's about drivers' safety and civil liberties."
Oregon's 60 Driver and Motor Vehicle Services offices could begin issuing driver cards in as little as 30 days if the initiative passes. Recent polling data suggests the majority of likely voters are leaning toward vetoing SB 833.
Oregon would become one of 12 states in the U.S. to allow driver's cards for undocumented immigrants, while only two states – Arizona and Nebraska – deny driver's license to young people granted protection under the Deferred Action for Childhood Arrivals (DACA) program.
Illinois also has a number of proposals on the ballot in this year's elections, including a non-binding question about raising the minimum wage in the state, but the most pressing for Latinos in the state is the Right to Vote amendment.
Proponents and adversaries of the initiative alike have suggested that the amendment is, at least in part, meant to discourage a controversial voter identification card like that being used in Texas, but the main thrust of the proposal is to ensure that no person is denied the right to vote based on race, sex, color, ethnicity as well as a host of other factors.
When Illinois' state Senate voted back to put the amendment up for vote in November, the move was widely praised by Democrats who claim that proof of citizenship measures unfairly disenfranchise low-income people — often Democrats — who don't have IDs or the money to acquire them.
"No voter should have to face the suppression tactics that we see in other states across the nation," Democratic Gov. Pat Quinn said in a prepared statement as he encouraged voter approval earlier this year.
The U.S. Supreme Court said last week that Texas can use its controversial new voter identification law this election. A majority of the justices rejected an emergency request from the Justice Department and civil rights groups to prohibit the state from requiring voters to produce certain forms of photo identification in order to cast ballots.
Democrats in Illinois, including the bill's sponsor Sen. Kwame Raoul, have not denied the fact that the Right to Vote amendment is an attempt to dissuade any implementation of voter ID laws.
"It is definitely, definitely intended to discourage voter ID laws," Raoul said. "If you cast a vote for this, you are casting a vote against voter ID laws."
For the amendment to go into effect, it would need to garner the approval from either 3/5 of the people who vote solely on the question or a majority of all people voting in the election.
Some of the other measures that are piquing interest across the nation deal with issues like birth control, gun ownership and the legalization of marijuana.
In Colorado, a "personhood" amendment would add fetuses to those protected by the state's criminal and wrongful death act. Opponents say it would effectively ban abortions.
In North Dakota, Measure 1 would provide "the inalienable right to life" for humans at "any stage of development." Supporters and opponents differ on what impact it might have on abortion regulations.
Voters in Oregon, Alaska and the District of Columbia all have the chance to legalize the recreational use of marijuana by adults, a step already taken two years ago by voters in Colorado and Washington state. A measure in the Latino-centric state of Florida would legalize medical marijuana use.
Washington state has two competing gun-related measures on its ballot, with one pursuing background checks for all gun sales and transfers (including private transactions) and another that would prevent any such requirement involving purchases from private sellers.
The Associated Press contributed to this report.