Lame-duck session might not be so lame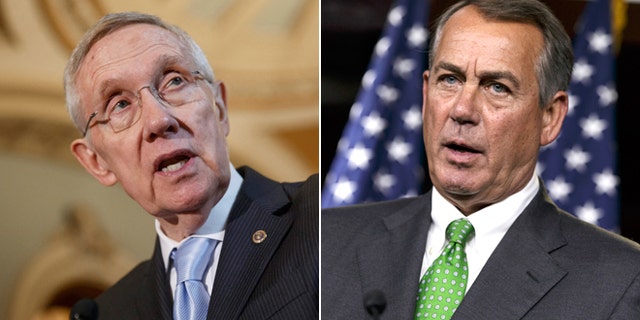 It's ironic that Capitol Hill watchers will bill the congressional session slated to hit between mid-November and perhaps early January as "the lame duck."
It meets the standard definition of a "lame duck" Congress: lawmakers returning to Washington for legislative business in an even-numbered year, following an election – even though many of those members have retired or were defeated. Members of Congress, vanquished at the polls or leaving on their own accord, can still vote and legislate – despite the electoral clipping of their wings.
Yet the pending congressional work period in November, December and the first of January might be anything but lame compared with what Congress did earlier this year.
The irony is that some could mistake the first 10 months of the year for the lame-duck session. Most of the major spending issues were wrapped up in February. Both bodies struggled with the border issue. Full-blown immigration reform was too toxic for the House to touch. Republicans talked a lot about ObamaCare, but yet again never came close to repealing or replacing the law.
Congress returned for an abbreviated session in September. Lawmakers passed another spending measure to run the government through December and authorized the training and arming of opposition fighters to combat the Islamic State. There was no formal debate on an actual war or use-of-force resolution despite a host of calls from both sides of the aisle to do so.
And then Congress was gone again, despite a summertime warning from Senate Democratic Leader Harry Reid that there'd be "no weekends off" in September. (Lawmakers never toiled a single weekend in September or came remotely close to it.)
Congress is due to return in mid-November -- and that's when the real work could happen.
The only "must do" item on the lame-duck calendar is to sidestep a government shutdown by passing a comprehensive spending bill by mid-December. Senate Democrats could rush to confirm a successor to Attorney General Eric Holder – particularly if they lose control of the Senate. The Senate Democrats' "nuclear option" rule allows them to vault a major parliamentary hurdle with just 51 yeas and then confirm the nominee with the same simple majority. The old rule used to require 60 votes to defeat a filibuster. Democrats don't want to subject the next attorney general to a potential 60-vote threshold. Republicans suggest they'll restore the higher barrier in 2015 if they score control of the Senate.
But then there's the stuff Congress doesn't have to do – but which will inevitably surface during the lame duck.
Big ticket stuff, that's not so lame.
There are more and more rattlings about ISIS and whether Congress needs to vote on an authorization for the current military campaign.
By mid-November, a clearer picture will emerge about the virulence of Ebola and if Congress needs to take action
And the possibility of a presidential executive order on immigration looms over everything.
All of this comes amid a letter from Sens. Ted Cruz, R-Texas, and Mike Lee, R-Utah, to Reid, asserting they would object and tangle the Senate in knots if he tries to advance any non-emergency bills before January.
"Planning to reconvene the Senate in a lame-duck session to address major new legislation would subvert the will of the American people, lessen accountability and do lasting damage to the dignity of this body's proceedings," predicted Cruz and Lee.
But despite the protestations of Cruz and Lee, Congress has knocked out some major legislation and approached big issues during previous lame ducks.
During lame-duck sessions in the 1940s, Congress reworked the tax code, imposed a military draft, and confirmed Edward Stettinius as secretary of State. In the 1954 lame duck, the Senate censured Sen. Joe McCarthy, R-Wis., for his "anti-communist" crusades. In a 1974 lame duck, the Senate confirmed President Gerald Ford's nomination of Nelson Rockefeller to serve as vice president. The House of Representatives prepared articles of impeachment against President Bill Clinton in the 1998 lame duck and okayed a Senate trial. In the 2004 lame duck, lawmakers finished legislation to overhaul the intelligence community. The 2008 lame duck featured a bill to bolster the U.S. automotive industry which teetered on the brink of bankruptcy after the nation's economic collapse.
In addition, what goes on off the House and Senate floors could be just as interesting during the lame duck.
Congress watchers will look to see if there is any sort of viable leadership challenge which emerges in November to House Speaker John Boehner, R-Ohio, or the rest of the GOP leadership team. Will House Minority Leader Nancy Pelosi, D-Calif., stick around -- again? Will some GOPers insist that Rep. Paul Ryan, R-Wis., forswear an immediate presidential bid in exchange for the Ways and Means Committee gavel?
And then there's the Senate.
Who wins control? And when will we know?
Multiple Senate races are razor-close. How long will it take Alaska to file its returns as Sen. Mark Begich, D-Alaska, attempts a second term? Louisiana wouldn't hold its Senate run-off after the "jungle" primary until December. What if Georgia faces a runoff in the contest to succeed retiring GOP Sen. Saxby Chambliss? Georgia wouldn't conduct its runoff until (gulp) Jan. 6.
It is entirely possible that the conversation of which party controls the Senate ... or will control the Senate ... or could control the Senate ... or would control the Senate at that moment could consume the November-December lame duck.
Overall, the first 10 months of the year were pretty lame by any standard.
The next two months might be anything but.
Capitol Attitude is a weekly column written by members of the Fox News Capitol Hill team. Their articles take you inside the halls of Congress, and cover the spectrum of policy issues being introduced, debated and voted on there.