LA Mayor Eric Garcetti mum on travel, security expenses, prompting lawsuit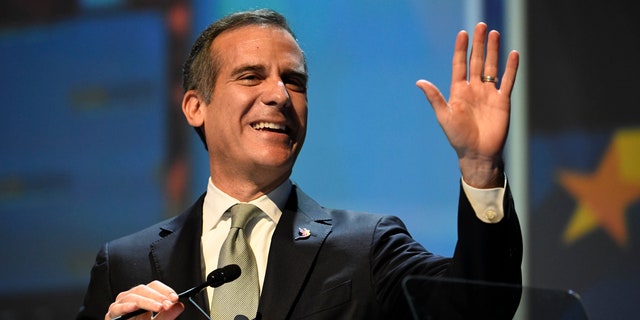 Los Angeles Mayor Eric Garcetti's office has been stingy with details about security expenses linked to the Democrat's out-of-state trips, so now a local newspaper is suing to gain access to those records.
The lawsuit filed by the Los Angeles Times maintains that repeated requests for information on Garcetti's security expenses were rejected, the Times reported.
Garcetti, considered a possible contender for the Democratic Party's 2020 presidential nomination, spent a third of last year traveling outside California, the paper reported. Stops included key battleground states, and a trip to Germany.
According to the lawsuit, a Times reporter repeatedly sought information on travel expenses from the Los Angeles Police Department but was denied access on grounds that it jeopardized the mayor's safety.
Providing those details, the LAPD said in an email, risked exposing "the Mayor and his family to threats arising from vulnerability in the provision of security."
When the reporter reached out to the mayor's office, a spokesman said Garcetti's "protective detail travels with him wherever he goes," the lawsuit alleges.
According to the Times, the city has failed to explain why providing details on the mayor's travel expenses puts him at risk.
Travel expenses for politicians are typically a contentious issue. As recently as last week, New York City Mayor Bill de Blasio faced scrutiny for opting against commercial airlines and instead using a $3 million city police counterterrorism plane for a brief trip between New York and Canada.
Garcetti's office declined to comment on the Times' lawsuit.