King of the hill? Rubio leads in polls, and in esteem of sought-after GOP donor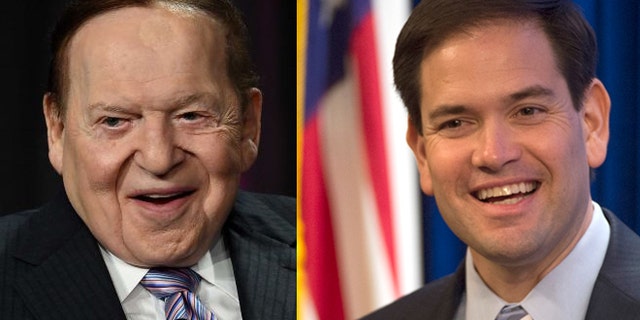 NEWYou can now listen to Fox News articles!
These days, it looks like everything's coming up roses for Sen. Marco Rubio, the man who would be president.
Two polls released back-to-back this week showed the Florida Republican who announced his candidacy for president last week, leading all GOP Oval Office hopefuls among registered Republican voters nationwide.
In a Fox News poll released Friday, Rubio scored 13 percent support from Republican voters who said they planned to vote in the Republican primary. Wisconsin Gov. Scott Walker followed with 12 percent, and Sen. Rand Paul of Kentucky came in third with 10.
Just the day before, a Quinnipiac University poll had Rubio, who has enjoyed a high profile despite being only in his first term in Congress, garnering 15 percent of the vote, besting the veteran politician, and his one-time mentor, Florida Gov. Jeb Bush, who got 13 percent.
But while winning the top slot in polls of declared and yet-to-declare presidential contenders generates buzz and shows Rubio, 43, as a true competitor, experts say, a strong showing for the junior senator in another measure for the GOP – which candidate mega-donor Sheldon Adelson decides to support – actually may be more significant.
The Las Vegas-based multibillionaire casino mogul is said to be very impressed with the telegenic, smart senator with a personal American Dream story, according to Politico. Adelson sees Rubio as someone who can both win the primary, in which conservatives hold considerable sway, and also have broader appeal in the general election.
Adelson, who poured $100 million into the 2012 presidential campaign, likes Rubio's tough talk on defense spending and foreign policy – especially his pro-Israel views, Politico reported.
"The [success in polls] at this point is good more for name recognition, but it doesn't mean that voters in Iowa or New Hampshire or South Carolina will turn out for you in a year," said Louis DeSipio, a professor of political science and Latino/Chicano studies at University of California, Irvine. "But the money is very important at this stage in the process."
"Having money at this stage is golden," DeSipio said. "It demonstrates to your opponents that you can run a serious campaign, and that they may be losing early access to the resources they need."
Other political experts agree.
"Marco is a formidable candidate," said Alfonso Aguilar, a Republican analyst and executive director of the conservative American Principles Project's Latino Partnership. "But it's early right now. The Rubio surge now is due to the fact that he just announced, and he's an attractive candidate."
"But [the lead in polls] is good news for Rubio and the Rubio camp," Aguilar added. "He's a very strong candidate, and he will be one of the top contenders throughout the race."
Rubio has been establishing a tie with the 81-year-old Adelson ever since he arrived in the U.S. Senate in 2011. And he's been assiduous about reinforcing the relationship, calling Adelson about once every two weeks with the latest about his campaign, according to Politico.
No other declared or expected 2016 GOP presidential candidate, the website noted, has come close to reaching out more often to Adelson, whose $32 billion net worth makes him the nation's 12th-richest person.
Besides liking Rubio's positions on Israel, immigration and defense, Adelson also has an affinity with the son of Cuban immigrants whose father worked as a bartender and his mother as a maid. The mogul's father came to the United States from Lithuania and made his living as a cab driver.
In March, Politico reported, Adelson and Rubio dined at an upscale steakhouse near Capitol Hill, talking about family and personal issues. "It lasted quite a while," Politico quoted a "source close to Rubio" as saying.
Rubio's campaign declined to comment to FNL about Adelson.
Andy Abboud, an Adelson spokesman, said to Politico, "It's a wide-open field and he's going to keep his powder dry until he needs to weigh in. He's excited about the field of candidates."
If and when Adelson does decide to endorse a candidate, it is not expected to happen before the second GOP primary debate in September.
As for Rubio's newfound front-runner status, his campaign was careful not to sound too celebratory.
"The early polls are going to bounce all over the place, so we'll let others analyze them while we stay focused on our positive conservative vision for a new American century," said Rubio spokesman Alex Conant.
Rubio pollster John McHenry was equally cautious.
"You'd rather be ahead than behind," he said. "It's a testament of how well his launch went, and how it was received. But we're hesitant to put a lot of stock in polling that is nine months out."
The Republican primary field in the poll shows the junior senator from Florida currently grabbing 15 percent of the vote, with former Florida Gov. Jeb Bush pulling in 13 percent, and Wisconsin Gov. Scott Walker with 11 percent. No other candidate tops 9 percent, and 14 percent remain undecided.
When it comes to the general election, the poll found that Clinton would get 45 percent of the vote to 43 percent for Rubio—well within the poll's margin of error—should they win their parties' nominations. It is the closest head-to-head match-up between the former secretary of state and any Republican challenger.
"The youngest member of the GOP presidential posse moves to the front of the pack to challenge Hillary Clinton, whose position in her own party appears rock solid," said Tim Malloy, assistant director of the Quinnipiac University poll, in a press release. "This is the kind of survey that shoots adrenalin into a campaign. Marco Rubio gets strong enough numbers and favorability ratings to look like a legit threat to Hillary Clinton."