Kerry in Saudi Arabia to discuss Iran negotiations, Yemen crisis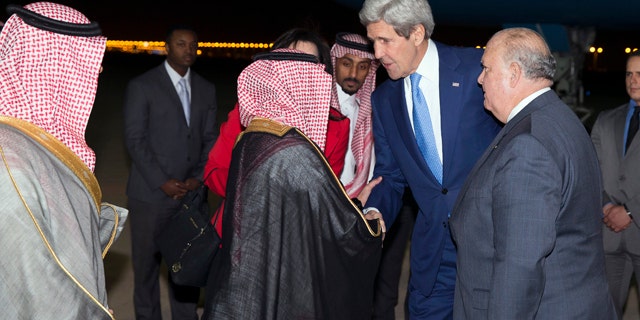 RIYADH, Saudi Arabia – U.S. Secretary of State John Kerry sought Thursday to ease Gulf Arab concerns about an emerging nuclear deal with Iran and explore ways to calm instability in Yemen and other troubled nations in the Middle East.
A day after wrapping up the latest round of Iran nuclear negotiations in Switzerland, Kerry was in Saudi Arabia for talks with senior officials from the Sunni-ruled Gulf states and the new Saudi monarch, King Salman.
Kerry was meeting in the Saudi capital of Riyadh with the foreign ministers of the Gulf Cooperation Council: Bahrain, Kuwait, Oman, Qatar, Saudi Arabia and the United Arab Emirates, all of which are unnerved by Shiite Iran's suspected pursuit of nuclear weapons and its increasing assertiveness throughout the region.
U.S. officials said Kerry will reassure them that a deal with Tehran will not allow Iran to get the bomb and won't mean American complacency on broader security matters. Iran is actively supporting forces fighting in Syria and Iraq and is linked to Shiite rebels who recently toppled the U.S. and Arab-backed government in Yemen.
Kerry will tell them that no matter what happens with the Iranian nuclear talks, the U.S. will continue to confront "Iranian expansion" and "aggressiveness" in the region and work closely with the Gulf states on security and defense capabilities, according to American officials.
On Yemen, the officials said Kerry will reiterate that the U.S. supports U.N. efforts to promote a dialogue leading to a political transition in Yemen, which is embroiled in a political crisis that threatens to split the country. The U.N.-mediated talks are aimed at breaking the political stalemate between the rebels known as the Houthis and Yemeni President Abed Rabbo Mansour Hadi.
Hadi fled the capital of Sanaa after being released from house arrest last month and is now based in the southern city of Aden, from where he has been meeting foreign diplomats, including the U.S. ambassador. Hadi has called for the relocation of embassies to Aden, as several GCC members have done already.
The United States, which closed its embassy in Sanaa last month and evacuated its diplomatic staff, has no plans to relocate to Aden, although the U.S. ambassador to Yemen, Matthew Tueller, met with Hadi in Aden on Monday. Until the crisis is resolved and the embassy reopened, Tueller and some of his staff will be based in an office at the U.S. Consulate in Jiddah, Saudi Arabia, the officials said.
In addition to the Iranian nuclear issue and Yemen, Kerry will also discuss the continually deteriorating conditions in Syria and the fight against Islamic State group militants there and in Iraq.
U.S. officials said Kerry would stress that the United States does not see a military solution to the conflict in Syria, but also does not think a political solution is possible while Syrian President Bashar Assad remains in power.