Kerry cites proof of sarin gas attack in building case against Syria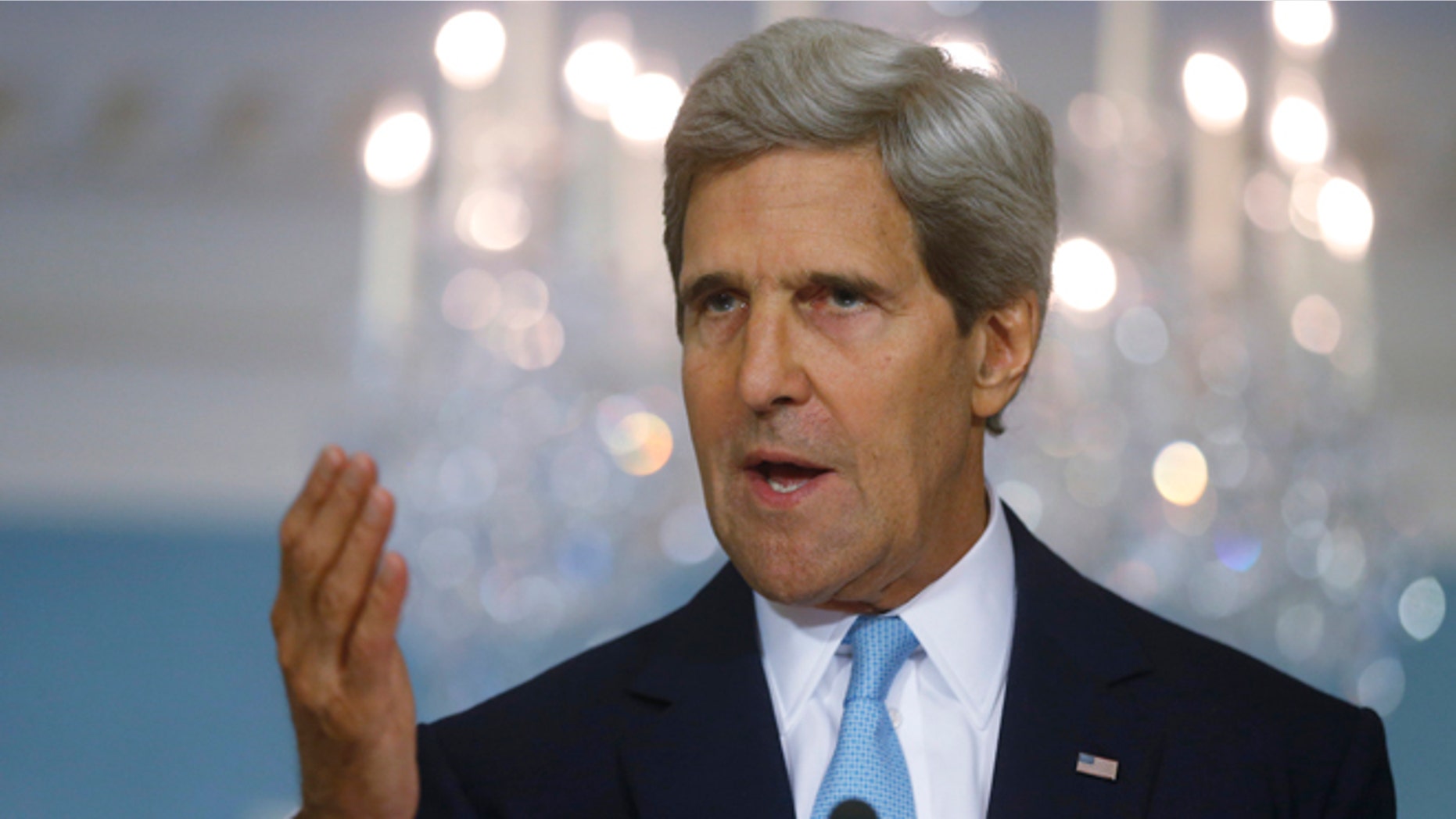 Secretary of State John Kerry said Sunday that the United States now has proof that lethal sarin gas was used in Syria on civilians, in building the administration's case of a military strike on the Middle East country.
Kerry told "Fox News Sunday" that blood and hair samples taken from first-responders in Damascus have tested positive for sarin.
"This case is going to build," said Kerry, who also defended President Obama's decision to seek congressional approval for a military strike.
"Our country is much stronger when we act together," Kerry said. "I think this is a smart decision by the president, a courageous decision."
The president was driven to make a decision, which he announced Saturday, after an Aug. 21 chemical attack outside Damascus that killed more than 1,400 people, including hundreds of children. The attack was just one of several allegedly carried out by Syrian President Bashar Assad after Obama said about 12 months ago that the regime using a chemical weapon would "cross a red line."
Kerry, who on Friday made a passionate plea for an attack, strongly disagreed Sunday with the perception that Obama's decision was contrary to the one he and his national security team had made Friday -- that the administration would seek congressional support but act before members return to Capitol Hill on Sept. 9.
"The case doesn't change and hasn't changed at all," Kerry told Fox News. "No decision is made until the president of the United States makes the decision."
Kerry also said that investigators confirmed this weekend that traces of sarin gas was found on victims of the alleged chemical attack.
Obama said Saturday the United States should take military action against Assad for using chemical weapons on civilians.
"This menace must be confronted," Obama, with Navy ships in the Mediterranean Sea ready to strike, said of the Assad regime's alleged chemical attack, speaking from the Rose Garden.
Obama also indicated he will not wait for either approval from the U.N. Security Council or the conclusion of the U.N. inspectors' investigation into the Syria attack.
A Senate aide told Fox News on Saturday that bringing senators back early is under consideration. And on Friday, a spokesman for House Speaker John Boehner said the congressman has not ruled out such a move.
Senior administration officials said Saturday Obama had planned to take military action against Syria without congressional authorization, but told aides Friday night that he had changed his mind.
The officials describe a president overriding all his top national security advisers, who believe consulting with Congress was sufficient.
The officials, who spoke on the condition of anonymity, said Obama spent the week wrestling with Congress' role and made the decision Friday after a lengthy discussion with his chief of staff, Denis McDonough.
The president did not say what he would do should Congress fail to support a strike. Kerry said Sunday he was confident that Congress would support a strike.
Last week, British Prime Minister David Cameron suffered a humiliating defeat when the House of Commons refused to support his call for military action against Syria.
The Assad regime has blamed rebels trying to overthrow the government for the Aug. 21 attack and has threatened retaliation if it is attacked.
The Associated Press contributed to this report.