Kentucky man pleads guilty to attack on Sen. Rand Paul that broke the lawmaker's ribs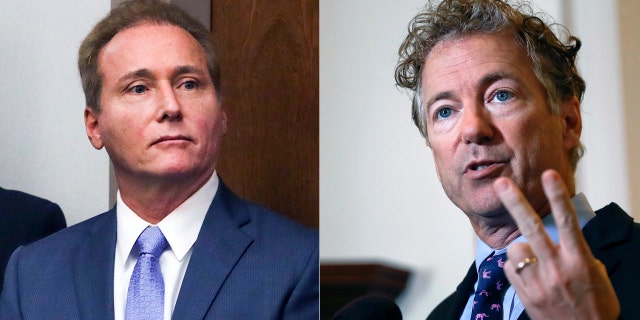 The man accused of violently attacking Kentucky Sen. Rand Paul in November, leaving him with six broken ribs, pleaded guilty Friday.
Rene Boucher, Paul's 59-year-old neighbor, pleaded guilty to a federal charge of assaulting a member of Congress resulting in personal injury.
A judge set sentencing for June 15.
Boucher, an anesthesiologist, faces up to 10 years in prison and a $250,000 fine. Prosecutors are reportedly seeking a 21-month prison sentence for Boucher, but the charge carries up to 10 years in jail, and a $250,000 fine.
Boucher's attorney, Matthew Baker, told Fox News Friday that his client is "relieved" to have "this phase of the case behind him."
"He is looking forward to obtaining a complete resolution," Baker said.
"This whole situation had absolutely nothing to do with anyone's politics or political agendas or political parties," Baker told Fox News. "It has been a longstanding dispute between two neighboring property owners over the issue of their property maintenance of lack thereof."
Boucher initially pleaded not guilty in November.
Paul, R-Ky., sustained six broken ribs and a "pleural effusion." A pleural effusion is "the build-up of excess fluid between the layers of the pleura outside the lungs," according to the Cleveland Clinic.
Boucher's attorney told Fox News in November that Paul and his client had been neighbors for 17 years in Bowling Green, Ky. and were "prominent members of the local medical community and worked together when they were both practicing physicians."
He said that the dispute grew out of "a matter that most people would regard as trivial."
Paul was mowing his lawn on Nov. 3, 2017, when Boucher saw him stacking brush into a pile near his property, according to court records reviewed by The Courier Journal.
Boucher had "had enough," and attacked Paul, over a "property dispute that had finally boiled over," according to the plea agreement reached in January.
A spokesman for Paul did not immediately respond to Fox News' request for comment.
The Associated Press contributed to this report.