Kelli Ward says Trump once told her Arpaio 'shouldn't get in' Senate race, report says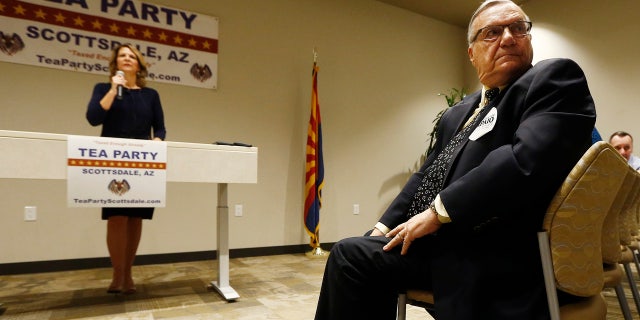 NEWYou can now listen to Fox News articles!
Kelli Ward, a top contender in the hotly contested Arizona Republican Senate primary, told supporters last month that President Donald Trump once told her that Joe Arpaio "shouldn't get in" the Senate race.
The Arizona Republic obtained video of the former state senator addressing supporters on May 24. She recalled a conversation with Trump last year at his Mar-a-Lago resort.
Ward said she was with her husband and daughter and was introduced to Trump. She said he recognized her and "basically knew everything that was going on in Arizona and in the race."
"You know, he had his opinions," she said. "He was like, 'You're up 15 points on Martha (McSally), and, you know, Joe shouldn't get in' — he had a few other things to say about that. I'll keep that to myself."
Republican Rep. Martha McSally is on the ballot and currently represents Arizona's second district in Congress.
There is clear frustration over Ward and former Maricopa County Sheriff Arpaio potentially splitting the conservative vote. Arpaio's campaign alleged last month that Ward's camp offered the former sheriff a job with a pro-Trump superPAC if he dropped out of the race. The Ward campaign denies it made the offer.
Arpaio, 85, said the offer was offensive. "I don't like to be intimidated by anyone," the former six-term sheriff said in an interview. "It's no secret that a lot of people want me out of the race. My response is I'm not leaving."
Arpaio, pardoned by Trump last year after being convicted of contempt of court in a racial profiling case, roiled the race in January by jumping in. He has raised only $500,000, the least among the three major Republicans.
Constantine Querard, an Arizona conservative strategist who has long been friendly toward Arpaio but backs Ward, told The Associated Press earlier that, "Whoever convinced Joe to run didn't do the movement any favors because the movement has a tremendous affection for Joe, but he splits the movement."
The candidates are vying for the seat held by Sen. Jeff Flake. Flake is retiring after Ward pummeled him in his initial primary. She accused Flake of being too soft on immigration and not supportive enough of Trump's agenda.
McSally's filing makes her the sixth candidate in the race across three parties. She could benefit from the tight race between Ward and Arpaio.
The White House press office did not respond to the paper's request for comment on Ward's account of the conversation. Ward's campaign did not immediately respond to Fox News for comment.
Chuck Coughlin, a more centrist Arizona Republican strategist, told The AP: "He's (Arpaio) not in it to win it, he's just in it to keep Kelli Ward from winning."
The Associated Press contributed to this report