Kelli Ward apologizes over comments on McCain's medical treatment announcement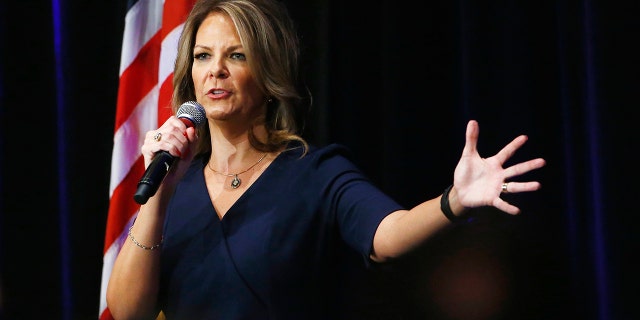 Former Arizona State Sen. Kelli Ward held a news conference Monday to apologize over a suggestion — hours before Sen. John McCain's death was reported Saturday — that his family's earlier announcement that he was ending cancer treatment was timed to hurt her Senate campaign.
"I do understand how many could have misconstrued my comments as insensitive, and for this I apologize," Ward, who ran against McCain in the 2016 GOP primary, told reporters at her campaign headquarters.
"The media quickly ran with a false narrative that I was being insensitive to Sen. McCain at a time when he found himself in dire straits," Ward said at the news conference. "To be clear, my comments were in no way directed at Sen. McCain or at his family or his team."
She noted that her issues with McCain weren't personal — "our differences were always strictly political."
Ward, as Fox News previously reported, made the suggestion about the McCain announcement in response to a Facebook post by a campaign aide. According to screenshots of the conversation posted on Twitter by Arizona political reporters, the aide, Jonathan Williams, wondered if it was "just a coincidence" that the announcement of McCain ending medical treatment came the day Ward was launching a statewide bus tour, her big push before Tuesday's primary.
Ward replied: "I think they wanted to have a particular narrative that is negative to me."
After her response was tweeted out, Ward deleted the post, and replaced it with one claiming the media were concocting a story.
McCain, a war hero who survived five years as a prisoner of war in Vietnam, served three decades in Congress and went on to become the Republican Party's nominee for president in 2008, died Saturday. He was 81.
On Tuesday, Ward faces the frontrunner Rep. Martha McSally and former Maricopa County Sheriff Joe Arpaio for the GOP nomination to replace Sen. Jeff Flake. Despite Flake's outspoken opposition to the president, as Fox News previously reported, all three candidates have expressed support for Trump. Whoever wins the primary likely will face a tough Democratic challenge, as top Democrats have said the seat could be flipped in November.
After the news conference, Arpaio tweeted in response: "Dr. @kelliwardaz once again uses a tragedy as an excuse to praise herself. Her press conference today was shameful and clearly shows that she will always skirt the real issues in order to con voters into supporting her."
Ward also pushed back on a tweet she sent Monday morning: "Political correctness is like a cancer!" Standing by the tweet during the news conference, she said she felt her style and voice were being muzzled by political correctness.
"I'm not a robot. I'm not an automaton. I'm not somebody who's programmed with talking points," Ward said. "I don't mean to offend people, I just mean to speak directly to people, and I think that's why people want me in this race."