Kansas Seeks Waiver for Undocumented Workers to Solve Farm Crisis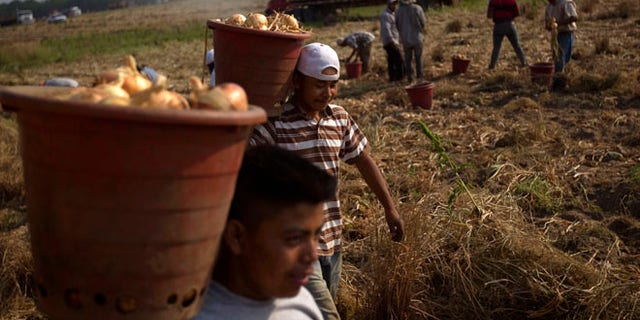 TOPEKA, Kan. – In a move that reflects the growing agricultural labor shortage across the country, Kansas Agriculture Secretary Dale Rodman has decided to seek a federal waiver that would allow Kansas dairies and feedlots desperate for workers to hire undocumented immigrants.
According to a report by the Topeka Capital-Journal, Rodman has met several times with officials at the U.S. Department of Homeland Security about a pilot program that would place employers and undocumented immigrants in a special state-organized network. The goal is to create a legal, straightforward manner of organizing existing immigrant labor.
So far, Homeland Security has neither approved nor rejected the idea.
"I need a waiver," Rodman said. "It would be good for Kansas agriculture."
Now, a coalition of business interests is preparing to push the idea in Topeka. Details are expected to emerge this week about a bill establishing the outline of a state-managed worker program. Operating in cooperation with the federal government, it would link sponsor companies with undocumented immigrants who have been in Kansas a minimum of five years and have no criminal background. One potential candidate would be a person who entered Kansas on a visa that expired years ago.
Celebrities Who Once Were Undocumented
The employees and employers would pay fees that would support the program, ensuring the state incurred no oversight cost.
Mike Beam, senior vice president of the Kansas Livestock Association, said the objective was to secure a reliable, regulated labor pool to the state's businesses. Despite the recession, there are counties in rural Kansas with unemployment rates half the state average.
"This will be very limited," Beam said. "It would be an agreement between the state of Kansas and Homeland Security."
Other groups backing the idea include the Kansas Chamber of Commerce and local chamber affiliates, the Kansas Farm Bureau and building industry organizations. This is the same coalition that contributed in the 2011 session to blocking a version of the Arizona immigration measure compelling police officers to detain individuals they think might be undocumented.
Kansas Secretary of State Kris Kobach, who helped craft the Arizona law, has vowed to work in the 2012 session to obtain passage of a Kansas law requiring employers to deploy the federal E-Verify system to establish the credentials of new hires.
"If there were fewer jobs illegal aliens could obtain unlawfully and get away with it, fewer illegal aliens would come to Kansas," he said.
Sen. Mark Taddiken, a Clifton Republican and chairman of the Senate Agriculture Committee, said the state's labor force needed to be solid to allow agricultural production to expand.
"They're having trouble finding people," Taddiken said. "The agricultural sector is looking for reliability."
Rodman, the state's agriculture secretary, said he would leave promotion of state legislation to others and would focus on making his case to Homeland Security.
"I told them to let me do something out in western Kansas," said Rodman, who has traveled as secretary to the U.S. territory of Puerto Rico in an attempt to recruit people interested in agricultural careers in Kansas.
That shows promise, but the payoff would be slow. "Let me fix the system a little bit," he said.
The Associated Press contributed to this report.
Follow us on twitter.com/foxnewslatino
Like us at facebook.com/foxnewslatino