Kaine's wife steps up Clinton campaign role amid poll problems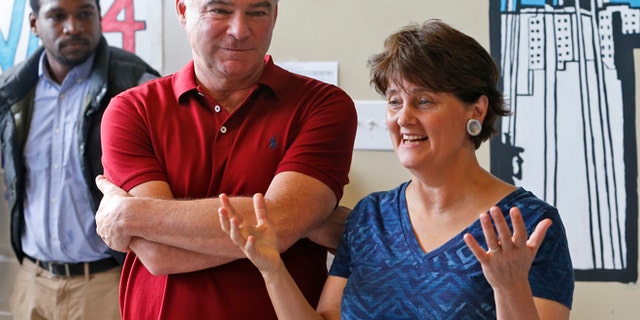 NEWYou can now listen to Fox News articles!
As Hillary Clinton's numbers take a hit in the polls, the Democratic ticket is deploying a potentially potent surrogate to the campaign trail: Anne Holton.
The wife of Clinton running mate Tim Kaine -- and daughter of a former Republican governor in the swing state of Virginia -- increasingly is stepping out on her own to stump for the Democratic presidential nominee.
She's no stranger to politics. Holton has an accomplished legal and political resume, as a former lawyer and judge, and ex-Virginia education secretary – a role she resigned from in July to focus on the campaign. In that respect, she is in a unique position to push Clinton's education platform. She also could be used to help shore up support among women voters who may be having second thoughts about Clinton.
"Because Hillary Clinton's favorability and trust numbers are so low – she needs help … and it's the kind of help Bill Clinton is unable to provide," said Matthew Dallek, an associate professor of political science at George Washington University.
The Democratic presidential nominee's popularity hit a new low among registered voters in a recent Washington Post/ABC News poll. In it, 41 percent of Americans said they have a positive view of Clinton while 56 percent have a negative view. Her popularity among women sank to 45-52 percent, practically a reversal from a month prior.
Though former President Clinton can speak to his wife's accomplishments, it's arguably tougher for him to present her as a relatable figure to women voters who may be on the fence.
Enter Holton.
On the stump, Holton is just as comfortable highlighting Clinton's role as a new grandmother, sometimes receiving "awwws" from audience members, as she is focusing on the particulars of the candidate's education platform.
She recently met with students, supporters and educators at four different stops in New Hampshire. Then it was on to Roanoke, Va., Holton's hometown, last Friday. She toured Virginia Western Community College and pushed Clinton proposals to make college tuition free for some students. She also stopped by a local campaign office for a volunteer appreciation event and made additional stops in the state on Monday, before hitting up a fundraiser with her husband in Norfolk on Friday.
On a recent stop at a Richmond campaign office, Holton gave volunteers a pep talk, The Associated Press reported.
"This has been a month — a whirlwind," Holton said. "Tim told me on the phone this morning that ... he has been in 24 states in 30 days," she said. "I have not. But I've had some fun on the trail, too. ... It is crazy and wild. Our lives have been turned topsy-turvy. But for such a great cause. And we're thrilled to be part of it."
Dallek said it is "a bit unusual" for the spouse of a vice presidential nominee to play such a prominent role, but said Holton "is a political factor and public expert in her own right."
"She has a really interesting background and comes from a very political family," Dallek said.
Holton, a popular former first lady of Virginia when Kaine was governor, also is the daughter of A. Linwood Holton, Jr., a moderate Republican who in 1970 became the first GOP governor to be elected in the state in nearly a century.
Holton's father worked to integrate the schools in response to court-ordered desegregation, even sending a young Anne Holton to attend a public school in Richmond with a black student majority.
Though it doesn't seem too radical today, at the time, it was groundbreaking.
"It was my first real experience of being with people who came from a much different background than mine," she recently said during a visit to Pittsburgh. "I did learn some things about differences, but I learned a lot more about similarities."
The Clinton campaign, which signs off on Holton's public appearances, declined an interview request from FoxNews.com.
On the Republican side, vice presidential nominee Mike Pence's wife, Karen Pence, hasn't been as visible as Holton but is starting to show up more on the trail.
Two weeks ago, Karen Pence, who also has an accomplished background in education, accompanied her husband on a swing through Georgia.