Justice Kavanaugh's debut: After bitter confirmation fight, court's newest member settles in
You know you have made it as an equal member of the Supreme Court when you're comfortable enough to tease the lawyers during oral arguments.
Justice Brett Kavanaugh did that on just his second day on the bench.
"So you just changed the answer," he told a lawyer who had abruptly switched his argument in a case on maritime law. When the lawyer admitted it, Kavanaugh wryly noted, "Okay, just making sure."
The exchange brought courtroom laughter, and broad smiles from his bench-mates, the kind of thing that passes for humor at the often-stuffy court.
Despite the explosive political fight surrounding his confirmation, the 114th justice has been fitting nicely inside these marbled hallways, where most of the court's work is done in private. Sources say Kavanaugh has been warmly embraced, after the most contentious judicial confirmation in the Senate's history – one rocked by sexual assault allegations which Kavanaugh's critics called disqualifying yet his allies described as unsubstantiated and part of a "wholesale character assassination."
Kavanaugh denied the accusations and famously fired back at an emotional hearing where he and accuser Christine Blasey Ford testified separately. Weeks later, Washington has seemingly moved on to other midterm-season controversies: the migrant caravan, the mail bomber and birthright citizenship among them.
For Kavanaugh, the tensions surrounding his seating have, in turn, subsided. Some sense of normalcy has returned at the branch of government normally insulated from the Capitol discord across the street.
The daily work of being a Supreme Court justice is what occupies Kavanaugh's time today.
'It's been a long couple of months ... but the nice thing I've seen is him transitioning back into the role that he's most comfortable, which is as a judge.'
"It's been a long couple of months, and an obviously very contentious process, but the nice thing I've seen is him transitioning back into the role that he's most comfortable, which is as a judge, as a justice," said Roman Martinez, a former Kavanaugh law clerk who remains a close friend and confidant. "It means doing the hard work getting into the cases, reading the briefs."
Being welcomed into the exclusive club of nine -- no questions asked -- is a genuine show of comity, but it has practical roots. Getting along personally with each other promotes long-term stability, and can ease the sting of sharp ideological differences on hot-button issues.
To be sure, the dynamic of a 5-4 solid conservative majority will test the court's ability to remain above the political fray. Some justices recently have voiced concern about the bitter confirmation damaging the court's reputation.
"To me, the obvious culprit is Congress, the polarization that exists with votes along party lines, where there is no effort to reach across the aisle," Justice Ruth Bader Ginsburg said in remarks last week. "What a difference that time was from what we are witnessing today," she noted about her 96-3 Senate vote in 1993.
But Kavanaugh's supporters say his personal style and deep professional ties to the Supreme Court will make his first few months on the bench relatively smooth.
"In his twelve-year record as an appeals court judge, ninety-seven percent of the time he was with the majority. So he's building consensus, he's with the rest of his colleagues," said Jennifer Mascott, a former Kavanaugh law clerk now at George Mason University's Antonin Scalia School Law. "So many of us who clerked with him went on to work in a similar role for justices at the Supreme Court, on his personal recommendation. So they knew him and his reputation."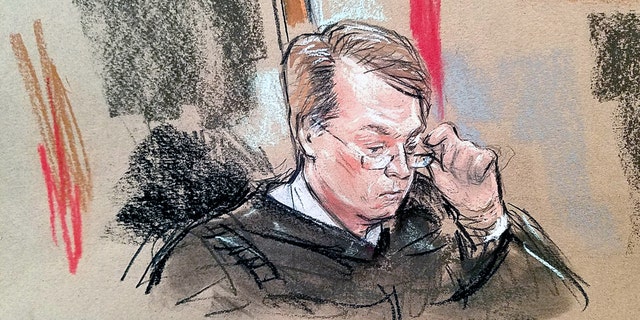 Show of Hands
The first thing newly minted Justice Kavanaugh did with his eight colleagues as a group was shake their hands.
In a tradition dating back decades, the members of the Supreme Court stand behind the red velvet curtains of the ornate courtroom before every public session -- and in a private show of unanimity, offer this quiet gesture.
Kavanaugh had just been through the rhetorical ringer, denying years-old allegations of sexual misconduct and assault. He was confirmed by a razor-thin, 50-48 Senate vote. Now here he was preparing for his first oral argument earlier this month. Just the night before, he appeared at the White House East Room for a ceremonial swearing-in, and all the justices were there in silent support.
Kavanaugh promised to work together with them, without partisanship or rancor.
"I'm honored to serve alongside all of my new colleagues, each of whom I know, and each of whom I greatly admire and deeply respect," he said. "The Supreme Court is a team of nine, and I will always be a team player on the team of nine."
Sources say the newest member has been touched by his reception from fellow justices, especially Sonia Sotomayor and Elena Kagan, both Obama appointees. Each had previously hired a pair of Kavanaugh law clerks from his time on the D.C. federal appeals court.
Days after Kavanaugh's debut, Chief Justice John Roberts made reference to him in a Minnesota speech -- calling the shaking of hands "a repeated reminder that, as our newest colleague put it, we do not sit on opposite sides an aisle, we do not caucus in separate rooms, we do not serve one party or one interest, we serve one nation."
This comes as Kavanaugh's equals obliquely acknowledge the controversy around his nomination and their efforts to put all that behind them, for the good of the institution.
"This is a really divided time," Kagan noted, just one day before the Oct. 6 Senate vote. "Part of the court's strength and part of the court's legitimacy depends on people not seeing the court the same way they see the rest of the governing structures in the country. It's an incredibly important thing for the court to guard."
"We have to rise above partisanship in our personal relationships," Sotomayor said at the same event.
One bit of contention has followed Kavanaugh onto the bench. Roberts acknowledged receiving unspecified ethics complaints about him from the confirmation and has asked a federal appeals court in Denver to investigate the claims, through an internal review process.
Settling In
Just a day after his official swearing-in, Kavanaugh got to work in his new offices. With two days to prepare for oral arguments, Kavanaugh needed help.
Four newly assigned law clerks met with him that Sunday, the start of a frantic first few days.
They are all female, a first in the court's history, fulfilling a promise Kavanaugh made during his confirmation. Among them, Kim Jackson is just one of three African-American law clerks at the high court this term. Another of those three had previously worked for Kavanaugh.
"In my time on the bench, no federal judge — not a single one in the country — has sent more women law clerks to clerk on the Supreme Court than I have," he told the Senate Judiciary Committee.
The 53-year-old Kavanaugh has settled into the chambers once occupied by Justice Samuel Alito, who moved to the offices vacated by retired Justice Anthony Kennedy.
Kavanaugh has begun arranging his suite of offices to create a comfortable, efficient workplace. Lots of pictures of his two daughters and various sports memorabilia grace the walls, along with law books and legal briefs piling on his desk.
He has hired secretaries and a messenger, along with the invaluable law clerks -- who typically serve for one year.
Those clerks will be especially important helping the justice get up to speed on his caseload; it will be a nonstop whirl of activity until the term effectively ends in late June.
But it is a familiar place to Kavanaugh, who worked at the court while clerking for Kennedy from 1993-94. Though retired, Kennedy still keeps smaller chambers in the building, and the two talk often, sources say. President Trump's other nominee, Justice Neil Gorsuch, also had clerked for Kennedy and attended the same high school as Kavanaugh.
And more connections: Kagan hired Kavanaugh to teach part-time at Harvard Law School when she was dean. They now sit next to each other on the right side of the bench and have been seen chatting and smiling amicably during the public sessions.
"I think she was making a very public show that he was one of them," Martinez said. "And right after the arguments ended, that first day, she gave him a big handshake. That was a nice moment."
Kavanaugh has also reconnected with six of his former law clerks from the federal appeals court down the street where he worked, who are currently serving with other justices.
The new guy also expects to make much use of the neo-classical building's full-service gym on the fifth floor, which includes a small basketball court, known to insiders as the "highest court in the land." An avid sports fan, Kavanaugh had played hoops there when he clerked.
Bench Style
Kavanaugh so far has displayed the minimalist style in oral arguments of most new members. He waits patiently while his more senior colleagues get their face time, but unlike many of them, Kavanaugh regularly asks tough questions of both sides, including Trump Justice Department attorneys.
Kavanaugh's queries of counsel are typically short, precise and textual – revealing little of how he might ultimately vote on the outcome.
With pen in hand taking notes, he often dons his glasses to read the briefs in front of him. He laughs at his colleagues' jokes and occasionally nods in agreement when salient points are made, especially those by Kagan.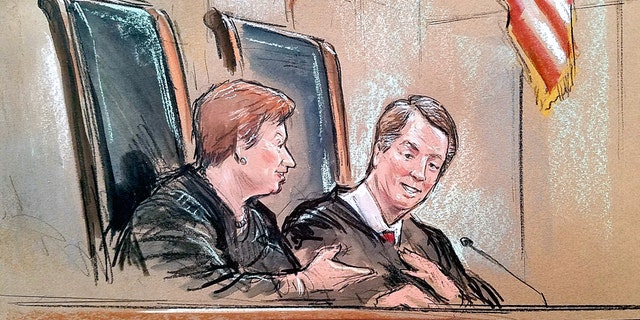 "I guess I'm repeating Justice Kagan's question, but why create this new thing out of language that was not designed to do that?" he asked near the end of Monday's one-hour argument on arbitration contracts.
In his second case that morning, Kavanaugh and Kagan exchanged an amusing patter of politeness:
Kavanaugh (to counsel): You're saying if ...
Kagan: I thought ... No, go ahead.
Kavanaugh (turning to Kagan): Oh, go ahead.
Kagan (smiling and extending her hand): Please ...
Kavanaugh: Thank you ...
His manner is very much like that of Alito, a Bush appointee whose low-key style masks a piercing intellect.
Lunch is Served
Being the junior justice also means going through an initiation of sorts.
Kavanaugh has been assigned to the court's internal Cafeteria Committee, where dessert toppings and silverware choices will compete for his time with constitutional issues big and small.
Kagan can empathize, having served for years in that role, and put the cafeteria duty in context in remarks a few months ago.
"I think this is a way to kind of humble people," she said about her stint as one of the office lunch monitors. "You think you're kind of hot stuff. You're an important person. You've just been confirmed to the United States Supreme Court. And now you are going to monthly cafeteria committee meetings where literally the agenda is what happened to the good recipe for the chocolate chip cookies."
When the food doesn't rate, Kavanaugh will hear about it. One tradition of the court is the justices eat together privately after oral arguments.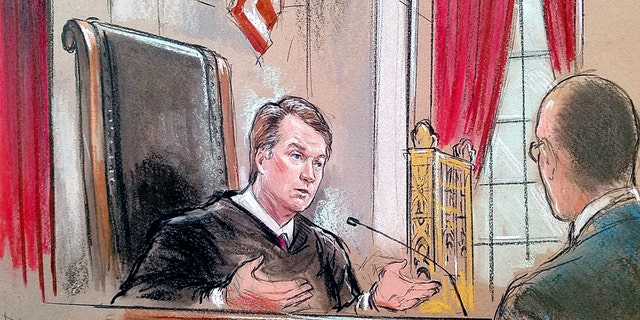 Another duty for the "junior" justice is to answer the door when the members meet privately for weekly closed-door conferences -- voting on cases and deciding which petitions get added to the docket. Kavanaugh already has attended two such meetings as well as traditional lunches with his colleagues in the justices' private dining room.
Kavanaugh will also take notes at the conferences and will vote last when cases get decided.
It is a learning curve that many on the court admit can be baffling and often overwhelming.
Alito said he frequently got lost in the marbled halls of the court when he joined in 2006, especially since the building was undergoing a massive renovation at the time.
Justice Stephen Breyer said it took him years to feel fully comfortable in the job.
And Justice Clarence Thomas once recalled what the late Justice Byron White told him when he donned the robes in 1991: "Well, Clarence, in your first five years you wonder how you got here. After that you wonder how your colleagues got here."