Justice Department reportedly nears settlement with BNP Paribas over sanctions violations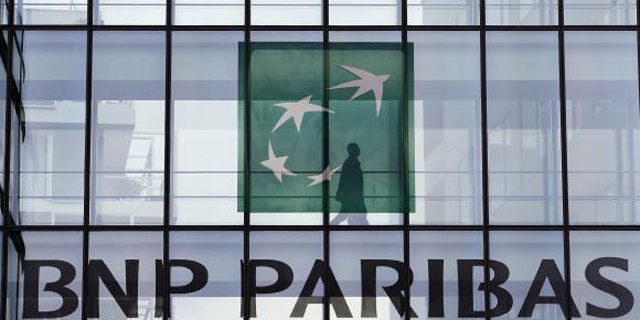 U.S. prosecutors and BNP Paribas have reached an agreement on the general outline of a deal that would require France's largest lender to pay between $8 billion and $9 billion in fines for allegedly covering up $30 billion in transactions that violate U.S. sanctions, according to a published report.
The Wall Street Journal reports that the deal would also require BNP plead guilty to a criminal charge of conspiring to violate the International Emergency Economic Powers Act and a temporary ban on making transactions in U.S. dollars.
Prosecutors claim that BNP used regional overseas banks between 2002 and 2007 to route funds linked to companies and government agencies based in Sudan. The Journal reports that most of the transactions were related to oil deals. In 2007, the bank announced that it would no longer do business in Sudan, which was being accused by the U.S. and its allies of committing genocide in that country's Darfur region.
In all, U.S. authorities scrutinized $100 billion in suspicious transactions before concluding that $30 billion was willfully hidden to avoid detection by sanctions enforcers. Investigators say that BNP also facilitated similar transaction for countries like Iran and Syria as recently as 2009.
Sanctions investigators told the Journal that BNP went to extensive lengths to disguise transactions from the U.S. Treasury Department's screening system. The bank allegedly used a network of banks in East Africa, the Middle East and Europe to make it appear as if dollar-based transfers were unconnected to Sudan.
The Justice Department's prosecution of the case has brought protests from the highest levels of the French government. French President Francois Hollande blasted a proposed blanket ban on BNP trading in U.S. dollars as "unfair" and "disproportionate," adding that a total ban would threaten the bank's survival.
In addition, French Foreign Minister Laurent Fabius slammed a mooted $10 billion fine as "not reasonable" in an interview with French television.
"If there is a an error or a violation, then it's normal that there is a fine, but the fine has to be proportionate and reasonable," Fabius said that the time.
Click for more from the Wall Street Journal