Justice Department, New Mexico Reach Agreement on MOVE Act Enforcement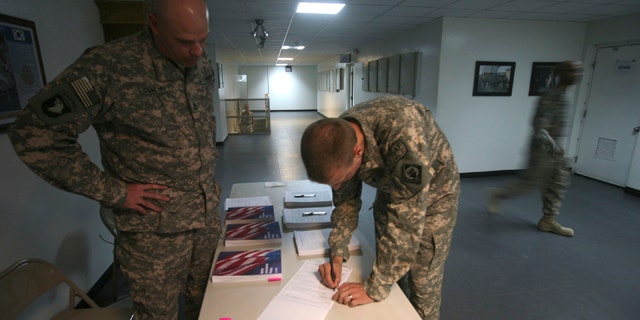 The Department of Justice has reached an agreement with New Mexico election officials to force compliance with a federal law aimed at protecting military voting rights — the latest in a series of enforcement actions against states that failed to send out all their military and overseas absentee ballots by federally mandated deadlines.
The New Mexico agreement was part of a lawsuit filed late Tuesday charging election officials from six counties with violating federal law; it came just hours after the Justice Department filed a complaint against the state of New York, and it followed filings against Guam earlier this month and against Wisconsin in September.
"The Department continues to work with states to investigate and remedy any problems that will prevent our men and women serving overseas from having the opportunity to vote and have their votes counted," Justice Department spokeswoman Xochitl Hinojosa told FoxNews.com.
These actions come amid the ongoing debate over how to enforce compliance with the 2009 Military and Overseas Voters Empowerment Act, known as the MOVE Act, which is intended to ensure that overseas ballots are sent, received and counted on time. A provision of the law requires states to mail out absentee ballots 45 days before an election.
The complaint against the state of New Mexico and its secretary of state, Mary Herrera, charges that six counties — Curry, Los Alamos, McKinley, Rio Arriba, Sandoval and Taos — failed to transmit their ballots in time and were in violation of the law.
The Justice Department's agreement with New Mexico, called a consent decree, says that without the filing, military and overseas voters "will not be provided the time specified under Federal law to receive, mark, and submit their ballots in time to have those ballots counted in the November 2, 2010 Federal general election."
Secretary of State Mary Herrera's office issued a press release on Wednesday in response to the lawsuit.
"While we have every reason to believe that all of these ballots have sufficient time to be returned, we want to do everything possible for our service men and women, and other overseas voters, to have their votes count," Herrera said. "Every vote must count, and our coordination with the DOJ will make sure our military and overseas voters have every possible chance to return their ballots."
"This coordinated action will give our voters every available opportunity to return their ballots," she said. "We want to ensure that every vote counts!"
This month, former Justice voting section attorney Eric Eversole's nonprofit organization, Military Voter Protection Project, sent a letter to Attorney General Eric Holder saying that it had conducted surveys with election officials around the country and found that numerous states and counties were in possible violation of the MOVE Act.
The MVP Project letter named numerous New Mexico counties that appeared in the Justice Department's lawsuit against the state.
"We are obviously pleased that the Justice Department has taken action in New Mexico in response to our Sept. 27 letter," Eversole told FoxNews.com on Wednesday. "That letter, however, identified a number of counties in several other states with suspected MOVE Act violations. We will not be satisfied until each and every military voter is protected."
J. Christian Adams, a former Justice Department voting section attorney who is now a conservative blogger, says these actions might be too little, too late.
"The New Mexico lawsuit demonstrates that a private organization was able to detect noncompliance with the law when the DOJ could not," he said. "The MVP Project detected the problems in New Mexico; the DOJ did not. In contrast, the same private organization detected failures in Alabama and Arkansas, and the DOJ hasn't done a thing yet.".
"The DOJ knew months ago that states including New York, Wisconsin and Colorado were violating the law," Adams continued. "They could have sued in June. Instead they waited until the last minute and military voters there don't enjoy the 45 days before the election that Congress promised them. [Attorney] General Holder doesn't have the power to rewrite laws. Forty-five days before means 45 days before."
Earlier on Tuesday, the Justice Department filed a complaint against the state of New York and its board of elections for its "failure to ensure that election officials in Niagara, Putnam, Westchester, Erie, Richmond, Bronx, New York, Kings, and Queens Counties transmitted absentee ballots by October 1," which was the second deadline missed by the counties, after the state had been given a waiver for missing its earlier deadline. The last five counties named compose all of New York City.
"Our laws guarantee that uniformed service members and other overseas citizens will have a meaningful opportunity to participate in the elections of our nation's leaders," said Thomas E. Perez, assistant attorney general for the Civil Rights Division.
"This suit seeks both immediate and permanent relief to ensure that New York's military and overseas voters, many of whom are members of our armed forces and their families serving our country around the world, can exercise their right to vote and have their votes counted in the upcoming federal elections."
Douglas Kellner, co-chairman of the state board, told FoxNews.com earlier Tuesday that he expected an agreement to be filed in conjunction with an official complaint outlining how the violations would be corrected. But no agreement was filed.
On Sunday, FoxNews.com reported exclusively that the four New York counties and New York City had missed the deadline.