John Kelly fires back at Democrat who called him 'disgrace to the uniform'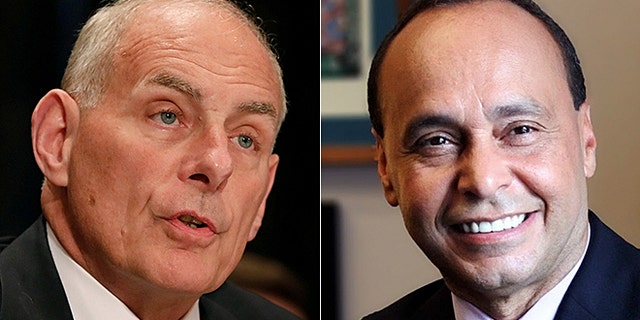 EXCLUSIVE: White House Chief of Staff John Kelly fired back at a prominent House Democrat who called him a "disgrace to the uniform," in the Gold Star father and retired Marine Corps general's first public response to the personal attack on his service.
Illinois Rep. Luis Gutierrez had leveled the criticism at Kelly over his support of President Trump's decision to end a controversial program that shielded young illegal immigrants from deportation.
In an email to Fox News late Sunday, Kelly responded by saying Congress did "nothing" to help so-called Dreamers when they had the chance.
"As far as the congressman and other irresponsible members of congress are concerned, they have the luxury of saying what they want as they do nothing and have almost no responsibility," Kelly said. "They can call people liars but it would be inappropriate for me to say the same thing back at them. As my blessed mother used to say 'empty barrels make the most noise.'"
He concluded, "The congressman has a right to his opinion."
Kelly had advised the president to rescind the Deferred Action for Childhood Arrivals, or DACA, program with a six-month wind-down, as announced last Tuesday.
Former President Barack Obama had created DACA via executive action, and both Democrats and Republicans have questioned the legality of the move even if they support the policy itself. Conservative voices are mostly unified in their view that Obama exceeded his constitutional authority by circumventing Congress. Even Democratic Sen. Dianne Feinstein said on MSNBC that the policy was on shaky legal ground, urging Congress to "pass a law."
But the vocal and increasingly powerful left wing of the Democratic Party has been leading activist rallies across the country against the Trump decision on DACA.
In a statement last Tuesday, Gutierrez said Kelly "has no honor and should be drummed out of the White House along with the white supremacists and those enabling the President's actions by 'just following orders.'"
In announcing the DACA decision with a six-month delay, Trump urged Congress to come up with a legislative solution.
Kelly indicated he's not getting his hopes up.
"Every DOJ and DHS lawyer says DACA is unconstitutional. Every other legal scholar - right and left - says the same thing. Trump didn't end DACA, the law did. That said, I worked and succeeded to give the congress another six months to do something. I am not confident," he said.
Kelly previously served as secretary of Homeland Security, before taking the reins at the Trump White House. In his response to Gutierrez, he noted how he tried to get Congress to focus on DACA since the beginning of the Trump administration.
"During my time at DHS - from 20 Jan until this moment - I have met with hundreds of members on both sides of the hill … My [message] always was 'I have bought you time to do something on DACA.' I begged and pleaded with them. They did exactly nothing."
Gutierrez' office took exception at Kelly's description.
"[S]o far we have seen no courage to fight for DREAMers from the President or his Chief of Staff. There is a clear majority in the House today to support measures to defend DACA recipients, but Republicans need to choose whether they want to let that happen or not. So far, the answer is not," Gutiérrez spokesman Douglas Rivlin said.
He added, "Ending DACA amounts to surrender without a fight for the President and his Chief of Staff."
The Trump administration announced the end to the program under the threat of lawsuit from Republican state attorneys general. But Rivlin said, "The constitutionality of DACA has never been challenged successfully in court and the Department of Homeland Security, which administers the program, certainly never questioned its constitutionality at its inception or while hundreds of thousands signed up for it."
At this time it appears that Republicans, who control Congress, have at least three options for dealing with DACA.
They can let it expire without a legislative fix, favored by some conservatives; they can pass a bill that would essentially grant amnesty for the Dreamers and give them work permits, favored by congressional leadership; or they can work with Democrats like Feinstein on some sort of immigration compromise that might include funding for the border wall.