John Edwards: 'I've Done Wrong, but I Did Not Break the Law'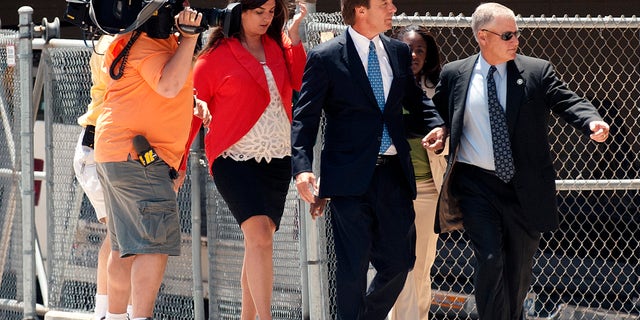 NEWYou can now listen to Fox News articles!
Two-time presidential candidate John Edwards pleaded not guilty Friday to charges that he spent more than $900,000 in campaign donations to cover up his extramarital affair as he was running for the White House in 2008.
"There's no question that I've done wrong, and I take full responsibility for having done wrong. I will regret for the rest of my life the pain and harm that I've caused to others," he said in a brief statement outside a federal courthouse in Winston-Salem, N.C. after being arraigned."But I did not break the law, and I never ever thought I was breaking the law."
A federal grand jury indicted Edwards on six counts: conspiracy, four counts of illegal campaign contributions and one count of false statements. He faces up to five years in prison and a $250,000 fine on each count if convicted.
Edwards' lawyer, Gregory Craig, said that Edwards will "mount a vigorous defense."
The indictment claims that the payments Edwards' mistress, campaign videographer Rielle Hunter, received from his two friends, Rachel Mellon and Fred Baron, were campaign contributions intended to keep her and their baby in hiding during the 2008 presidential election.
"Edwards knew that public revelation of the affair and the pregnancy would destroy his candidacy by, among other things, undermining Edwards' presentation of himself as a family man and by forcing his campaign to divert personnel and resources away from other campaign activities to respond to criticism and media scrutiny regarding the affair and pregnancy," the indictment said.
"As this indictment shows, we will not permit candidates for high office to abuse their special ability to access the coffers of their political supporters to circumvent our election laws," Assistant Attorney General Lanny A. Breuer said in a statement.
But the Edwards' camp argues the payments were not campaign contributions as defined by campaign finance laws.
"I believe that the theory on which the government intends to base its prosecution is without precedent in federal election law, and that the Federal Election Commission would not support a finding that the conduct at issue constituted a civil violation, much less warranted a criminal prosecution," said former Federal Election Commission Chairman Scott Thomas, who is serving as an expert witness for Edwards' legal team.
Richard Briffault, a law professor at Columbia University, told FoxNews.com that federal prosecutors have a "plausible case" but not necessarily a "winning case."
"They have to persuade a jury that the reason the money was given was in order to help the campaign," he said.
Briffault said it's "very unlikely" that Hunter would be targeted by prosecutors. If there is a conviction, he said, Edwards wouldn't be required to pay back the money but he would be assessed a fine that could be "substantial."
The indictment and an arrest warrant were filed in Greensboro, N.C., which is in the district where Edwards based his campaign.
Negotiations between Edwards' attorneys and federal prosecutors to settle on a charge to which Edwards was willing to plead guilty continued through Thursday but proved fruitless, according to people with knowledge of the negotiations. Prosecutors had insisted he plead to a felony, which would endanger his ability to keep his license to practice law.
The criminal charges filed Friday came after a two-year federal investigation. The prosecution's star witness is Edwards' former aide, Andrew Young, who claimed paternity of Hunter's child back in 2007 but later came clean in a tell-all book.
Fox News' John Roberts and Jonathan Serrie contributed to this report.