John Bolton on Trump-Putin meeting: Critics shouldn't develop 'case of the vapors'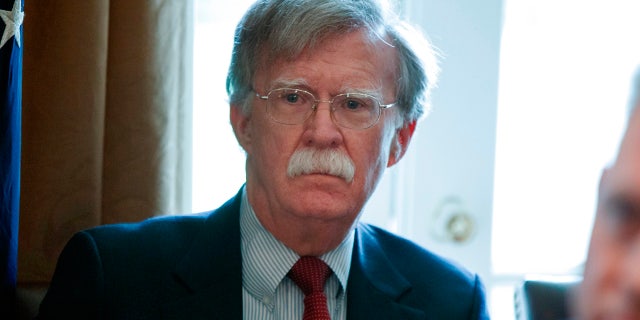 NEWYou can now listen to Fox News articles!
In his first interview since meeting with Russian President Vladimir Putin in Moscow last week, National Security Adviser John Bolton told "Fox News Sunday" that critics are wrong to suggest President Trump has been too soft on Russia.
President Trump's upcoming summit with Russian President Vladimir Putin will take place in Helsinki, Finland, on July 16, the White House announced last week.
"I don't think anybody ought to have a case of the vapors" about President Trump's rhetoric on NATO and Russia, Bolton said.
"The main rationale to have a bilateral meeting between Trump and Putin: let them discuss these issues and see exactly where there might be room for progress, or where they might find there's no room at all," he added.
The meeting would allow the leaders to cut through "political noise" about alleged Russian collusion, Bolton said.
Bolton said that when he met with Putin, the Russian president personally assured him that Russia did not meddle in the U.S. presidential election -- but that Trump would still have words for Putin ahead of the 2018 contest.
WATCH: BOLTON ARRIVES IN RUSSIA TO PREPARE FOR TRUMP-PUTIN SUMMIT
"I think the president will want to have a conversation about this and say we don't want to see meddling in the 2018 election," Bolton said.
The national security adviser had said last year, before joining the Trump White House, that Russia's alleged meddling in the 2016 election was "act of war" and warned: "We negotiate with Russia at our peril."
Bolton cited Trump's historic nuclear summit with North Korean dictator Kim Jong Un as evidence that a one-on-one meeting can have unexpected, positive results.
Noting that North Koreans once referred to him as a "very ugly fellow," Bolton offered an anecdote from the Singapore meeting.
"I don't think anybody ought to have a case of the vapors."
"At one point in our lunch, Kim Jon Un said, 'The two of us need to get a picture together, I need to show my hardliners you're not such a bad guy.'"
Putin greeted Bolton in the Kremlin on Wednesday, noting that U.S.-Russian relations are at a low point, which he said was mostly due to the U.S. political infighting, and voiced hope that Bolton's visit would make the first steps toward improving ties.
He added that Russia never wanted a confrontation with the U.S., offering to discuss what can be done to "restore full-fledged relations based on equality and mutual respect."
Bolton said he was looking forward to discussing "how to improve Russia-U.S. relations and find areas where we can agree and make progress together."
The Associated Press contributed to this report.