Joe Biden consoles daughter of ailing John McCain on 'The View'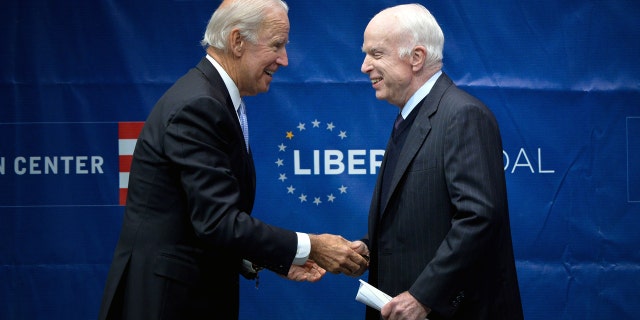 Former Vice President Joe Biden appeared Wednesday on ABC's "The View," where he offered words of encouragement to panelist Meghan McCain after she began crying while discussing her father's battle with brain cancer.
Meghan McCain told Biden she hadn't been able to get through his new memoir, "Promise Me, Dad," which centers on the 2015 death of Biden's son, Beau, from an aggressive tumor called glioblastoma. Doctors diagnosed Sen. John McCain, R-Ariz., with the same type of tumor this past summer.
"I think about Beau almost every day and I was told that this doesn't get easier but that you cultivate the tools to work with this and live with this," Meghan McCain said, her voice breaking. "I know you and your family have been through tragedy I couldn't conceive of."
Biden, who served with John McCain in the Senate, stood up and moved from his seat on the set to sit next to her and hold her hand. He told Meghan McCain not to lose hope and that a medical breakthrough is possible.
"And it can happen tomorrow," said Biden, who added, "there is hope, and if anybody can make it, your dad … her dad is one of my best friends ... The thing that I found, and Beau insisted on and your dad's going to insist on, is you've got to maintain hope. You have to have hope."
A statement issued late Wednesday by the senator's office said he's at the Walter Reed National Military Medical Center in Maryland receiving treatment for the "normal side effects of his ongoing cancer therapy." He looks forward to returning to work as soon as possible, the statement added
McCain, 81, underwent surgery in mid-July to remove a two-inch blood clot in his brain after being diagnosed with glioblastoma. He rebounded quickly, however, returning to Washington and entering the Senate on July 25 to a standing ovation from his colleagues.
But McCain's condition has appeared to worsen in recent weeks. He suffered a minor tear in his right Achilles tendon, forcing him to wear a walking brace. McCain eventually began using a wheelchair with members of his staff pushing him where he needed to go.
As a Navy pilot, McCain lived through a July 1967 fire that killed 134 sailors aboard the aircraft carrier USS Forrestal in the Gulf of Tonkin during the Vietnam War. The following October, his plane was shot down during a bombing mission over Hanoi. He spent more than five years as a prisoner of war. McCain also has survived several bouts with melanoma, a dangerous skin cancer.
Biden, 74, considered a run for the Oval Office in 2016, but decided against it, later citing the trauma of his son death keeping him from the race. During his "The View" appearance, Biden recounted his long friendship with John McCain and how McCain had befriended Beau many years earlier when he served as a Navy liaison officer to the Senate.
Biden also laughed while remembering their political clashes, with the two Senate heavyweights going toe to toe.
"Her dad goes after me hammer and tong," Biden told the audience. But he also said that, even now, if he called John McCain and asked for help, he'd be there for him.
Meghan McCain thanked Biden later, tweeting she had no words to convey her "immense gratitude."
"Your strength, hope and fortitude are an inspiration to me and so many others daily," she wrote.
The Associated Press contributed to this report.