Jesse Jackson Jr. charged with spending $750G of campaign funds on personal items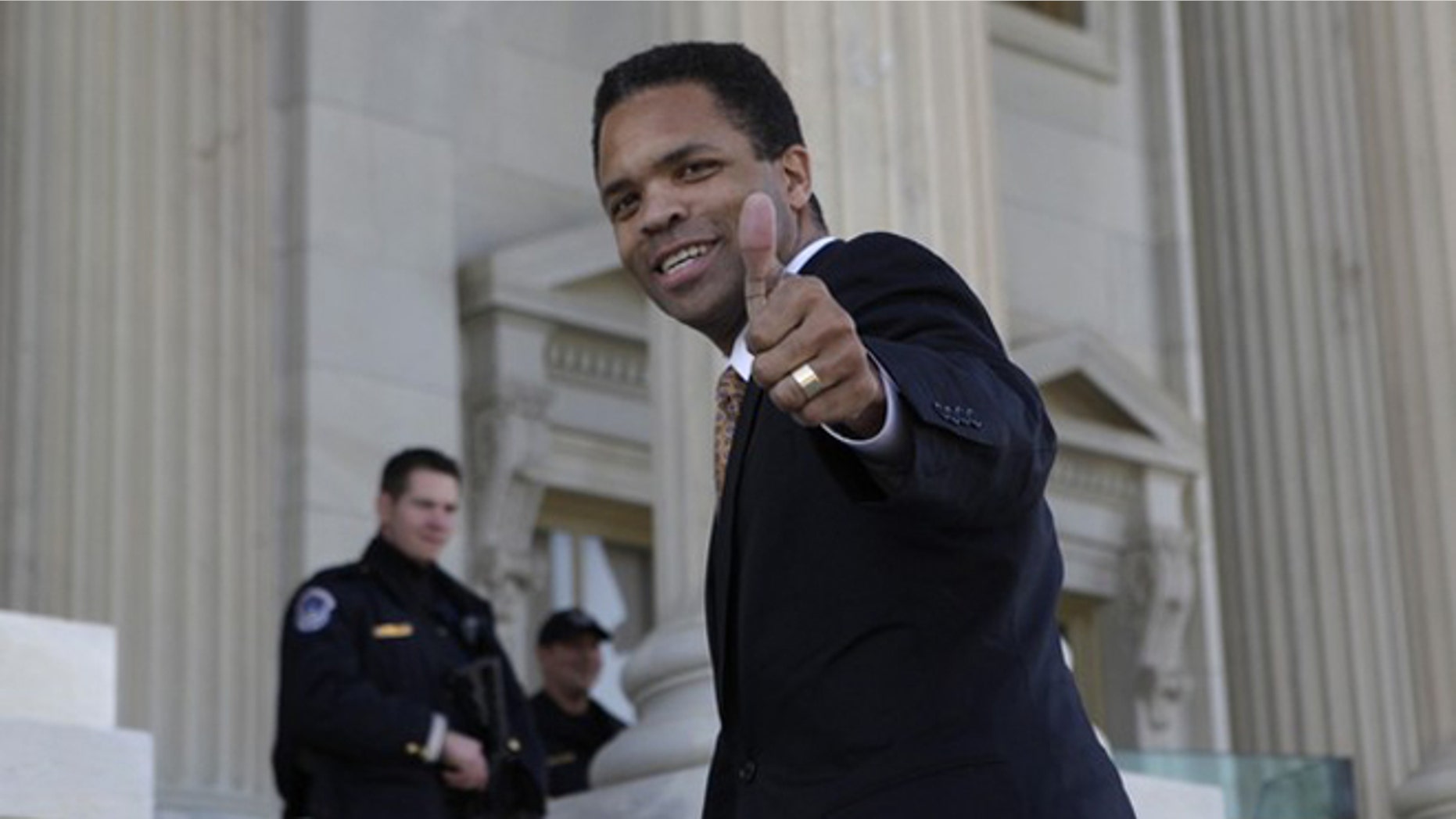 Former Rep. Jesse Jackson Jr. was charged in federal court Friday with conspiring to use campaign funds for personal use -- in an alleged $750,000 spending spree that included purchases of a gold-plated Rolex and pricey children's furniture.
It had been expected that a plea agreement would be entered into court Friday, but that agreement is apparently still pending.
Instead, federal prosecutors charged Jackson Friday with conspiracy. Prosecutors separately charged his wife Sandi with filing false federal tax returns, but according to her attorney she has reached a plea agreement.
In a statement, the former Illinois Democratic congressman said he offers "no excuses."
"Over the course of my life I have come to realize that none of us are immune from our share of shortcomings and human frailties," he said. "Still I offer no excuses for my conduct, and I fully accept my responsibility for the improper decisions and mistakes I have made."
He continued: "To that end I want to offer my sincerest apologies to my family, my friends and all of my supporters for my errors in judgment and while my journey is not yet complete, it is my hope that I am remembered for the things that I did right."
The charging document accused Jackson and an unnamed co-conspirator of submitting false campaign finance reports "to conceal their conversion of approximately $750,000 from the campaign for their personal benefit."
Prosecutors claim Jackson and the co-conspirator used more than $580,000 of that to pay off credit card bills for their purchases. They claim the purchases included a more than $43,000 "gold-plated men's Rolex watch" and nearly $10,000 worth of "children's furniture," as well as $5,000 of "fur capes and parkas."
The document also called for Jackson to hand over a slew of expensive memorabilia items if found guilty, including Bruce Lee and Michael Jackson memorabilia.
The penalty for Jackson is a maximum of five years in jail and $250,000 in fines. For his wife, the maximum is three years and $100,000 in fines.
Fox News is told that the former congressman, expected to be in Washington next week when he goes to court, is "extremely depressed" and "broken-hearted." A source said he feels "like he's losing everything" and is trying to figure out how to provide for his family.
Jackson resigned last November shortly after being reelected to the House. The son of civil rights leader Jesse Jackson Sr. had been treated for bipolar disorder, but also has been the subject of an ongoing federal investigation over campaign funds.
The Chicago Sun-Times earlier reported that the probe had split into two separate investigations, with one into Jackson's wife Sandi. Sandi recently resigned as a Chicago city alderman.
The filing Friday is a blow for a public figure who was once considered a rising star.
Jesse Jackson Jr. first took office in 1995 after winning a special election and began his career in Washington with a star power and pedigree that set him apart from his hundreds of other House colleagues.
But despite high expectations, he largely went unnoticed as a policymaker. Instead, he gained a reputation for quixotic pursuits such as trying to impeach President George W. Bush and push through constitutional amendments that had no chance.
Jackson, 47, disappeared in June, and it was later revealed that he was being treated at the Mayo Clinic for bipolar disorder and gastrointestinal issues. He returned to his Washington home in September but went back to the clinic the next month.
Fox News' Mike Levine and Chad Pergram and The Associated Press contributed to this report.