Jefferson Memorial exhibit update will acknowledge slavery record
An exhibit alongside the nation's chief memorial to Thomas Jefferson will receive an update that reflects "the complexity" of his status as a founder of the United States and a slaveholder, according to stewards of the National Mall.
The decision reflects an acute awareness of the furor currently surrounding Confederate statues across the country. A non-profit group that provides critical support for the National Mall is bracing for similar protests against the Washington Monument and the Jefferson Memorial, although "there has been much broader support for maintaining them," as one official put it. But the Trust for the National Mall, which depends on private donors to fulfill its mission, is getting out in front of the uproar.
"In the coming weeks and months, the physical symbols of American history and democracy will be scrutinized and challenged," Catherine Townsend, president of the Trust for the National Mall, wrote in a letter to supporters. "When that happens, we will work with our partners to ensure the National Mall continues to be a vibrant and relevant place where Americans can learn about our history and imagine our future, together."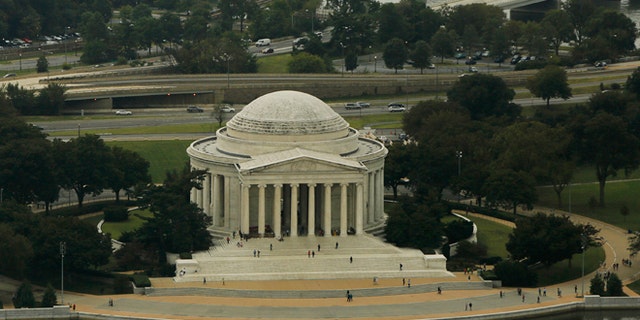 In practice, that means that visitors to "America's Front Yard" will see the Founding Fathers honored, but there will be a new emphasis on their personal records as slave-owners. The changes might first be apparent at the Jefferson Memorial; the Trust, even before the renewed debate over Confederate statues, has been planning to raise money to refurbish the National Park Service exhibit accompanying the memorial, which has deteriorated since its installment about 20 years ago.
"We can reflect the momentous contributions of someone like Thomas Jefferson, but also consider carefully the complexity of who he was," an official with the Trust told the Washington Examiner. "And that's not reflected right now in the exhibits."