Jeff Sessions teaches a lesson in patriotic grace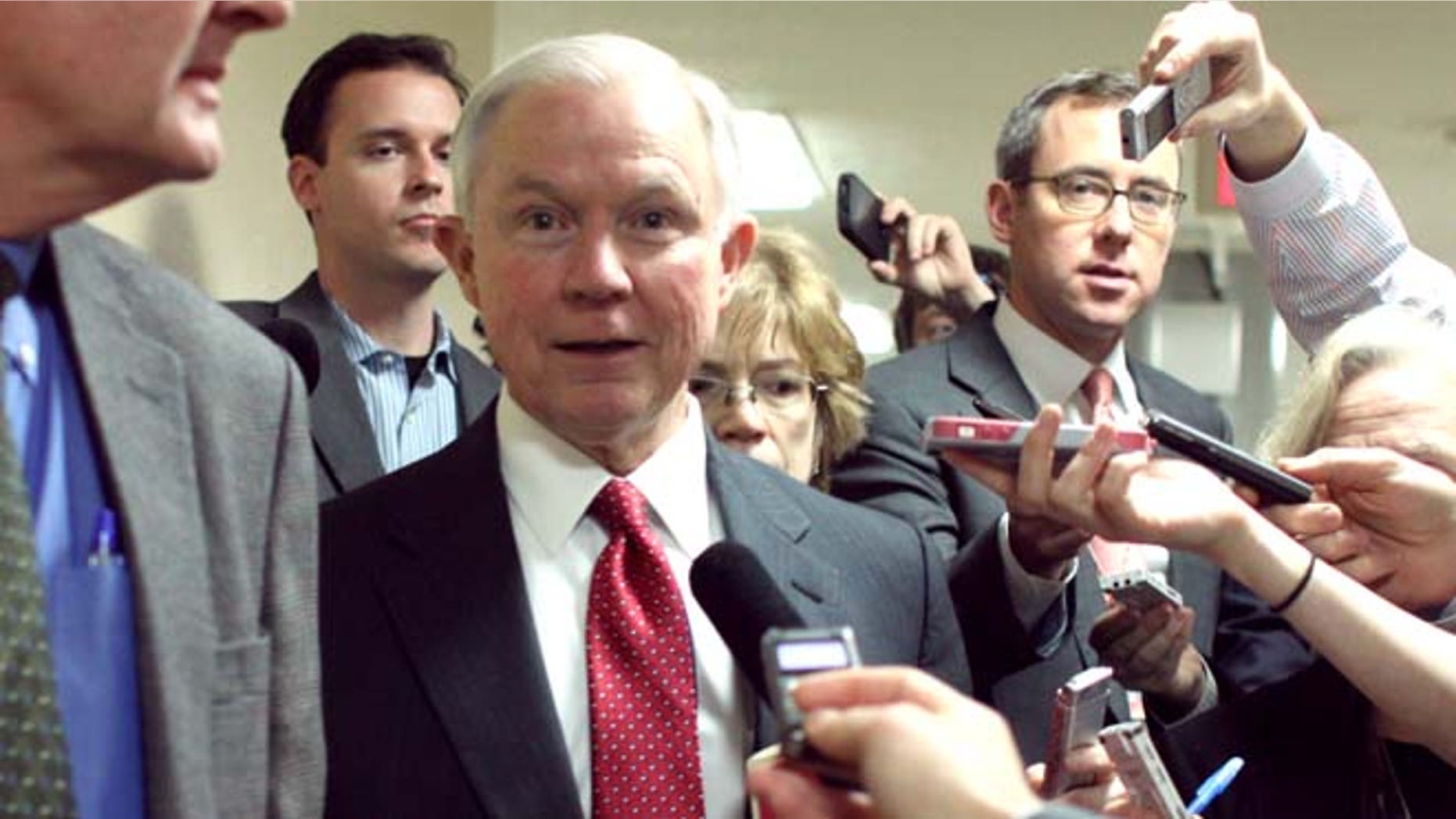 **Want FOX News First in your inbox every day? Sign up here.**
Buzz Cut:
• Jeff Sessions teaches a lesson in patriotic grace
• NorKs win with Sony hack, Obama weighs response
• Grimes promises legal challenge to Rand's double play
• Warren plays to unions, rails against Obama trade pact
• Was the ransom note written in glitter?
JEFF SESSIONS TEACHES A LESSON IN PATRIOTIC GRACE
Sen. Jeff Sessions, R-Ala., is not known on Capitol Hill to retreat from a fight. When it comes to offering maximal resistance to President Obama, particularly on the issue of immigration, Sessions takes a back seat to no one. That's why Republicans and Democrats alike were watching anxiously as Sessions prepared to step into his expected role as chairman of the powerful Budget Committee. That post would allow Sessions to steer GOP policy and strategies in profound ways. As the ranking Republican on the committee for the last four years, Sessions' role was so prefigured that few bothered to note that Wyoming's Mike Enzi was, literally by chance, the senior Republican on the panel. The two men were elected on the same day in 1996, but by Senate tradition, seniority among freshmen is determined by drawing names out of a hat. Enzi won the draw 18 years ago, a fact of which he reminded surprised colleagues in announcing his intention to seek the chairmanship.

[David Drucker explains one reason why House leaders were so eager to shuck the year-end spending package and get out of town: A big to-do list for 2015, with a handy-dandy timeline, too.]

Getting ugly - The rebel camp in the GOP conference quickly branded Enzi a leadership pigeon, pushed into the power play by party bosses looking to block Session's immigration gambits. Committee chairmanships are determined by election among the majority party's members, a dozen GOPers in the case of the Budget Committee. But it has been since 1987 when Jesse Helms upended Richard Lugar that the selection of any chairmanship has been contested. When majorities change, ranking members almost always rise to chairmanships or deals are made to trade spots before any ugliness ensues. But the Sessions-Enzi fight was setting up to be an ugly battle as outside groups started weighing in and accusations were flying fast. Then Sessions did something wholly unexpected in politics: He did not obey his own ambitions. Having been convinced that his old friend and colleague was sincerely interested in leaving a conservative legacy in the Senate (perhaps because former State Department official Liz Cheney attempted to knock off Enzi in a primary challenge this year, accusing the staunchly conservative senator of lily-liveredness), Sessions stepped aside. That move spared the members of the committee a painful vote and diffused what could have been another chance for moderate and conservative pressure groups to deepen enmity between the wings of the party.

[The Judge's Ruling - Fox News Senior Judicial Analyst Judge Andrew Napolitano examines the "…belief of most of those in government that they can write any law and regulate any behavior and ignore the Constitution they have sworn to uphold whenever they want, so long as they can get away with it."]

Out of the ooze - The Darwinian politics of our era excuse any grasping, venal conduct on the grounds that the only code is that of survival and advancement. Sessions could have fought, and possibly won, but would have diminished the value of his prize in so doing. He would also have taken another step toward the utter undoing of the Senate. In the past decade we have seen the body ground down to a bitter nub, culminating with the Reid-era rule changes to stifle the minority's power. But, as one senior Hill staffer observed to Fox News First, "Sessions is still somebody who knows what a gentleman looks like." Session's show of grace will not reverse the Darwinian race to the bottom, but it is exactly because such displays are so rare in politics – and seemingly nearly every other human endeavor – that it deserves our attention. Sessions showed that he knew that for an adult, the first question is not "Can I?" but rather "Should I?"
WITH ARIZONA WIN, GOP REACHS 83-YEAR HIGH IN HOUSE
AP: "Republicans will have their largest U.S. House majority in 83 years when the new Congress convenes next month after a recount in Arizona gave the final unresolved midterm race to a Republican challenger. Retired Air Force Col. Martha McSally won a House seat over Democratic incumbent Ron Barber by 167 votes out of nearly 220,000 cast, according to results released Wednesday…Barber said he wouldn't contest the results and that he called McSally to congratulate her…Her victory came in a year that saw the GOP make big gains across the country. The results of the mandatory recount mean Republicans will hold their largest House majority since the administration of President Herbert Hoover, controlling 247 seats to 188 for Democrats. The 2nd District was the last outstanding congressional race from the Nov. 4 general election."
NORKS WIN WITH SONY HACK, OBAMA WEIGHS RESPONSE
NYT: "American intelligence officials have concluded that the North Korean government was 'centrally involved' in the recent attacks on Sony Pictures's computers, a determination reached just as Sony on Wednesday canceled its release of the comedy, [The Interview] which is based on a plot to assassinate Kim Jong-un, the North Korean leader. Senior administration officials, who would not speak on the record about the intelligence findings, said the White House was still debating whether to publicly accuse North Korea of what amounts to a cyberterrorism campaign…Officials said it was not clear how the White House would decide to respond to North Korea. Some within the Obama administration argue that the government of Mr. Kim must be directly confronted, but that raises the question of what consequences the administration would threaten - or how much of its evidence it could make public without revealing details of how the United States was able to penetrate North Korean computer networks to trace the source of the hacking."

Romney says - @MittRomney .@SonyPictures don't cave, fight: release @TheInterview free online globally. Ask viewers for voluntary $5 contribution to fight #Ebola.

OBAMA'S CUBA PLAY MEANS NEW HURDLE FOR HILLARY
The Hill: "President Obama's decision to seek normalized relations with Cuba sets up new challenges for Hillary Clinton, the Democratic front-runner for the White House if she chooses to run…She talked of recommending that Obama end the embargo toward the end of her term as his secretary of State. Clinton and her husband, former President Bill Clinton, have a contentious history with the Cuban-American population in Florida that goes back to the fight over Elian Gonzalez, the Cuban child whom the president allowed to be returned to his father in Havana after Gonzalez fled to Florida with his mother, who died on the voyage…Former Sen. Mel Martinez (R-Fla.), who left Cuba as a child, predicted that the move by Obama on Wednesday would affect the Cuban-American vote in a way that would not be good for Obama or Clinton…He also warned that the actions will remind Cuban-Americans of the Clinton policies toward Cuba that they opposed, as well as the Gonzalez incident. 'It's a reminder,' he said. 'I think all of that gets revived.'"

She said - "As I have said, the best way to bring change to Cuba is to expose its people to the values, information and material comforts of the outside world. The goal of increased U.S. engagement in the days and years ahead should be to encourage real and lasting reforms for the Cuban people. And the other nations of the Americas should join us in this effort" –Hillary Clinton in a written statement.

He said - "The Obama Administration's decision to restore diplomatic ties with Cuba is the latest foreign policy misstep by this President, and another dramatic overreach of his executive authority. It undermines America's credibility and undermines the quest for a free and democratic Cuba." – Former Gov. Jeb Bush, R-Fla., in a Facebook statement

[Graham: block funds for embassy - The Hill: "Sen. Lindsey Graham (R-S.C.) on Wednesday said he will seek to block federal funds from financing a future U.S. embassy in Cuba. Graham said President Obama's decision to hold talks on normalizing relations with Cuba was a bad idea in a message posted on Twitter."]

"It's a terrible day for democracy; it's a sad day for those that want freedom and liberty for the Cuban people. Today is a dramatic step in the direction of the Cuban regime being a permanent fixture that we'll be asked to accept forever. It's a terrible day for freedom." –Sen. Marco Rubio, R-Fla., on "Special Report with Bret Baier" Watch here.

"It's a sad day. We have today is what we've seen is the president of the United States who really has become not only in this case but other cases the appeaser in chief.  Once again giving everything, the kitchen sink and everything else, to an anti-American state sponsor of terrorism and frankly getting very little in response." –Rep. Mario Diaz Balart, R-Fla., on "The Kelly File." Watch here.

WITH YOUR SECOND CUP OF COFFEE...
Carl Sandburg wrote one of his most unforgettable pieces using the names of places synonymous with the horrors of war, such as Austerlitz, Waterloo and Gettysburg. But the place he chose to put last in his haunting litany is the one that stabs at the heart of Western culture like perhaps no other: Verdun. It was on this day in 1916 that the German high command abandoned its 11-month siege of the French fortress of Verdun at a strategic bend in the Meuse River about 30 miles south of the Belgian border. The toll was staggering, especially by modern standards: an estimated 143,000 German dead out of 337,000 casualties; 162,000 French dead out of 377,000 casualties. And the strategic result? Naught. The name of the battle became and has endured – thanks in part to the remarkable history by Alistair Horne fittingly entitled "The Price of Glory" – as shorthand for the worst of the Great War and a two-syllable warning against the behavior of the reckless, prideful belligerents there. Despite Sandburg's elegy on the tragedy of the West's forgetfulness, Verdun has never been fully covered over by time. Its name still stands above the grass.

Got a TIP from the RIGHT or LEFT? Email FoxNewsFirst@FOXNEWS.COM

POLL CHECK
Real Clear Politics Averages
Obama Job Approval: Approve – 42 percent//Disapprove – 53.1 percent
Direction of Country: Right Direction – 26.6 percent//Wrong Track – 66.1 percent

GRIMES PROMISES LEGAL CHALLENGE TO RAND'S DOUBLE PLAY
Kentucky Secretary of State and Clinton Democrat Alison Lundergan Grimes says she'll take Sen. Rand Paul, R-Ky., to court if the potential 2016 GOP presidential contender attempts to buck a state statute and run simultaneous campaigns for re-election to the Senate and the White House. "'The law is clear,' Grimes [told WHAS]. 'You can't be on the ballot twice for two offices.'… Democrats maintained control of the Kentucky House in last month's election, a roadblock to legislation favored by the Republican Senate to remove the prohibition. House Speaker Greg Stumbo (D-Prestonsburg) declined to consider a Senate bill to that effect earlier this year. Paul may challenge the law in court as the Republican Party of Kentucky also discusses whether to hold a presidential caucus rather than a primary, which would allow Paul to follow the letter of the law by not appearing on the primary ballot, twice." Grimes was soundly defeated in her attempt to take Sen. Mitch McConnell's seat last month despite heavy support from Democratic 2016 frontrunner Hillary Clinton and former President Bill Clinton. Another option in Team Rand's multi-point strategy is for the popular Kentucky senator to push to have Grimes unseated in November 2015.

WARREN PLAYS TO UNIONS, RAILS AGAINST OBAMA TRADE PACT
Inanother move that appeals to the Democrats' base – and plays to worries about frontrunner Hillary Clinton's coziness with Wall Street – potential 2016 rival Sen. Elizabeth Warren, D-Mass., is up in arms over the Obama administration's Asia free-trade deal. WaPo: "[Warren] voiced new concerns over President Obama's trade agenda as congressional Democrats ramp up efforts to slow the administration's bid to finalize a major free-trade pact in Asia that the president has called a top priority. The disagreement threatens to expose old divisions over international trade and hamper Democrats' efforts to unify their party going into the 2016 elections. Warren…said in a letter to U.S. Trade Representative Michael Froman that the Trans-Pacific Partnership (TPP) could erode U.S. financial safeguards designed to 'prevent future financial crises.' 'We cannot afford a trade deal that undermines the government's ability to protect the American economy,' Warren said in the letter, also signed by Sens. Tammy Baldwin (D-Wis.) and Edward J. Markey (D-Mass.)."

Warren backers pony up another $250,000 - Daily Beast: "Yet another liberal organization is signing on to the quixotic effort to convince Massachusetts Senator Elizabeth Warren to run for President. Democracy for America, the progressive organization founded by former Vermont Governor Howard Dean in 2004, announced Wednesday that it is spending $250,000 in a joint effort with fellow left-wing group Moveon.Org in a campaign to convince Warren to challenge Hillary Clinton for the 2016 Democratic nomination. (It's worth noting that Dean himself has already endorsed Clinton)."  News of the check came on the same day that MoveOn.org held a meeting in Des Moines, Iowa as part of its new "Run Warren Run" campaign. AP: "'Elizabeth Warren has been fighting tirelessly against the Wall Street lobbyists, against the special interests," Ilya Sheyman, executive director of MoveOn.org Political Action, told more than 75 people at a downtown coffee shop…The Iowa event was the group's first organizing meeting, and there will be a similar event in New Hampshire in January. The campaign is seeking staffers in both states and trying to build volunteer and donor support. Another grassroots group, Ready for Warren, has made a number of visits to Iowa since the summer."

[Harold Meyerson writes in WaPo that Democrats need Sen. Elizabeth Warren, D-Mass., and her appealing brand of populism, "The critiques and policies that Warren advances resonate with a far wider segment of the public, and more particularly the potential Democratic electorate, than those equating her with [Ted] Cruz would have us believe."]

INVISIBLE MAN: O'MALLEY LOOKS FOR A PATH
Unlike most who harbor 2016 presidential ambitions, Gov. Martin O'Malley, D-Md., hasn't been playing it coy. But despite his outspoken interest he disappears under the massive machine of frontrunner Hillary Clinton and press grabbing headlines of "I'm not running" Elizabeth Warren. The result: write-ups like "The Long Shot" and "Can Martin O'Malley Selfie His Way to the White House?." As The Atlantic put it: "Martin O'Malley ought to be a Democrat's dream candidate. In two terms as the governor of Maryland, he's ushered in a sweeping liberal agenda that includes gay marriage, gun control, an end to the death penalty, and in-state college tuition for undocumented immigrants. He's trim and handsome; he plays in an Irish rock band…But while Maryland's governor looks perfectly presidential on paper, Democratic voters outside the state have proved staunchly resistant to forming an impression of him." Hovering above it all, as O'Malley languishes in the polls, is the lingering question of "what if" Hillary drops out.

[Watch Fox: Gov. Martin O'Malley, D-Md., will be profiled on "Special Report with Bret Baier." Tune in at 6 p.m. ET]

CHRISTIE SAYS FAMILY HUDDLE AT X-MAS WILL DECIDE ON RUN
AP: "Republican New Jersey Gov. Chris Christie says he'll discuss his potential 2016 presidential bid with his family over the holidays and make a decision soon after. Christie made the comments Wednesday to a group of students at Mendham Township Middle School, one of the state's 2014 National Blue Ribbon Award winners. He says he wants to talk about the issue when his oldest children are both home from college. Christie says he'll likely make his decision early next year. Republican former Florida Gov. Jeb Bush announced this week he would 'actively explore' his own potential campaign. Christie and Bush appeal to many of the same donors. Bush's entry puts pressure on Christie to speed up his own timeline."

WAS THE RANSOM NOTE WRITTEN IN GLITTER?
The Daily Mail reports on the tale of Jodie Slater, whose pre-Christmas merrymaking nearly cost her family its celebration's centerpiece. Slater, a 19-year-old Welshwoman, flagged a cab after spending the night out with friends. But when she arrived home, she told the driver that she didn't have the fare. Taxi company owner Robin Davies said typically drivers hold passengers' phones until the fare has been paid, but that Slater refused. She went inside, telling the hack that she was going to get the money. But when she didn't return in short order, the cabbie loaded the family's 6-foot Christmas tree, which had been sitting on the front porch, onto his car and drove off. The cab company then ransomed the pine until the fare was settled. Slater had the pluck to complain: "I've never known anything like it - it's a good job we've got a sense of humor," But she eventually paid her debt in exchange for the safe return of the tree, which has now been fully decorated.

AND NOW, A WORD FROM CHARLES…
"Regardless of what you think about the effectiveness of the embargo, it is a huge bargaining chip…They have been waiting 55 years, the Castros, for something like this. And we gave it away for nothing." – Charles Krauthammer on "Special Report with Bret Baier" Watch here.

Chris Stirewalt is digital politics editor for Fox News.  Want FOX News First in your inbox every day? Sign up here.