Jeb Bush's goal for now? Neutralize rival and fellow Floridian Marco Rubio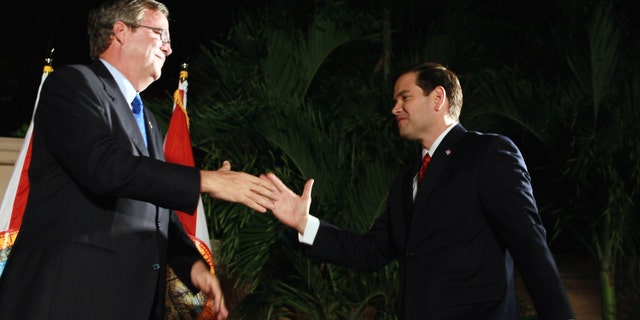 NEWYou can now listen to Fox News articles!
As Jeb Bush prepares for a possible presidential campaign, the former Florida governor is looking to deal with what could be his biggest obstacle – fellow Floridian and fellow Republican Marco Rubio.
Rubio, a senator and one-time mentee of Bush, has made it clear that he is weighing a run for the White House, and has said that a possible Bush presidential campaign will not deter him.
The Bush camp is also worried about Florida's changing demographics, which long favored Republicans in national elections. President Barack Obama won Florida in the last two presidential elections.
"Without Florida, he knows it would be hard to make the numbers work," the New York Times quoted former Florida Gov. Bob Martinez as saying about Bush.
Bush, who has not made a formal announcement about running for president, and his campaign team have been aggressively reaching out to people active in elections, lawmakers and donors, trying to woo them with promised meetings with him, and work on his campaign if he runs.
Those who know Bush say that he's meticulous about cultivating relationships, and that he has worked hard at it from early years as governor.
"Jeb has taken the trouble to nurture these relationships," said John McKager Stipanovich, a Republican lobbyist in Tallahassee, according to the Times. "They don't even need to reach out in Florida. They never let go."
The Times reports that below the radar, Bush's supporters are trying to pressure Rubio into not running for president. One such supporter, David Johnson, who is interim executive director of the Florida GOP, sent a message to Rubio through a Times interview.
"I hope that is not going to happen," Johnson said of Rubio also running for president if Bush decides to do so. "It's going to cause a lot of problems in the state of Florida."
Rubio should just stay in the Senate, Johnson added, depicting the Cuban-American lawmaker as "a young man that has a lot of potential."
Besides Rubio, Bush also must contend with a changing population that has views more aligned with Democrats than with even a moderate Republican. That change is rooted in a growing Puerto Rican community in Central Florida, as well as younger Cuban-Americans who often don't share their parents' or grandparents' more conservative views.
Rubio's team, meanwhile, is in full-steam-ahead mode.
Rubio has said in interviews that senators make better presidents than governors because they must deal with broader issues.
While Rubio backers concede that many of the state's movers and shakers lean toward Bush, they say Rubio – who has the kind of tough-on-foreign-policy approach that many conservatives like – has the ability to win support and money between now and the Florida presidential primary next March.
Bush backers are not so sure about Rubio's ability to turn around the Bush battleship.
"The political leadership of Florida is going to be with Jeb Bush," said State Senator Jack Latvala to the Times.
Like us on Facebook