Jailhouse Letter: Guccifer laments failure to expose 'crimes,' rails against Clinton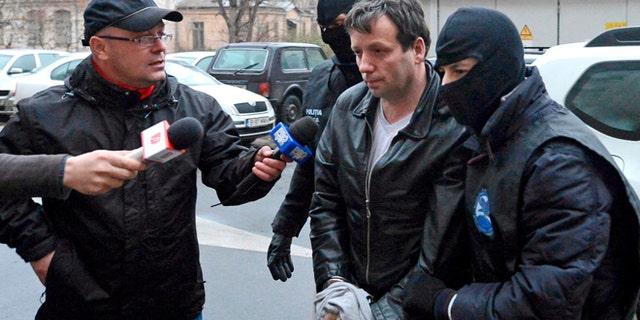 EXCLUSIVE: The Romanian hacker who first exposed the clintonemail.com address and faces the imminent return to his home country told Fox News – in a letter from his jail cell in Virginia – that he breached the accounts of public figures in an effort to expose corruption but now considers that effort a failure.
"I will not leave this beautiful country without saying that the 'Guccifer Project' was a failed project," wrote Marcel Lehel Lazar, also known as Guccifer.
In neat handwriting and colorful language, the hacker used the correspondence to rail against Hillary Clinton and other figures while lamenting his own cyber-limitations and circumstances.
"My departure is a matter of days," said the 44-year-old Lazar, who is expected to be flown at any moment back to his native country Romania to finish out a seven-year prison sentence. Prior to his extradition to the U.S. in March, Lazar had served three years of that sentence in a prison near Arad, Romania.
Justice Department officials, in announcing the hacker's guilty plea this past May, described Lazar as a cybercriminal who "sought fame" by hacking Americans' accounts.
Lazar, in committing his crimes, nevertheless demonstrated an astute ability in guessing passwords and command of using Russian proxy servers to harass and embarrass his victims. Those victims included high-level Romanian politicians, celebrities and at least 100 Americans including Colin Powell, Dorothy Bush Koch and longtime Clinton adviser Sidney Blumenthal. The Blumenthal breach first exposed the "clintonemail" account in March 2013.
Lazar was a voracious reader of biographies of public figures and claimed those he hacked had passwords that were easy to figure out.
After his hacking escapades for which he pleaded guilty to two U.S. federal counts, Lazar told Fox News in hours of recorded phone interviews and an in-person jailhouse meeting how he breached accounts belonging to Blumenthal and Powell.
His letter is imbued with references to conspiracy theories like the "Illuminati," which he believes is an international cabal that controls world affairs and wants to expose.
And he takes rhetorical aim at Clinton, the Democratic presidential nominee: "Hillary Rodham Diane Clinton is one of the high priests, a goddess of this ocult, (sic) satanic, shadow group. One must see their evil and profoundly corrupt motive to understand what I am talking about."
As leaks continue to swirl around Clinton's email practices while she served as secretary of state, Guccifer apologized to his fellow hackers in the letter to Fox News for his shortcomings.
"Though I know I invested a great deal of time and effort trying to expose the crimes of the Rockefellers, the Bush Klan (sic) the Clinton, and many others, maybe my skills were NOT matching my faith," he wrote.
"So I apologize in front of the unknown soldiers who struggle to take this fight against these monsters to a glorious end. Many of 'em are risking their lives, while doing this behind the computer screens, from inside or outside the system."
In May, Guccifer repeatedly claimed to Fox News during a series of interviews that he had successfully breached Clinton's private server. Guccifer made the same claims to NBC News, which published his claims later.
In July, when FBI Director James Comey was asked about this claim before Congress, he testified, "He did not [gain access to Clinton's server], he admitted that was a lie."
However, Comey added: "We do assess that hostile actors gained access to the private commercial email accounts of people with whom Secretary Clinton was in regular contact from her personal account."
The FBI file sent to Congress showed the server was targeted immediately after "IP addresses from Russia and Ukraine attempted to scan the server on March 15, 2013, the day after the Blumenthal compromise, and on March 19 and March 21, 2013."
It is worth noting that in a portion of the highly redacted and recently released FBI report on Clinton's email practices, page 32 noted Lazar's use of screenshots in disseminating information. "One of the screenshots captured list of 19 foreign policy and intelligence memos authored by Blumenthal for Clinton," it said.
Lazar was finally arrested in Romania in 2013. Among his Romanian victims is the former Minister of Information George Maior, who now serves as the current Romanian ambassador to the U.S.
The Romanian Embassy had no comment to Fox News about Lazar and said their media and press representative "was on leave."
During Lazar's Sept. 1 sentencing, U.S. District Judge James C. Cacheris noted that Romanian prison conditions are much "worse" than in the U.S. Cacheris sentenced Lazar to a 52-month sentence in the U.S. but it is unclear when and how that will be fulfilled -- because in a move that appeared to surprise Lazar's defense counsel Shannon Quill, it was announced that Romania wanted Guccifer sent back to finish his sentence "right away."
Sounding somewhat concerned in the Sept. 15-dated letter, Lazar thanked Fox News for being present in the courtroom and weighed in on his country's demand for his return: "The Romanian authorities query that I have to be sent home 'right away,' is a silly hasty move, by the way."
Lazar continues to claim he is cooperating with U.S. authorities.