Jailed Venezuelan opposition leader ends hunger strike after country sets date for election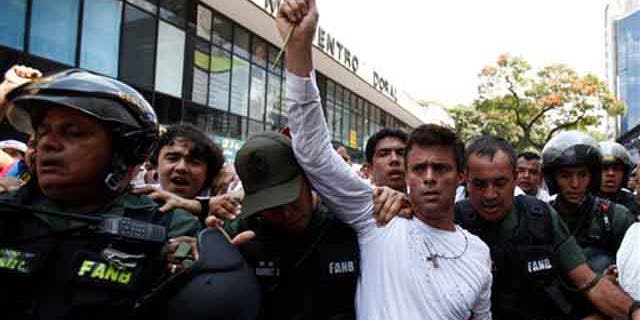 CARACAS, Venezuela (AP) – Jailed Venezuelan politician Leopoldo Lopez has ended a 30-day hunger strike after authorities set a date for legislative elections, a key demand of opponents of President Nicolas Maduro's socialist administration.
"We're ending the strike, but our struggle continues," Lopez wrote in a letter written from jail and read Tuesday by his wife, Lilian Tintori, to journalists in Caracas.
Lopez stopped eating in May, demanding that the government free opponents jailed during last year's anti-government demonstrations and set a date for the elections that the opposition is heavily favored to win. The protest quickly reinvigorated Venezuela's sometimes out-of-touch opposition, drawing the support of dozens of students who began fasting in solidarity with Lopez, who is on trial for inciting violence during last year's protests.
The National Electoral Council on Monday said the congressional elections will be held Dec. 6, ending months of speculation by opponents and international observers that the vote would be canceled. The South American country's laws mandate that the balloting for National Assembly seats be held this year, but elections officials had delayed setting a date.
The Obama administration, which has been quietly engaging the Maduro administration in high-level talks, welcomed the decision to set an election date.
"This is a positive step for the Venezuelan people and their democratic institutions," State Department spokesman John Kirby said Tuesday in Washington.
The ruling socialist party currently holds a majority in the legislature, but polls indicate that if the election were held today, the opposition coalition would win in a landslide. The 29-party coalition is benefiting from widespread discontent with Maduro, driven by mounting shortages, rampant crime and inflation estimated to be in the triple digits.
Opposition parties have not captured a legislative majority since the late Hugo Chavez, who was Maduro's predecessor and mentor, won the presidency more than 16 years ago. They have lost every recent national election, and currently hold about a third of the seats in the legislature.
Lopez, who considers himself and the other dozens jailed in last year's unrest to be political prisoners, expressed optimism that the vote would channel Venezuelans' frustration with the ruling party.
"We assumed this protest not to die but so all Venezuelans can live with dignity," Lopez wrote in the letter. "Venezuela has a date for change."